14 MARCH 2006 PUP NEWS, AND A SUCCESSFUL DISENTANGLEMENT
SealAlert-SA sasealion@wam.co.za
Tuesday, March 14, 2006 1:58 AM

Dear All Partners in Cape Fur Seals future,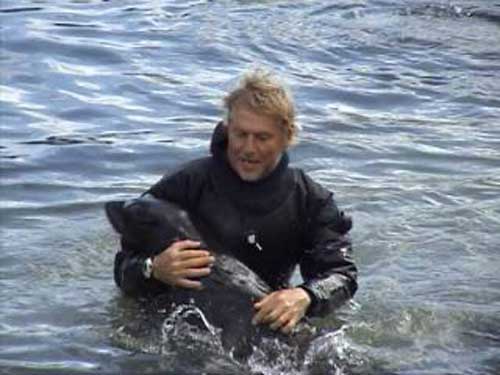 A wonderful feeling "giving a year of my life" so that Kidogo, my first pup, now 4, can have "his life-time" to feel that wild-life pumping through your arms is truly rewarding, I hope in the months to come, I can transplant some of these amazing feelings.
Seals in the movies and on TV. A 5-man film crew from Prague, who were coming here to interview me for a full length film they were doing, on a rather sad, but very well known incident that happened at Prague Zoo, two years ago. Gastron, a baby Cape Fur Seal pup removed illegally, along with 5 other pups, from the wild and eventually sold to Prague Zoo to end his days in confinement, found freedom for a short few days, before his death from stress during his re-capture. During a massive flood, he escaped from the zoo, now a large bull, and swam from Prague down a river to Germany, covering over 200 km. What went through his mind we will never know, was he trying to come home? This film is about this sad story, to be released in Czech Republic and France later. At least viewers will see that seals don't need to be confined to enjoy and interact with them, hopefully two days of filming with seals and me, will give European audiences, a better understanding. They filmed also in Namibia, and reported seeing many dead pups, as well.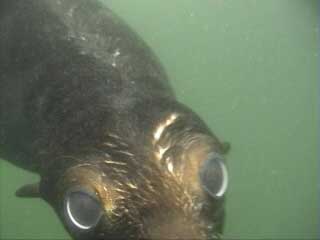 Mumkin with those "swimming underwater" eyes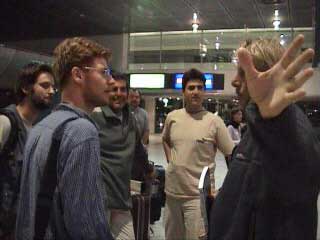 The 5 man film crew from Czech Republic, Germany and Italy at Cape Town International Airport
On this subject, the IUCN has commissioned a series of programs for SABC television, titled the "healing powers of nature", the Seal Whisperer is one of them, and filming is already underway, I have high hopes for this program, to finally place the "true value" of seals, into millions of peoples homes here in South Africa, and it is hoped, the IUCN which formulates much of SA's policy towards wildlife, will take pride in this development.
Team MUM's - SealWatch International, know that Myrna took her first "deep water" swim away from the raft for the first time.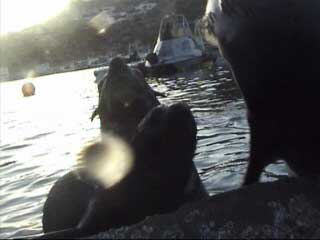 Myrna after her first deep water swim away from her home
Driven by pure instinct, and natures own internal clock, a unique previously unknown behaviour in the world of the Cape Fur Seals, has been identified. At approximately 70 days from birth, each pup will feel confident from his regular quick "swims" immediately around his or her, raft or island, to attempt a "deep water swim", where the bottom or safety of the raft/island or rock, is no longer there for comfort - and quick escape.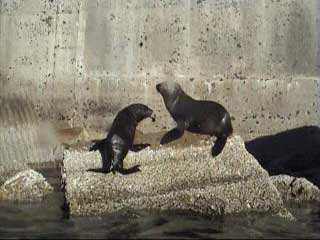 Mumkin the oldest at day 69 attempted his first. Myrna and Max, 30 days behind, with Max being the weakest of the 3. Now at day 75, Myrna has undertaken her first, "deep water", well actually just swimming from the raft to me on the shore. But, a giant step for her, and the start of her becoming a proper Cape Fur Seal.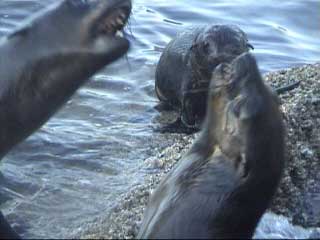 Looking a little confused !
The days ahead should prove interesting, and I await with interest the developments, will she swim with me and Mumkin, as she has still not "bonded" with me, or will she develop, without my in the open water protection. Time will tell.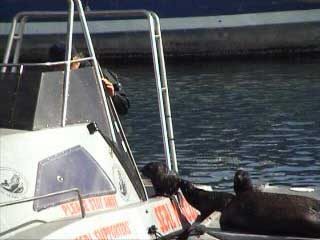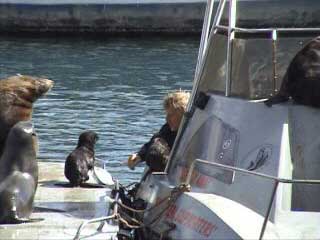 Its follow our "leader - dad", "dad" must kneel down on all four's where each takes turns to climb over his back from the raft into the boat.
Max, keeping the weight off his flipper, as he has injured it.
Max, should be swimming away from the raft, but instead he has developed a very sore right front flipper. Unknown what caused this, after discussing this over with his vet, Bruce, it was decided to wait a few days to see what develops. Sure enough, 3 days later a severe abscess formed under his flipper. Bruce our vet kindly arranged to come to the pier, where I swam very nervous and afraid Max for his "op". Fighting like mad, I held whilst Bruce worked, opening the wound, cleaning it out and a quick jab of the needle and Max was returned to his floating home, but not before covering Bruce and I in his blood and puss, from this severe abscess. Max is doing ok, and is now on a course of trusted antibiotics.
Coming to the raft everyday, is not always easy, sometimes wild bulls tend to "challenge" you - they sometimes forget whose raft this is.
The next segment of pics I dedicate to Jose Wachter from Brazil. Thanks to her open and caring heart, and her kind donation, she has made it possible for me to do my "thing" on her behalf. Instead of allowing these seals that become entangled for weeks or even years on end, in unseen suffering. This lucky bull, had me trying and trying, and I got it right and freed him.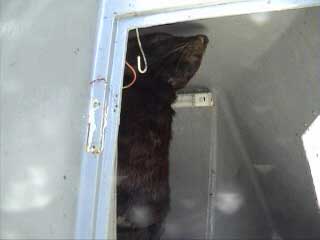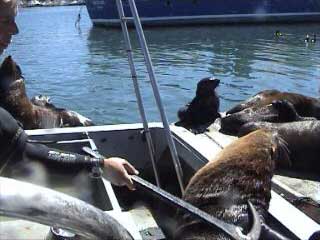 First this wild bull, previously never before seen, was found inside the "Spirit of Seal Supporters-BWC boat", as if he knew this was the place to get freed. An attempt was made, as I slowly guided him out the boat, as he was actually sitting on the hatch wherein my disentanglement knife was lying. Difficult in a very confined space, making sure that he suddenly did not trample on the pups, especially injured Max. The knife, hooks but with his massive strength he breaks my knife clean in half. (Its designed to do so, if it does not cut instantly)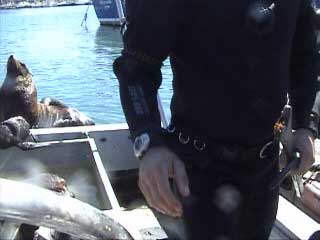 Later, I find him on the pier wall opposite the raft and boats. In the crowd, I sneak up and "attack", instead a seal lying right beside him, reacts first, and I narrowly escaped, getting a nasty bite to my arm, but a $1000 drysuit, gets holed in the process. Lets hope I can get the bite holes repaired or this will be an expensive rescue.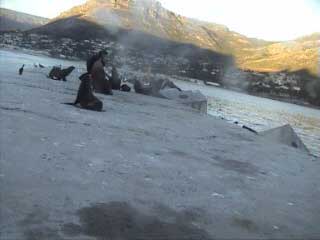 A few hours later we try again, and we get him, you can see the thick fishing line hanging loose around his shoulders.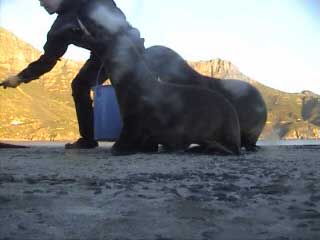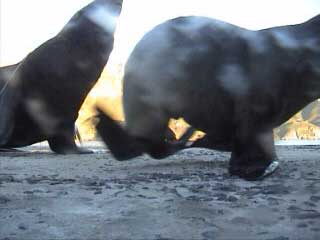 Freed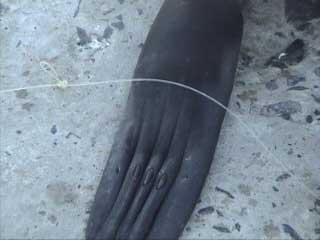 Time to go home, tomorrow is but another day !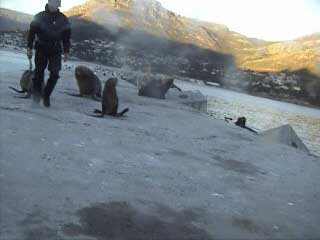 Finally, I have still not put together a "list of our seals rescued needing guardians", because quite simply, as almost all the seals are ending their moult of their new winter coat at the end of March, and who therefore tend to stay after mating/pupping season to do so, on dry lands, their awash rocks or the rafts, and as I have had such a high turnover of migrating seals, that I have decided to wait, to see which of the seals that were previously rescued, would return to the wild after their moult, and which would need on going care.
From Gayle, I have just received an email newsletter from a group of ex-South Africans living in UK, who send out a newsletter called the "Springbok Club" to ex-South Africans living abroad, it truly pleases me to finally see, how far into the 4 corners of the world, this awareness of seals is finally stretching. Citizens in over 98 countries, now each, have a little better understanding of the plight of these seals at the tip of Africa.
To keep the ball rolling, I have begun to contact all who signed our petitions, in order to update them, and hopefully expand our "partner base". I am hopeful that we can get more support in, as my costs since the start of 2006, has been running at $95 a day, and we are nowhere near to rescuing a seal a day. In addition, with the 3 muskaflippers beginning to swim, I will be able to head out further to sea and be away longer. I am also trying to find a way, for my wife to take some time off our Mini Global Map business, and get out and approach potential "partners" directly.
So Jose, I hope you are pleased, and thank you for saving this seal from suffering and caring. Thanks to you, he can return to his life in the wild, and do what nature intended.
PS - I received a complaint from the letters editor of the Cape Times Newspaper, in which she informed me, Seal Supporters have crashed her PC, 4-times already, causing her much additional workload. She simply therefore asks, if comments received and she listed a number over 700, could be meaningful and free from "aggressive english". To this I add, well done, it is pleasing to see such support at last for this forgotten species in South Africa, but please keep it "professional", we owe it to the seals.
For the Seals
Francois Hugo Seal Alert-SA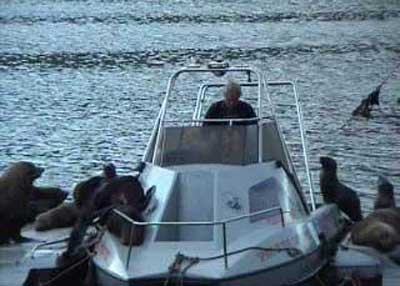 *.*.*.*.*
For The Seals, I am
Francois Hugo - Seal Alert-SA
sasealion@wam.co.za
My banking details as follows.
To mail a donation directly to Seal Alert-SA:
SEAL ALERT-SA
BOX 221
POSTNET
HOUT BAY
7872
HEREWITH IS FURTHER DETAILS FOR BANK TRANSFERS:
ZAR is South AfricanRand
More information to be able to send the money via internet:
SEAL ALERT-SA ACC : 911 2201 321
BRANCH CODE : 632 005
SWIFT CODE : ABSAZAJJ
BANK : ABSA
SA NAT.CLEARING CODE
BIC: (SWIFT-CODE) ABSAZAJJ
Bank name : ABSA
Address : DELPHI ARCH OFFICE PARK, RAATS DRIVE, TABLE VIEW
City/code : TABLE VIEW, 7439
Country : South Africa