14 MARCH 2006 PUP NEWS, AND A SUCCESSFUL DISENTANGLEMENT
SealAlert-SA sasealion@wam.co.za
Sunday, March 19, 2006 3:42 PM

Dear All Partners in Cape Fur Seals Future,

I hope none of you feel that these weekly updates are too frequent. I would report every two weekly, but unfortunately I am equally trying to keep each update below 200kb, so as not to become too big a file to down-load. With so much happening, even weekly is creating problems. Should any of you feel a weekly update is too much, please let me know. On this subject, thank you for the many pics received from each one of you, its finally nice to put a face to that email and partner. May I suggest something else - try and obtain a software program called "Abode Photoshop 7, or latest", its simple and great to use, you import the pic, choose the size, click save for web, and a 250kb pic is reduced to 3-10 kb, with minimal loss of quality.

Thank You - Jose Waechter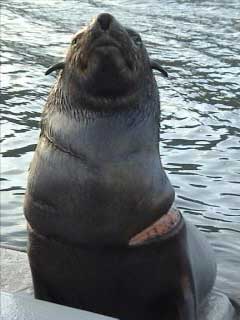 "I am healing well"
Judith Van der Wart, judithvanderwart@wanadoo.nl , an artist based in Holland has done a number of excellent drawings and paintings of our pups and seals. She has made a number of limited prints available to help raise funds for the seals. If you would like to order a copy, please contact her direct, or her partner, Anjo, anjoverburg@wanadoo.nl, or you can view them on Earle's website CVFA and order them on-line. Below is one example of "Mumkin", which I just love the boyishness in him coming through in her painting.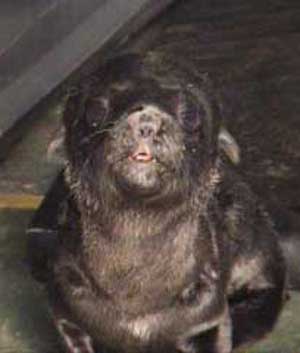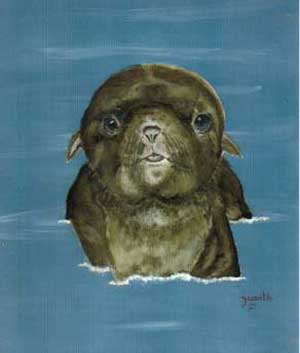 Well, Canada has announced it's sealing quota increased to 325 000 seals for this 2006 season. This is just so wrong! Below is two pics, of this with the "club in the other flipper" so to speak. To simply drive the point home, how wrong this is. The poster below was banned in Europe. But, I think we all need to take a long hard took at it, because clearly this must end, and only we have the power to end it. If anybody is offended, don't be, because this is the reality for 325 000 seals this year, in fact it is much worse. In Southern Africa, Norway and Russia, things are equally as bad.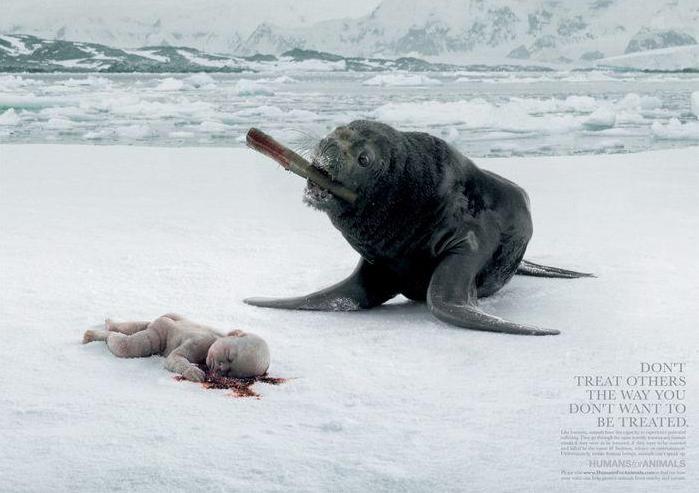 Poster by Humans for Animals http://www.humansforanimals.com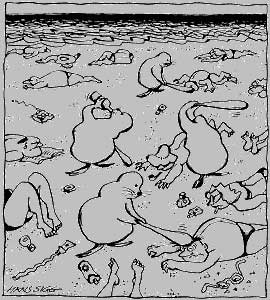 This brings me to the meaning of "life", are we all just part of one big food-chain, or do we possess the intelligence, to offer a solution. This is my solution.
THE MEANING OF LIFE
For time in immorial human-kind has pondered the meaning of life
75
Just a number, not particular big number, is it? Yet, this is the average Life-Span of each one of us.
75 summer's, 75 winter's, 75 autumns and 75 spring-times.
It takes me one summer, winter, autumn and spring to save one baby seal's life.
In the past several years, I have used up 10% of my life, saving just 5 baby seals and giving them their life-time.
You can choose to do what you want with your life. But in the natural world, it is possible to create life, to re-grow this planet, to nurture it and in so doing, give it life. So I ask you, is your Legacy one of life or taking from life?
For the rest of my life, I plan to give life-times, hopefully even a whole island of life, to continue to grow and grow, long after I am gone.
Simple isn't it - the Solution to life.

This article appeared in the Argus Newspaper jyeld@incape.co.za a few days back. This island the biggest and most important seal breeding colony in southern Africa, extinct to seals for over two hundred years, a protected island for seals and seabirds since 1973, a world heritage site since 1999, with protected seals still physically banned from re-colonising, and yet now they are shooting feral cats.

I have written to Unesco world heritage Committee, to the Conservation Manager of Robben, to the director of Robben, to the Chairman who is also head of Public Relations in the ANC executive, to MCM, to the Minister of Environment and Tourism, all have refused to reply or state their position on the seals. Environmental writet John Yeld, equally refuses to highlight this "non-seal" issue, stating instead that the conservation of endangered seabirds is more important to this island, than seals.

So inept has these tourist and conservation officials become, they expect millions of international tourists to pay thousands of dollars to visit South Africa for its wildlife, and then charge them R200 to visit Robben (seal) Island upon which there are no seals, it being extinct, take pleasure in allowing tourists to see hundreds of seals entangled and living in the polluted filth of the V&A waterfront harbour from which they embark on their trip, and then expect them to drive for 20 minutes to Hout Bay, pay a further R50, to go and see seals living in the "wild in their natural state", on the smallest awash rock and colony, what is actually a seabird colony, known by the species name of Duiker (Rock) Klip. Nobody complains of this "fraud".



Part of my mission to get seals back on Robben Island, with all 23 islands protected for seals and seabirds, extinct to seals and with only 1% of the smallest rocks, occupied by seals, with 80% of all seals now being found unnaturally on the mainland, where over 67 000 are clubbed to death and over 250 000 starving to death, the path to restoring their historical right to these islands lies in the past. What these first people saw, prior to exploitation with regard to seals, is my focus.

To this end, I am involved in intensive internet research, archive search, museum records and satellite aerial pics, as my shipwreck hunting days revealed, many hands make light work, and if this interests you. What I suggest, is that you open a file, and began obtaining whatever info you can, old pics of the islands, historical records, ships logs, satellite photographs, sealing records etc etc.

To this end, which info will prove invaluable, here is some info to use as "key".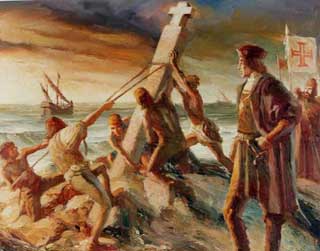 Although the indigenous people of the Cape, known as the Khoi-san, Hottentots or "strand-lopers", have lived along the shores for thousands of years, they kept no written records, only rock art paintings. The first European, who was from Portugal, Lisbon to encounter the seals, was Diogo Cao in 1485, where he erected a cross, at a place known as Cape Cross, Namibia, where the most intensive sealing has taken place since. What is strange, this mainland colony, (If these articles are accurate) - appears to be the only one naturally in existence for this species, why this is so is unknown.
I am a little sceptical of seals being on the mainland, prior to island exploitation/disturbance, because although this colony has seen sealing since 1903, I cannot see how after 486 years, this colony only produced 17 826 pups when first surveyed in 1971, and thenafter grew 175 %, after sealing in just 26 years, to reach a pup population of 48 993, surely this colony would have been massive after nearly 500 years.
Equally strange this first landing ever, just happened to be right in the centre of a large seal colony. The second to visit the actual Cape was Bartolomeu Dias in 1488. His flagship (name unknown), appointed Pero de Alenguer as his navigator, and his second caravel, Sao Pantaleao was commanded by Joao Infante. Hoping to land at the tip of Africa, with a storm carrying them past, they made landfall for the first time in South Africa, much further up the east coast, the Baja da Roca (da serra de sintra), the present Algoa Bay. Dias landed on the largest of the islets at the head of the bay, and pushed through the sea-lions that made more noise than a crowd at a bullfight, and erected his cross on a hill. Strangely this is one of the most easterly seal colonies. It was only on his return journey, that he discovered the "Cape of Storms" or the "Cape of Good Hope", and sailed into Table Bay. It was Jao del Infante, in command of Dias's second ship, who sailed across the bay to Robben Island, and was therefore the first person to put foot on Robben and see the seals, and is reported to have molested them. Dias then undertook a third voyage, this time under the Captainship of Vasco da Gama in 1497, one Pero de Alenquer wrote a record of this voyage. On November 8th, 1497, European explorers first encountered local inhabitants, on Sunday the 12th, Fernao Velloso a Captain-Major agreed to accompany the natives to see their "life-style". Soon after, they the "natives" caught a seal, took it to the foot of a hill and roasted it. After this "feast" they expressed a desire that he should not accompany them further. When Fernao Velloso came abreast of the ships laying at anchor, they attacked and wounded him. This incident, together with another in 1507, in which 200 Hottentots attacked Antonio De Saldanha, wounding him, and forcing him and his men to retreat to Robben Island. Where they replenished their supplies with Seals, Penguins and tortoises, later involved a king's decree, that the Portuguese, no matter what the cost, their vessels would by-pass the Cape Mainland. Replenishing their vessels only from the islands, to which the Hottentots had no boat or means of reaching. This lead the Dutch years later, to take over the trade in seals, allowing it to develop, an economically viable replenishment station, and later a fort in 1652, a town, a city and the country it is today. In 1500, Dias died at sea on another voyage, when his ship sunk off the Cape of Good Hope.

To give you a further idea, of how important the past is, scientists believe 850 000 seals is the optimum sustainable level, past and present. Yet, in 1832, Captain Morrell, reported that not less than 500 000 seals were seen dead on a single island, named Possession Island off Namibia. (Morrell is reputed to be an "unreliable source",by scientists because estimates of population sizes of other extinct colonies are insignificant when compared to Possession). However after Possession which is 90 ha, and currently extinct to seals, there are only two islands bigger, in the whole of southern Africa, Robben and Dassen. If his assessment was correct, and I believe it was, as it fits with current densities today, then Robben at 6 times bigger, would have had at least 3 million, and Dassen 1.5 million. One must also not forget, 11 top scientists in 1990 Commission on Sealing, stated the Seal Population would rise to 6 million by 2010. So clearly the past holds the answers to the truth.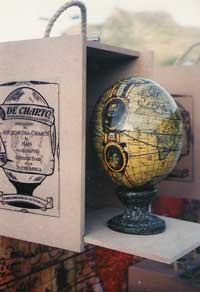 Seal Alert-SA's reproduction of Mini-Global Atlas's


It is actual documents and maps etc, that I am seeking to understand, what damage has been done to seals, and where upon what islands in what numbers were seals originally colonised, in order to restore their natural path. I believe seals played an extremely important part in our history, and it is something I aim to correct, for they have even today, not been credited with.

My dear friend Bev, one of 18 mum's of Myrna of Team SealWatch International, and who has started a second Team, Team Book-Club. Has come up with a brilliant idea. Her book-club meets regularly where they review and read, interesting books on wildlife, and during each meeting donate a sum towards the seals. If you would like more info, on possibly starting something similar in your own town or country, please feel free to contact Bev, direct on chrisandbev@mweb.co.za .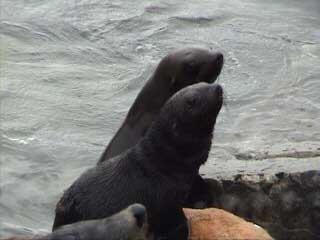 Pictured above Myrna in the fore-ground is almost as big as the yearling, a year older behind her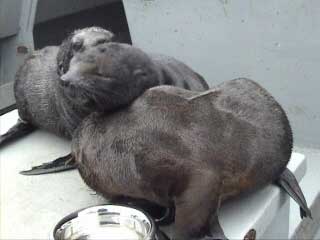 Myrna, Max (middle) and Mumkin, with Mumkin's silvery new coat starting to come through



Louise Van der Merve of Animal Voice, avoice@yebo.co.za sent me the following request, Compassion in World Farming is doing a Compassionate Shoppers' Guide for South Africa and in it, we are listing the logos that are good (e.g. vegetarian, vegan, organic, free-range etc) and we are also listing the logos that we still want to see on products. When it comes to fish products, we would like, perhaps, and under your guidance, to see a logo of a happy seal, for instance, indicating that seals were not harmed in the catching of this product. So, if any of you can come up with a specific Cape Fur Seal logo, that "catches the consumer eye", this would be great. My wife, Nelda, has been wanting to do something similar for years, something on the lines of the "dolphin friendly -tuna campaign", and so this is something very close to her heart. It is hoped that both locally and internationally, consumers and therefore fishing companies, could be forced not to shot or harm seals during fishing operations.

So for now, that is it. Until my next update.
For the Seals
Francois Hugo Seal Alert-SA