17 FEBRUARY 06 LETTER SENT BY ACTION AGAINST POISONING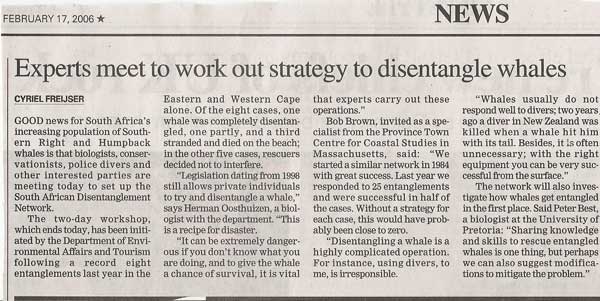 From: ActionAgainstPoisoning.com
Date: 02/17/06 09:39:50
To: Jennifer Crocker jenniferc@ctn.independent.co.za ; ctletters@ctn.independent.co.za
Subject: Letter to the editor: South African Whale Disentanglement Network
To the Editor
ctletters@ctn.independent.co.za
Att. of Mr Cyriel Freijser
Dear Mr Freijser,
Action Against Poisoning has been informed on the DEAT workshop "to set up a South African Disentanglement Network" for whale rescue.
We applaud all well intended actions on behalf of animal welfare and we thoroughly dislike fake actions and hollow PR stunts.
We support organisations or individuals who express their concern about flaws in (the execution of) animal protection policies or fight downright hypocrisy and corruption.
From this point of view we were disappointed that DEAT once again excluded presently available and internationally acclaimed experts from Seal Alert S.A. and Sea Shepherd International from this network.
So on first sight we do not fully agree with the "GOOD news" for the S.A. Whales opening on your article.
It appears that the learning capacity of S.A. authorities regarding marine wildlife rescue is at a rock bottom level when those authorities ignore original and successful minds in solving serious sea mammal rescue problems.
We fear that this exclusion reflects a grudge against outspoken non-conformist people who simply do the right thing against all odds.
We also fear that the involved authorities are ignorant of the fact that the exchange of controversial points of view is a crucial part of a proper problem solving (or network building) process.
As Europe is too far away from the persistent mystifying efforts by S.A. officials to beat the world record for counterproductive animal rescue policies, we rely on your expertise to unravel and expose the underlying interfering factors.
It might benefit S.A. Animal welfare on a scale far beyond the animals involved in this issue.
Animal protection organisations look forward to your publications in this field of your interest.
With kind regards,
http://www.actionagainstpoisoning.com
info@actionagainstpoisoning.com