BY FRANCOIS HUGO
SealAlertSA sasealion@wam.co.za
Saturday, January 28, 2006 3:08 AM
subject: Seashepherd one hell've org, Wind, Specialness and no fish

Dear All Seal Supporters,

What a past few days it has been. First Herbert and I tried desperately to get a fuel tanker down to Paul in the Subantarctic in his Anti-Whaling mission. This failed. Dangerously close to running out of fuel. Paul had to switch off all heat generators to conserve fuel. They basically came into Cape Town on "fumes", with a big black boat of 48 metres and eating 2.5 tons of fuel a day. Funding is scarce, and everything has to be carefully considered. Then the trouble started, first I was going to jetski the immigration papers to him, to save costs and try and avoid "shipping agent fees", papers were denied and he was ordered in and detained, and so began a nightmare of trying to sort things out with clearly shipping officials with hidden agenda's in favour of whale hunting Japan. He and his wife and his 46 crew from around the world, who were dead tired after 50 days at the bottom of the world in freezing and dangerous waters, were shoved onto the worst pier, known as the grave-yard pier, in the direct face of gale-force 50 knot winds. Our planned welcome "Dinner" for all, put on hold. Denied water, shower facilities and electricity, with no fuel to power their on-board generator, banished to the most remote part of the harbour. Things were down-right sad, ugly and an extremely poor reflection on South African Officials.

One evening after being on-board with Paul, Allison and his wonderful crew, in pitch darkness, I left his boat changed, whilst our famous Table Mountain burnt to bits. Paul of Seashepherd and his advisor here Dr Herbert Henrich, came to help me, when I first started, they were the very first people who offered to help the seals and me. This was back in 1999, over the years in constant personal email contact, I thought I knew Paul. In December this year, was the first time I met Paul face to face, where he gave me a Seashepherd Medal, a rare honour. I thought I knew him better after this.

But, only when you see a man at his work, do you truly get to see the person. Here is a man, that is fighting in a "mammoth" league, at the bottom of the world, where big ships and tankers are ramming each other, that tower over each other like giant buildings, where everything, the weather, the cold, the risk is magnified into massive proportions. For 30-years he has done this, and instead of coming into Cape Town, to a hero's welcome, he gets treated like a "common criminal", but that is not the part that got me. In the heat of it all, Paul and his wife, could have left the boat and stayed in 5-star luxury, showered and dined. Instead exhausted, emotionally hurt, he chosen to stay in darkness with his crew on the boat the Farley Mowat. But even that did not really get me, what got me, is that he never once asked for anything, even when asked, no crying, no complaining, just a true dedicated hero to his whales.

Throughout all of this, both he, Allison and his crew, when Nelda and I first arrived on-board, all they wanted to know, - is how can "they" help the seals, not a single complaint about the unfair situation. In pitch black darkness on the Farley Mowat, they made us talk for hours about how they want to help rescuing the seals. Paul offering his boat, crew and equipment. I left that night, thinking, this man and Seashepherd, all of them are just one hell've organization, the world should be proud of to know. I know I am.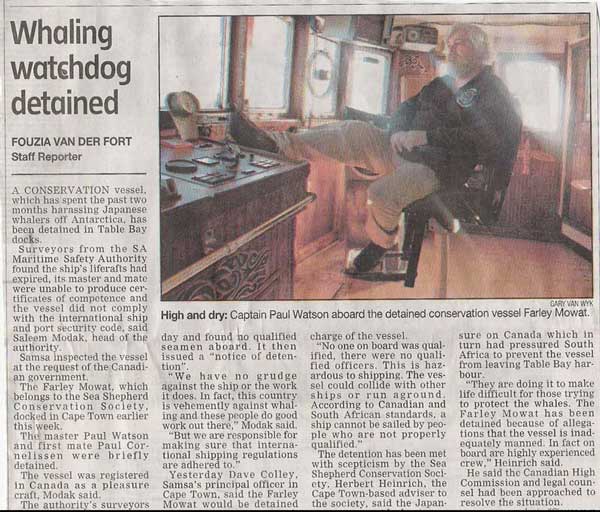 For me the rest of the week just got worse and worse. The gale force winds shrieked relentlessly, my mooring lines broke many times. Whilst things on board the "Spirit of Seal Supporters - BWC" boat and raft was good, my crisis of finding "bait" or the Seals Food which is Pilchards worsened. I was down to two boxes of 5 kg each. Required to swim every four hours back to the pups to feed, my hope of finding "bait" grew worse. Even a 3 hour drive around the Peninsula one evening, visiting every small fishing shop to try and locate some "bait" proved completely fruitless. There was not a single box of frozen Pilchards in the whole country. Boats that were going out were coming back empty. From a peak fishing of over 2 million tons to not a Kg to purchase. To simplify and illustrate how severe this crisis was to me and still is, imagine if each one of you tonight go to your local store to buy food and there is "none to buy", you go from store to store nothing, and nobody can tell you when you can, he return home, with no food. This reality is what I experienced for the seals.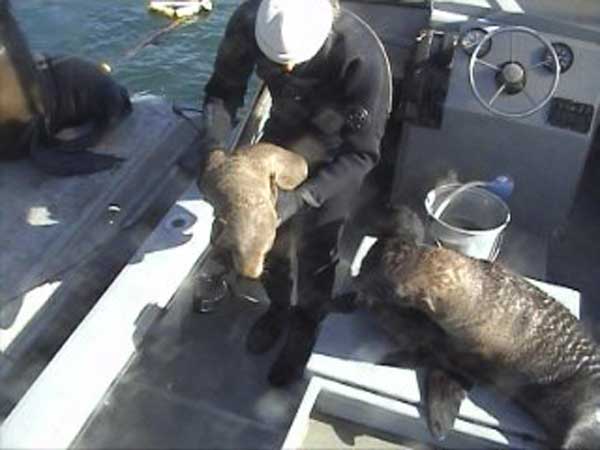 our latest rescue a 2 year old seal about to be tube-fed, whilst the blind seal and "Mumkin" look on
Then, out of the blue, a two year old young seal I had never seen before, popped onto the back of the boat, and lay down quietly, I could immediately see all was not well. His flipper was severely injured internally, unable to use it, it had swelled considerably. Yet although completely wild, he was like "putty" in my hands. Within two days he has done a remarkable recovery, and today, at my 4pm feed, I found he has decided to stay inside the boat.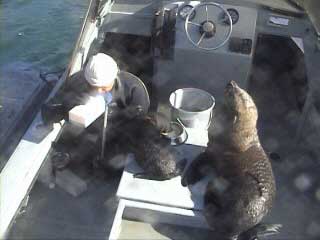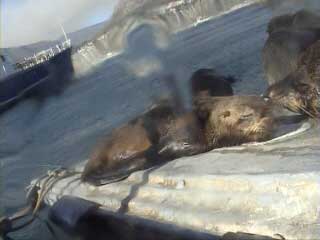 Our latest getting tube fed, one hand holding his mouth open, the other pouring, whilst I hold the tube in my mouth - resting after his feed. The wind making things exceeding difficult, even pouring their feed was a nightmare.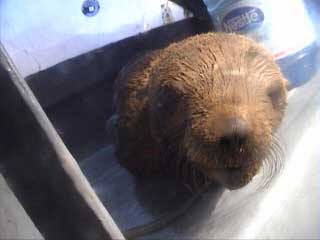 Hello, little one, is this your new home now
The 3 farting Muskaflippers, although in the fresh wind, I can no longer smell if they still are, are as happy as can be. I never thought, that it would have been possible to raise 3 babies together so easily, but they are without a doubt, a team, all for one and one for all. They hop and flipper around the boat, moving around the other seals on the two adjoining rafts, but always come together to sleep on the boat. Interested in the sea around them, they still prefer to swim in the pool on-board. They could just leave or remain amongst the other larger seals, instead they remain together on "their" boat.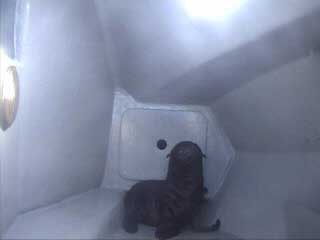 "Max" inside the boat, looking a little guilty for some reason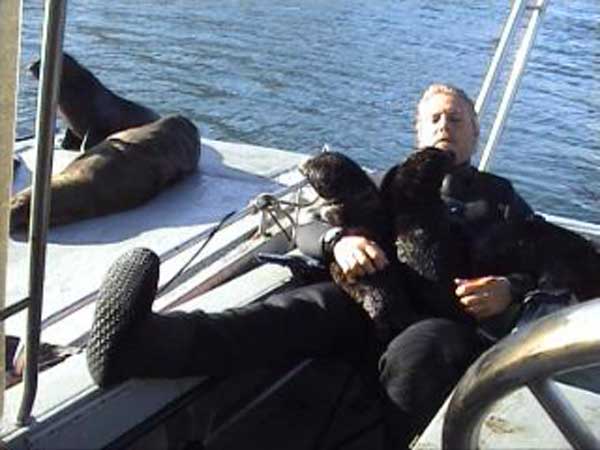 Is this not the life, surrounded by wild Seals, as if you are just one of them. When sitting there, all that comes into my mind is what a privilege, and how I wish everybody could experience this, wildlife with no fear or threat from us humans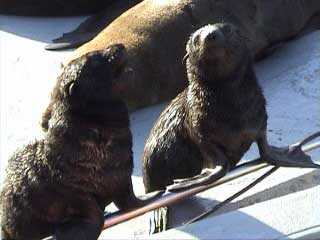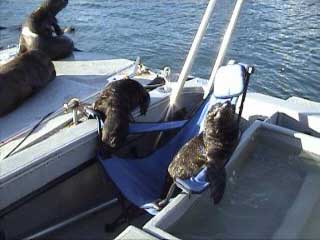 'Max" and "Myrna" doing something, only they know what it is, and making good use of my chair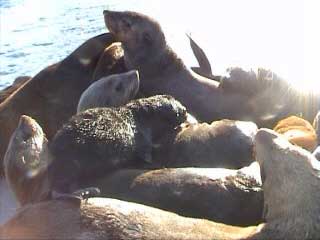 "Myrna" the little flirt, climbing over the "boys"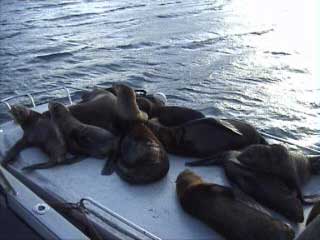 As the sun was setting, I sneaked into the water and managed to free an entangled seal asleep on the raft, that had arrived earlier see my head and my disentangling top of my knife
Throughout all of this, I slipped a disc or something to that effect in my back, and in absolute agony, popping pain killers like "sweeties" day in and day out just to move, I bent and kneeled, feeding and cleaning, wishing I was getting younger not older, my bones and body is slowly falling apart. I worry about how much longer I can keep this "Seal-Man" activity up.
But at least, Paul is moving to a better mooring, where he and his crew will have facilitates, many have come to his aid, including the Public Protector, Advocate Gary Pienaar who has helped the seals so much to date. It is hoped we will be able to move Paul and his boat to Hout Bay. I have found a few boxes of bait, and the boats are out, again looking. The wind has dropped, and the 3 Muskaflippers tummies are full.
Gayle Hoenig, has come up with a wonderful idea, for the Seal Rescue-A-Day continued funding, she has organized a group, made up of Gayle, Anne Thorne, Rosemary Kegin, Steve Gassaway, Jerri McGinnis, Jill Gershen and Summer Matthes, who are now team USA, (so welcome abroad all - with Steve's comment, "I really felt good mailing this cheque), then last have you heard anyone say that, well done Steve and all. Gayle, and her group, proposes a country by country competition, to see which country and their teams can support the seals the most. More on this and the team, in my next update. Robert Mouland, Hi Robert thanks for the pic, of European Animal Welfare, wrote me this e, " Supporters of European Animal Welfare would love us to send you a further donation", how great this that. My Love and thanks to all at European Animal Welfare. Robert is courageously fighting for the Russian Seal Pups that get slaughtered, and he is not doing it quietly neither, you go Robert, you go, well done. Out of the blue, Jose Waechter sent in to Earle of CVFA another kind donation, so welcome abroad, Jose. Please all visit Earle website, he has gone to tremendous effort of the last few months, and has an amazing site, and do not forget to kep signing the on-line petition to ban guns in fishing used to kill seals illegally here in south Africa.
http://www.canadianvoiceforanimals.org/SASA_Meet_Our_Rescues.html
http://www.PetitionOnline.com/Rrancois/petition.html
Its getting better, and soon I will be able to answer your emails more promptly. This week was hell, and at some stages, with pups only being on the boat for a week, I wondered how I would be able to keep this up for the next 11 months, and then start all over again next year, and the next. Rescues to find seals have had to stop until, "bait" becomes available, for now I am just trying to keep the pups from starving. Seashepherd's crew and I, will be working together to help as many seals as possible over the coming months that they are here.
For the Seals
Francois Hugo - Seal Alert-SA