CAPE FUR SEAL SUPPORTERS
Supporting Organisations/Individuals:

NUMBER ONE CAPE FUR SEAL SUPPORTER: SEAL ALERT-SA NELDA AND FRANCOIS HUGO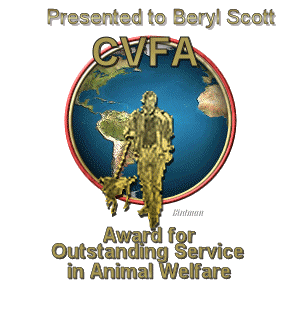 Award for Beryl Scott for Outstanding Service in Animal Welfare 2005
20 NOV 2005 HURRAY THE BOAT IS THERE THANKS TO BERYL SCOTT OF "BEAUTY WITHOUT CRUELTY"-SA BY THEIR R100 000 DONATION
ARGENTINA
Prof. Myrta Montiel - María Inés Bacigalupo
Mark Allen Adkins
Myrta Nasta
AUSTRALIA
Philip Wollen, Founder, The Winsome Constance Kindness Trust
Dr. Teresa Buss-Carden
Rozlen Willoughby
Kevin Rawson, Moruya, Australia, Member Sea Shepherd
AUSTRIA
Hannelore Elker, Animal aid a.l.f.a.
BELGIUM
Rosa Mertens Beerse
Nicole Decock
BRAZIL
Renata Dutra Herne
CANADA
Earle Bingley, Canadian Voice for Animals, Canada, Italy and Argentina
Viscount M.T.J. Cormier
Judy Watson, Vancouver, British Columbia
Sonja Sigurdson Vancouver, B.C.
Albert McAllister, Westville, Nova Scotia
Hannes Coetzee Vanvouver, B. C.
Alice Adamson, Toronto, Ontario
Donald Henderson, Halifax, Nova Scotia
Chrisitne Carter Surrey, B.C.
John and Mary Adamson, Belville, Ontario
Marcel Joseph Goudet, Dummondville, Quebec
Gladys Scott West Vancouver, B.C.
CROATIA
Luka Oman, President, Animal Friends
GERMANY
Christa Blanke, Founder and Director, Animals' Angels
Birgitt Häusler, Mediator, Tierhilfe Malaga
Christine Hafner, Head of Investigations Italy, Animals' Angels
Franziska Gerhardt
Arsene Carmen - vicepresident: Association Ute Langenkamp
Sjaan van Saus, Eurohonden www.eurohonden.nl
Donald Henderson, Halifax, Nova Scotia
Alice Adamson, Toronto, Ontario
Elke winkler
Astrid Ducoffre Berlin Germany
Evi and Claus Gehrke Waakirchen (You can count on us for the Seals)
Thomas Wachter
Tierschutz Notrufde http://www.Tierschutz-Notruf.de
ArtUndTier Tierschutz-Notruf@t-online.de Dagmar Oest Freudenstadt
GREECE
Mary Cochran, Secretary, Friends of the Cat, Athens
Emmanuelle Stathopoulos Athens
INDIA
Christine Townsend, Chair and Timmie Kumar, Managing Trustee, Help In Suffering
INDIA
Christine Townend, Chair and Timmie Kumar, Managing Trustee, Help In Suffering, India
IRELAND
John Carmody, President and Founder, Animal Rights Action Network (ARAN)
Siobhan Higgins, Project Manager, Animal Rights Action Network (ARAN), http://www.irishanimals.com/action/8.html
Vera Resch Dublin
ITALY
Massimo Pradella, International President, International Organisation for Animal Protection
Jessie Cross
Giuliana Gorlei-Pittsey Naples
Marina Berati, Founder, AgireOra
JAPAN
Sakae Hemmi, Elsa Nature Conservancy, http://enjoy.pial.jp/~animals/elsa/ Elsa Nature Conservancy Sakae Hemmi
Tsukuba,Ibaraki,305-8691 JAPAN
LUXEMBOURG
Jean Thill,GAVEA asbl.,Groupe d'Action Végétalien pour l'Egalité Animale
NETHERLANDS
Geoffrey Dekkers, President of EDEV - Een DIER Een VRIEND www.edev.nl
José Kersten, President and Founder and Marius Donker, Advisor, Action Against Poisoning
Le Petit Chien Director: P. SweermanSeat: Amsterdam
Sjoerd van de Wouw
Saskia Oskam, PR Officer Comité Anti Stierenvechten/Anti Bullfighting Committee the Netherlands
Linda Taal Founder, STRAYDOGS CAMPAIGN, www.actiezwerfhonden.nl
P. Sweerman, Director, Le Petit Chien Seat: Amsterdam
Brigitte Lemson, Amsterdam
Kalinke ten Hulzen
Dionne Hoeben
Anjo Jacobi Desiree Verburg
PORTUGAL
Miguel Moutinho, Executive Director, Associação ANIMAL
Asta Nilsen, Lisbon
ROMANIA
Daniela Costin -ROLDA - Romania Animal Rescue,Inc.
SCOTLAND
Blaikiewell Animal Sanctuary
SERBIA
"European Initiative 17" Danica Drobac- Founder & Jelena Zaric- Campaign Manager Animal rights Board Belgrade/Serbia You can count on us! Everything for the cape fur seals of South Africa!
SOUTH AFRICA
Number one cape fur seal supporter Seal alert-SA Nelda and Francois Hugo Dr Herbert Henrich, Advisory Board Member of Sea Shepherd Conservation Society
Louise van der Merwe, Director, The Humane Education Trust
Beryl Scott, National Chairperson, Beauty Without Cruelty
Kelcey Grimm, Co-Founder and Executive Director Enkosini Wildlife Sanctuary http://www.enkosini.com
Beatrice Wiltshire, Ubuntu Youth Club of South Africa
Kelcey Grimm, SA enkosine wildlife
Tess Karagiannidis
SPAIN
Núria Querol, International Liaisons Officer, Fundación Altarriba, GEVHA's Founder (Relation between animal abuse and human abuse) and Animanaturalis International
María Cristina Montiel
THAILAND
Miss Nuntanit Bumrungsap Bangkok
TURKEY
Defne Voronin, Co-Founder, www.foklar.gen.tr
and www.seals.gen.tr
Lale Demiral
Coral Isikci Founding Member of Stray Angels Assc
Hulya Alpgiray President ASKOD The Association for the Protection of Street Animals http://www.askod.org CVFA Turkey Representative www.canadianvoiceforanimals.org/
UK
Alan Cooper, Founder CETACEA DEFENCE UK Colleen Downes, Worcestershire
The Duchess of Hamilton
Ross Minett, Director, Advocates for Animals
Adam Murry, Chief Executive Officer, BILL JORDAN FOUNDATION
ECOTERRA Intl. and ECOP (see: www.ecop.info
) as your full supporters in this struggle. Dr. Hans-Juergen Duwe, Co-Chairman and Speaker of the Board ECOP http:// www.ecop.info marine ECOTERRA Intl. Ecoterra http:www.ecoterra.org.uk
Louise Shutt
Kirstin Isobel Johnston
Judith Swain
Carol A Tavani, MD, MS, FAPA
Mark Johnson - Founder; North Kent Animal Welfare
Singlewell, Kent, England
Robert Mouland - Founder - European Animal Welfare (EAW) Folkestone, Kent, England
Carol Marshall from Hampshire,UK
Jean Jackson, England, U.K.
< Rachel Astill-Dunseith, Branston, Lincoln ENGLAND
Eleanor Boyd Scotland
John Edward Weaver, England UK
UK Gerald Fulham
Folkestone, Kent, England
Sue Baumgardt, Hove UK. Green Party of England & Wales Animal Rights Spokesperson & Editor The Shoreham Protester Newsletter

USA
Paul Watson, President and Founder, SEA SHEPHERD CONSERVATION SOCIETY
Dr Herbert Henrich, Advisory Board Member of Sea Shepherd Conservation Society
Ingrid E. Newkirk, President, People for the Ethical Treatment of Animals
Barbara Kohn - Kohn Public Relations California
Sumner D. Matthes - Wildlife Rescue Coordinator -Sarasota in Defense of Animals, Inc.
Peg Kishel, Minneapolis, Minnesota - greypup@emailforanimals.com
Priscilla Feral, President Friends of Animals http://www.friendsofanimals.org
Tammy Williams Co-Founder Advocates for the Underdogs Organization
Svetlana Schewchenko New England Pet Expo Founder & Director Spay Neuter Program
Feline Friends Rescue and Adoption League
Jennifer Deuster
Mike Sexton U.S. A. CVFA
Trudi Humphry-Rankin (Mrs) Stephen J Rankin
Charlene Shumate
Svetlana Schewchenko, New England Pet Expo Founder & Director Spay Neuter Program Feline Friends Rescue and Adoption League
Debbie MacCarter
Katherine Boykin
Wilmington
Arnold Thompson DelCity,OK
Jennifer Adamski Buffalo, NY
Jennifer Deuster
Barry Hammer
Lisa K Tarbet
Evelyn Zerin
Julia & Andrew Caruk
Elizabeth Goodwin
Frances Howlett Gallante-Creature Comforts Feral/Stray Rescue
Terrie C. Williams
Denise Lytle St. Fords, NJ
Paulette Fuentes Highland, Indiana
Gail Clark New York
Mike Wagner WOLF Site
Kathy Holt, Jonesboro, IL
Evelyn Zerin
Nina Natelson
Barbara Lance, Morganton, North Carolina
Karen Hughes
Lark Diane Kephart Huntsville, Alabama
Sharon Lee Suecof
Denise Lytle
Debbie MacCarter - Save The Harpseals - California State.I volunteer at a marine mammal rehabilitation center in my area and have a real appreciation for the work Francois Hugo does.
Lynn Walker
Frances Howlett Gallante-Creature Comforts Feral/Stray Rescue

UNKNOWN COUNTRIES
Carol A Tavani, MD, MS, FAPA
Jose Waechter
Inez Doolan
Helga Zahler
Denise Lytle
Gijsbert Jan Koudijs

Note;
If you want to be mentioned on this list as a real cape fur seal supporter just email info@actionagainstpoisoning.com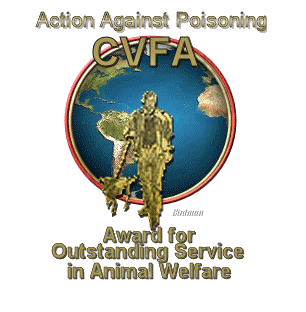 Award for Action Against Poisoning for Outstanding Service in Animal Welfare 2004