11 NOV 05 WHAT OVERFISHING REALLY MEANS IN SOUTH AFRICA?
*.*.*.*.*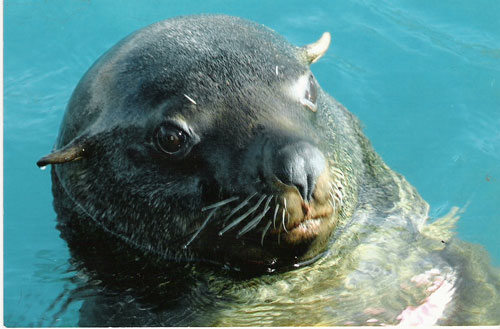 *.*.*.*.*
From: SealAlertSA sasealion@wam.co.za
Date: Fri, 11 Nov 2005 12:29:26 +0200
Subject: What overfishing really means in South Africa?
Dear All Seal Supporters,
For sometime I have been wanting to write about this. To simplify matters. Along the coastline of South Africa and Namibia, was once one of the most productive fisheries in the world. From a commercial company fishing sense, there is commercial profitable fish, on the surface, this is surface shoaling fish, pilchards, sardines, anchovy for example.
This by far used to make up the bulk of fisheries in this region. Up to 7 out of 10 boats were involved in this fishery. As madness would have it, driven by pure greed, to benefit a very few, this "building block of the oceans" food chain, was turned into dried and processed "fishmeal" to feed domestic animals in pet food and for cheap livestock farming feed, at severe cost to the millions of indigenous marine species, millions of years in the making that rely upon this natural bounty.
Seals, seabirds, whales, sharks, fish have all suffered in their millions and paid the price with their starving lives. As an example, Namibia, then controlled by South Africa, was removing 1.5 million tons in 1962, in 2002 the quota for this fishery was zero.
The state of this fish stock has collapsed since 1990, it took just 30 years to become overfished. Government blamed everybody, first the seals, then the seabirds, then the whales, then the fish themselves, then the weather, then the sun, then the past managers of fisheries, then foreign companies, but never ever themselves.
According to MCM marine scientists, marine creatures must adapt or die, as man as a natural predator, has now come into this natural marine equation. This is their management logic.
The other fishery that has developed recently is bottom fishing, trawling and long lining for deep water fish.
Since 1990, with South Africa and Namibia, now being two independently run country's. It appears that a pattern has developed, whereby SA fished the more profitable bottom fish and Namibia concentrated on the surface fish, taking alternative turns to wipe-out the stock, until almost in this same year, the surface fish stock collapsed as well.
(Way to go SA, give Namibia independence but first wipe out the fish stocks). Namibia is now bottom fishing, for a species known as hake or white fish. South Africa is concentrating on the surface fish once again, and I believe, 97% of all fisheries is dedicated to this fishery.
This surface fishery, is made up of sardines and anchovy, which is used in the "fish meal", and the scarce pilchards used for tinned food and for "fishing bait" for long line fishing. In the 1960's pilchards were also used for "fishmeal" until its collapse.
The South African government will in the start of 2006, award for the very first time, 15-year long term fishing rights, estimated if you can believe it at over R70 billion. Over R32 million was spent by these companies just to apply for these rights.
One of the most common predator fish around our coast was known as snoek, it is a midwater fish, it was traditionally fished by thousands of traditional fishermen, with no quota. For the past 2 years, an annual Snoek Derby run out of Hout Bay, has either had to be postponed, delayed or cancelled, the reason - no snoek for the competition.
A few of the Seals I rescued, reject the standard fish pilchards used in rehab and desire the snoek for reasons unknown to heal.
Many fish shops throughout the Cape, earn their living selling to the poorer communities with this snoek.
This year, it has all but virtually dried up. Mona Lisa, was one such seal that needed snoek to heal, rejecting the pilchards and any other fish offered, her life hung on this once bountiful fish stock, one of the oldest fish suppliers, Mariners Wharf, run by a person, who owns almost half of Hout Bay, cannot supply Cape Snoek.
Instead I have been forced to buy snoek, in a lower grade, coming all the way from New Zealand and imported at high cost.
Today, I ordered my customary 10 boxes of 5 kg "bait" or pilchards for my daily seal rescue needs from another large fishing company.
The company is one of the largest in this fishery, I was told, we can only supply 2 boxes, there is nothing left.
We have also just lost an order for 150 boxes form another fishing company.
When will you get, I asked. "dont know came the reply". This is not the first time this has happened, in fact this year, it is increasingly becoming evident that this fish processing plant is running out of pilchards.
On the otherside of this, one fishing company skipper, with 25-years experience, was fired, because he complained about them cheating on the "weigh-in" saying the scales were recording lower volumes landed.
He is tasked with catching Anchovy for fishmeal, scarcity of this fish stock, and lower catch rates, has forced the company to instruct him to fill the outstanding quota with pilchards, even scarcer, in order for the processing plant to not grind to a halt.
On the otherside to this, this fish plant, uses fresh water to wash its fish, which is madness because fish and freshwater dont mix well, they clog the pipes and system.
It is believed their water bill was in excess of R150 000 a month.
They could have used "free" seawater, as they are located on the waters edge, but nobody thought of it. Head of WWF-SA recently announced, SA will run out of fresh water in just 10-years, and urged the public to conserve water, most peoples house gardens are dying from not being able to water their plants and lawns, in Hout Bay, gardens are turning into beach sand pits instead.
Yesterday one of the biggest publicly listed company in fishing, with a turnover of R2.6 Billion, released its year end financial statement.
Review of Fishing:
The 2005 TAC for pilchard was 382 000 tons (2004 : 457 000).
Pilchard landings were lower than last year due to poor catches.
Fish being only available on the south and east coast. (note - This is a west coast fishery were 97% of the seals live).
Costs increased as a result of longer fishing trips and having to transport fish by road, (half way across the country).
Pilchard fishing in Namibia was good, with the total TAC set at 25 000 tons, up from ZERO in 2002. (Talk about letting a stock recovery).
Squid catches (Another species seals rely upon to heal) were reasonable, however financial results were negatively effected by high holding costs of high stock levels carried over from 2004 and low market prices
( Think carefully about this billion rand expert company statement - they cant sell it, have too much stock and nobody wants it) .
In the notes, the squid business which was previously included in the midwater and deep sea fishing segment is now included in the inshore fishing segment. (meaning - they have already wiped out the mid and deep water more profitable sectors)
Selling prices of Namibian Horse Mackerel were similar to last year (meaning an over supply).
Higher fuel prices impacted on fishing costs, despite conversions to the vessels to enable the use of lower priced fuel grades (Only doing this conversion now after decades of polluting the environment).
Trading volumes of fish sourced from external fleets were higher than previous years (meaning no fish stocks), although margins were lower.
Hake, (the bottom fish), results in SA were affected by inconsistent catches and a large proportion of small fish, resulting in lower prices (Clear evidence you have wiped out the breeding stock and are now removing even the juveniles in your greed).
Namibian hake operation (factory/boats/staff) were discontinued. Costs of closure was disclosed as abnormal items in the income statement (R27 million).
Cold storage division experienced higher occupancy levels as a result of increased import activity, (in other words our seas are so over fished already, our cold storage facilities have to import bigger overseas volumes).
After reading all this, when you are in the position, I am in, and you cant even buy a few boxes to save the life of a few handful of seals, who have been lucky to come upon my raft of 2 metres, along a 4000 km of coastline, who are dying clearly from overfishing, then one is quickly forced to see the future, and all the sadness and death it holds.
For the Seals
Francois Hugo Seal Alert-SA
*.*.*.*.*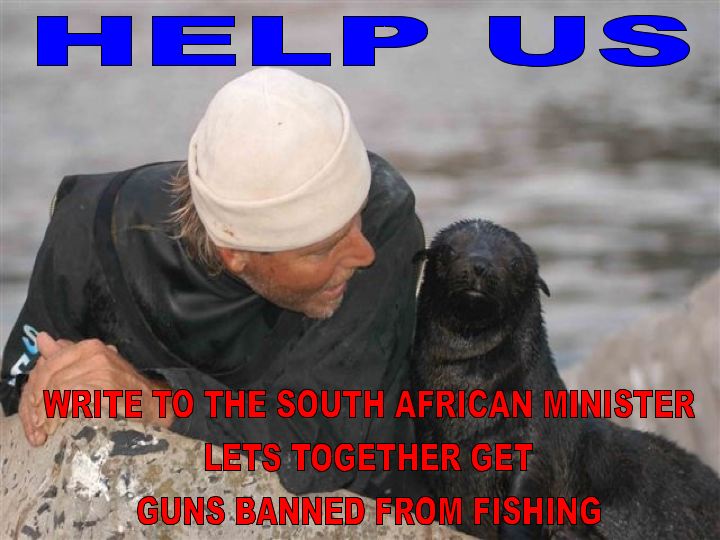 *.*.*.*.*