BY FRANCOIS HUGO
SealAlertSA
Wednesday, February 1, 2006 8:25 PM

Farley Mowat, Security, 1st Swim, and Shark!

Dear All Seal Supporters,

It is now day 77 of my single-handed and this seasons rescue and rehabilitation of baby seal pups in the wild. Mumkin is now 69 days old, and Max and Myrna is now both 40 days old. Since my last update, I have been trying to assist Paul and his crew of Seashepherd with legal and official matters, and at the same time rush back to the pups on the boat for their 4 hourly feed, in between. The wind has blown relentlessly. The latest see below.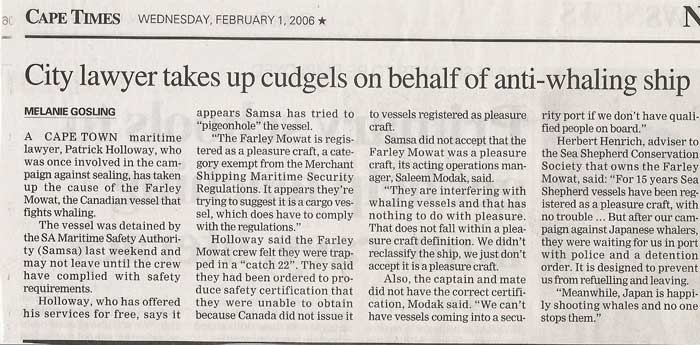 Only from a South African government official, can the following statement come, "We didn't reclassify, we just don't accept its classification", and so we have re-classed it. In my opinion, a page in Animal Rights history was turned with Seashepherd. Previously government officials ignored "Animal Rights" people, but all this changed when a big black ship sporting signia similar to the jolly roger/skull and cross bones suddenly arrived in Table Bay, Cape Town. Peering out of their windows, government officials must have gone into a flat spin. Accusers who frequently labeled "us" as driven by emotions, now reacted totally emotionally, and blundered along from one official to the next. They immediately threw up a 'red flag', and the entire harbour and all ships in it, were placed on a "level 2 security alert". Hence the situation detailed in the article above. The MSCC, or Maritime Security Council Committee, made up of Police, MCM, DEAT, Intelligence, Naval etc, were caught in their own "catch 22". Here were Whale, Seal and other Marine wildlife protectors, people in their exploiting eyes, who were eco-terrorists (Not compassionate, dedicated Wildlife conservationists), right in their harbour, big enough to sink any vessel or challenge any fishing vessel, this could not be ignored.

Trouble was SA own regulation, a regulation which stems from the US and 9/11, was excluded from being placed on a "Pleasure Yacht'. So, to overcome this, and throw a "security net" around Seashepherd, just ignore its classification and detain it.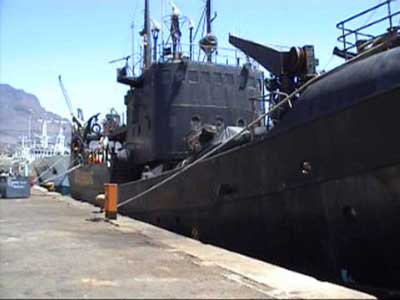 To assist Seashepherd, Seal Alert-SA lodged an official complaint with the Public Protectors Office, and Advocate Gary Pienaar immediately began to assist. Gary is the one that assisted and investigated my 2000 complaint to the Minster and MCM into the Mismanagement of the Cape Fur Seals for decades, and recently in my 2005 complaint to have guns banned in fishing used to kill protected seals illegally for decades and now supported by over 7500 Seal Supporters from over 80 countries around the world. On this subject, Advocate Pienaar has informed me, although the Minister in writing agreed to a quick reply, after some months, the more senior Public Protector Stoffel Fourie and the legal Rep. for MCM, Marius Diemont, have chosen in their own exclusive wisdom, to decide that the Minister does not need to reply. So dear 7500 Seal Supporters, the South African Ministry feels he does not need to reply why for decades fishermen killed protected seals illegally, perhaps he just can't or perhaps he just does not want it to stop, this illegal activity in our waters.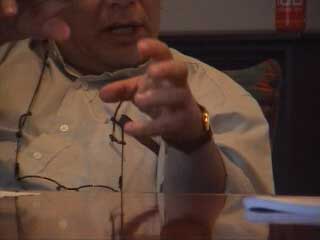 Seal Alert-SA returning to its old days, secretly recording the meeting with SAMSA Security Head, Captain Modak. In today's day, it is only the facts that count, no longer can we rely on people agreeing to "repeat" their own words.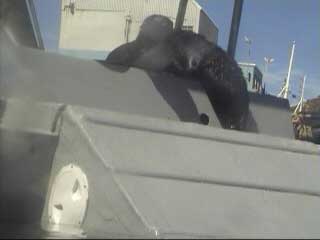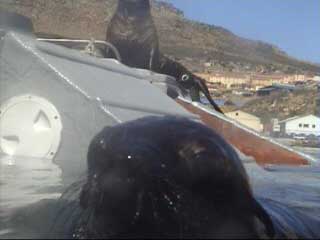 Myrna and Max, watch closely as Mumkin goes for his first sea swim



Back at the floating raft and "Spirit of Seal Supporters - Beauty without Cruelty" boat, our total weight 6-tons, which is about 1% of the weight of the Seashepherd, Farley Mowat. The 3 Muskaflippers, the two boys and one flirt, are doing just great. It has always amazed me working so close to these millions of years old marine species, in the wild, in as natural an environment as possible. Because you witness, the uniqueness of nature truly working, for instance, even though, these are days old babies, who have suffered terribly initially, and who have all lost their "mom's" at a very early stage in their young lives, there is something else, pre-programmed in them. For example, our latest 2-year pup has recovered so well from bone-thin, couldn't walk on flipper, to returning to the wild completely, after becoming for a short time, the 4th Muskaflipper, no dependency, no free-meals, sadly he had no human guardian or sponsor, but at least he is healed and free.

At Day 69, Mumkin ahead of the other two by 30 days, "demanded" and I mean demanded, for his "dad" to take him swimming in the deep, for his very first proper sea swim. None of the 3 muskaflippers have swam in water deeper than a metre, even though, they have been on the floating boat for 11 days, and are free to swim in the sea at will, all 3 preferred to swim instead in their pool on-board. They are terrified of the deep, and desperately require the "safety" of their "dad" to consol and protect them, when their nerves get too much in open water.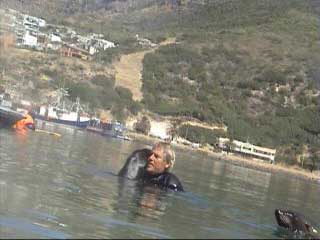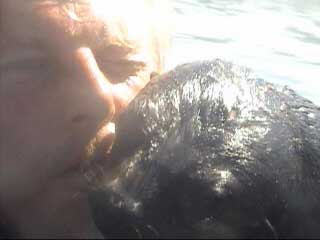 Mumkin having great fun, stretching his flippers in the open water, but every so often, he needs to climb upon his "rock", dad.



The other evening after endless meetings, I was doing my last feed for the day, it was close to 8pm and the sun was already setting, as I swam back to the harbour pier wall from the raft, in the company of at least 4 seals, I noticed a fishermen running down the pier wall above, waving his arms wildly. Eventually I could make out what he was saying. Shark, Shark! Although the pic below is from 1996, of a large great white in Hout Bay Harbour, this was very much the image I encountered with the fin just above the surface, less than 30 metres away. I was still a good 40 metres from the shore. The shark, in all likelihood a great white/Seal/man eater, was heading straight for me and the raft with 50 seals, directly behind me. The watery was cloudy and quite dark, unable to do anything, as the fin had dipped below the surface, I watched and waited for my 4 accompanying seals to react, none did, and it was the last I saw of the shark.

It is all somewhat worrying, as a few years ago just past Hout Bay, a young surfer was killed by a great white. I personally have seen great whites, although very rarely around the seal colony, and have even heard of one trying to take a seal off the low lying rock. In Hout Bay Harbour itself, I have only seen or heard of a shark in the harbour 5 times in the last 7 years. Imagine if a shark, decided to feed off my weak, sick or dying "rescued" seals, being a fish, he does not need to come to the surface to breath, unless in attack mode, he could just hang on the bottom underneath the raft. Then I would really have a problem.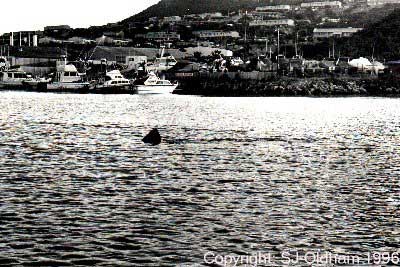 Some news, Beryl of Beauty Without Cruelty, has kindly put together a "Seal Rescue Poster" for the 30th Anniversary of Beauty Without Cruelty organization. Please log onto their website, http://www.bwcsa.co.za , and lets all wish them 130 years more of being one of the best organizations that I know exist. My dear friend Liz, of Marine Connection UK, has kindly placed another article on the Seals and Overfishing, titled "Sealing their Fate" in her latest magazine, it is one of the most informative magazines I have read, particularly on whales and dolphin issues. Please go to http://www.marineconnection.org

Max has been adopted by Team USA, and I am busy with a short Power Point Show on both Myrna and Max, the oldest of the 3 Muskaflippers, Mumkin, has still sadly not been adopted, although, he will never be in need, as he is "my baby".

I am also making plans with Seashepherd Crew to train and show them our wonderful seals, and get them involved in Seal rescue, disentanglement and coastal patrols.

The baby seal's food, pilchard or bait, has become more freely available, but not until, I had to call in my "back-stop" and rely on the "strength and charms" of my dear wife, Nelda, to secure the babies their food, after I had failed repeatedly.

For the Seals
Francois Hugo Seal Alert-SA