17 december 05 - Day 31 into Baby Seal Pup Rescue - Survivability
Day 31 into Baby Seal Pup Rescue - Survivability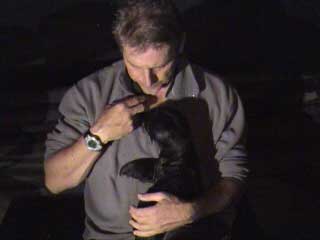 Mumkin's arrival, Hey ! Whats up, feed me
SealAlertSA sasealion@wam.co.za
Saturday, December 17, 2005 9:40 AM
Day 31 into Baby Seal Pup Rescue - Survivability
Dear All Seal Supporters,
Today it is day 31, into this year's baby seal pup rescue season. It is with extreme sadness that I tell you, all 5 out of the 6 baby seals rescued have died, except "Mumkin" who is doing very well, now at day 24. Last year, we had some pups surviving until day 72, so we are a long way yet from being out of the woods, so to speak. I will only feel relatively safe about their rehab, when they reach 3 months.
This brings in question the survivability of this species, and it makes me so mad, when I hear fishermen, scientists and government officials claiming this is a thriving growing surviving species, when with just one pup, every year, and all these risks these pups face, it is hard to imagine how any can survive, let alone thrive.
With "sky" from the Hout Bay Colony, I believe the sugar in our new milk, caused bloating and stomach bugs. With "Samuel", "Piki" and "Meg", all rescued from the same beach, same False Bay Colony, I believe their cause of death in the main was caused by the "baytril", as each died, one day after the next. The latest, also from the same colony, clearly had signs of brain damage, and although fought bravely for 4 days, his little heart finally gave in..
So it is appropriate to assess :- 1. In our first year, I had 2 pups, both were assisted by IFAW's wildlife vet, one survived. These were rehabbed in a pool enclosure at my house.
2. The 2nd year, we had 5 pups, only one "bonded", the others died one after the other. They were rehabbed on a boat in the harbour in an enclosure.
3. The 3rd year, we had 13 pups, some "bonded" and did well initially, but as soon as new arrivals came, and I focused attention on them, existing bonds faded, and pups either left the raft, isolated themselves becoming aggressive or died. They were rehabbed on 2 floating rafts, interacting with all the other seals. None survived.
4. This year, as I was unable to get their new boat together in time, they were rehabbed at home. This provided for better monitoring/treatment, unfortunately, a similar pattern to last year has started to develop. Looking at my notes, I find that although main pupping time should be the first two weeks in December, pups are actually born from September(premature) through to January (late), 4 months. All the pups that have successfully survived and grown into big healthy seals, were born and rescued between the 23rd and 28th of November. What significance this holds is unknown. Although, 5 out of the 6, that have died this year, each one had to swim a considerable distance in extremely rough/windswept seas, and as these pups are not waterproofed and cant swim, not even like the water until 6 weeks of age, I am increasingly suspecting, that this "swim" ashore, has a significant effect on their reason for dying, either from swallowing to much seawater, brain damage or the stress involved. As in 4 years, not one that has made the swim ashore alive, has survived, longer than 60 days.
All our successfully rescued pups, were rescued by me personally or were born on the coastline. The "bonding" issue, of treating and rehabbing more than one pup, has also not be effectively answered, although greater insight has been gained this year.
So for the moment, all our successful hopes are now pinned on "mumkin" surviving.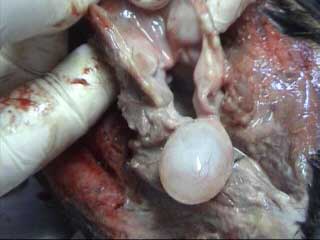 "Meg", with the strange bubble in her throat, it was blocking both her stomach tube and her lung passage.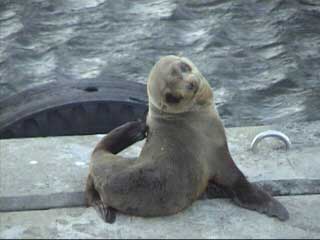 Above is a female yearling, "Buller", very weak, with her broken index finger in flipper and severe abscess in her shoulder/flipper, after 5 days of antibiotic treatment, "Buller" was returned to the wild/pier to be free once again, and to continue her rehab in the wild.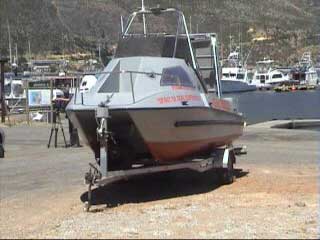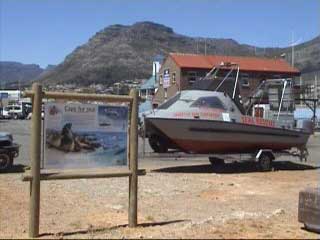 Thanks to all your generous support and in particular Beauty Without Cruelty and Beryl Scott, the "Spirit of Seal Supporters" 6.4 m boat is being launched.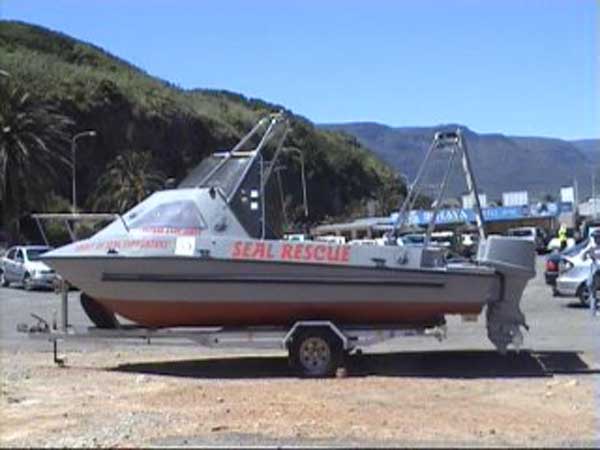 The transom for the seals can be lowered and hoisted at will.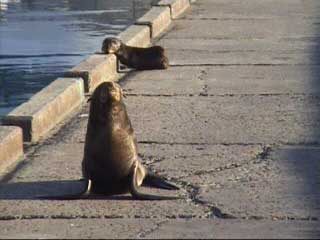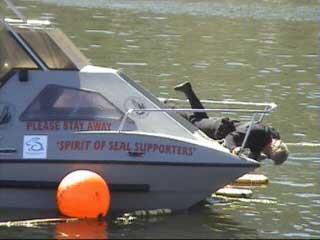 Within 10-minutes of launching the BWC/Spirit of Seal supporters boat was put to good use. It collected the blind seal and "Buller" who had both somehow became a close pair and who were waiting on the pier. "Buller" immediately chose the enclosed cabin as her new home.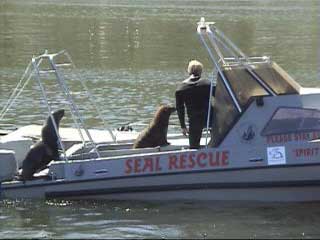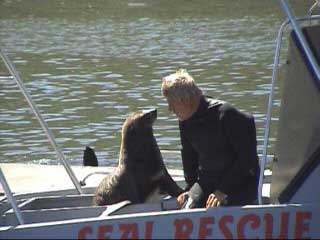 By evening, all the rehabbing seals had inspected the new boat, with each taking turns to test the new ramp.
It was particularly fitting to see an old friend, "Popeye" the pup from 2 years ago, and who left during last years pupping season, has not been seen for the whole of 2005. As weeks grew into months, I suspected he might have become a "victim" and had been killed, instead on the day of the new boat, "Popeye" was back, not a mark on him, and perfectly healthy.
We are busy revamping our other raft, due for completion next week, and then we will have a raft floating on either side of the BWC/Spirit of Seal Supporters new boat, sufficient "floating" space to do all our rehab.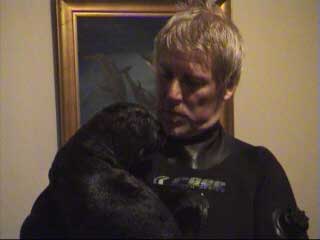 Above is "Mumkin" giving me a little love on my return. I have decided to keep him at home, where he is very happy for now, until after the holiday season, to avoid any mistakes that could happen on the boat alone, or if some unruly holiday makes attempted to board the seal rehab boat, when I am not there.
A French Television crew from one of France's oldest animal programs, filmed the entire launch and goings on over the last 2 days. Yesterday at 6 am, I meet them again at the Cape Town waterfront, where I disentangled a seal on a jetty there and showed them the abuse and plight of these seals living in this harbour. I made it very clear, that there are more seals living in the polluted harbour of the waterfront, than on the extinct and banned, former Seal Colony, Robben Island/Seal Island just a few kilometres away offshore, of which numerous boats offering trips to this island.
Paola Ghidotti of OIPA and now the Director of International Relations, and who has also set-up and designed the Seal Alert-SA website in English and Italian, see http://www.SEALALERT-SA.net , has just written and has told me, we are on the cover of OIPA magazine. So fitting, as it is "popeye" in this cover, see below.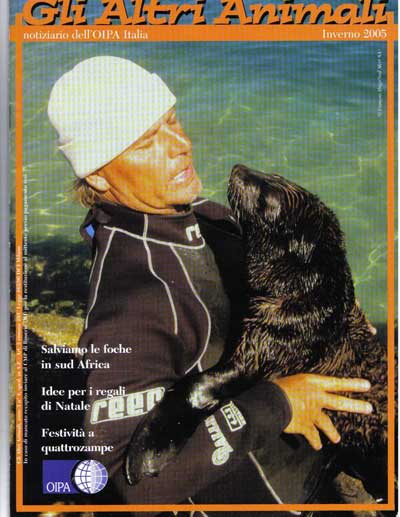 I am still busy with getting everything in order, the jetski, which thanks to your generous support, will be operational soon as well, and it is so gooooood to be back on and in the water again.
From now on I should have a little more time to answer your emails individually, and I apologise for not being as prompt on replying as I should. Exciting, saving seal lives, times lay ahead, thanks to all your wonderful support.
I will send another update soon. PS - Please forgive me for these sad pups deaths, I have asked each one for their forgiveness, they died with love and care, and I did the very best I could. Each death leads me one step closer to saving life, and for this, they will help to save many more.
For the Seals
Francois Hugo Seal Alert-SA.