8 OCTOBER 05
THE RIGHT STUFF - BABY CAPE FUR SEAL RESCUE PLAN
FOR THE THOUSANDS OF CAPE FUR SEALS BABIES WHO START STRANDING
By Francois Hugo Seal Alert-SA
Date : 8th October 2005
Seal Alert-SA in reference to the corresponding attached email, has developed a second alternative plan, we call this plan, The Right Stuff – Baby Cape Fur Seal Rescue Plan. Please refer to this name in all future correspondence.
THE RIGHT STUFF RESCUE PLAN
The ultimate goal of Seal Alert-SA, is the non-rescue of new-born baby seals.
As by the designs of nature, a portion of these will become victims of the natural forces of nature. A natural selection process. However until a state of an acceptable natural and balanced environment exists along the coastlines of southern Africa. In that;
· Cows are not killed, illegally in culls or by criminal fishermen.
· Cows are given suitable habitat in which to raise their young.
· Sufficient foraging food is available to cows.
· Cows are free from any unnatural diseases.
The rescue of baby seals is not only important, but in fact, critical to the overall objective of returning seals to their natural evolutionary path. In our opinion, holding the very key to seals future in southern Africa, and in fact, the key to an overall balanced marine environment for all species within. Be they fish, seabirds, whales, dolphins or sharks.
Unnaturally with over 40 offshore islands whose overall land mass is equal to 1000 ha. Seals are today found breeding on less than 2% or 20 ha in total. It is important to understand, that offshore, a distinction should be made between a suitable offshore island of sufficient size, to that of a small awash rock, which is clearly not conducive for seal pup raising.
The ultimate goal, of Seal Alert-SA, is to re-establish and return seals to at least one or two major historically, which are now extinct, that were previous seal breeding islands. Robben Island, called after the Seals by early Dutch explorers, is one major objective in our planning;
* Robben Island at 507 ha, accounts for over 50% of all the offshore island land in southern Africa.
* Being a world heritage site since 1999, its future protection and conservation, will be ensured not only nationally but internationally.
By returning seals to Robben Island, would be the same, as turning back the clock 400 years for at least 50% of this unique species and its future. An enviable accomplishment if possible.
The re-introduction, of a marine mammal who is dependent on its survival in the sea. Is not possible, when considering other "land based" wildlife re-introduction programs. A seal cannot be captured and released. He will simply swim away back to his original habitat.
The only effective, natural and meaningful, re-introduction of seals to a previous century's extinct, historical island, would be via the introduction of new-born pups, who in turn would grow and adopt this island as their birth colony, leading to an eventual establishment of a fully natural seal breeding colony within 5 to 10 years.
Seal Alert-SA has for the past several years, developed the first of its kind, "in the wild" complete rehabilitation of a baby seal. It is therefore important, to move forward with the next stage of this development. In that;
* We would have liked one more year in a semi-controlled un-restrained semi-natural environment, ie the catamaran boat, to develop and perfect, group baby pup rehabilitation, unfortunately lack of funds, time and constraints prevents this.
* The next stage, would be the rehabilitation of a group of pups on an island, preferably an existing offshore seal colony.
However as there are only 9 offshore colonies in South Africa, on a total of 10 ha of overall land space, overcrowding of seals especially during pupping time, is prevalent on all of them.
* This leaves just two options, re-introduction on a previous extinct island, which under current policy development is not possible, or to select a non-breeding/non seal haul-out rock for pup rehabilitation in a natural wild setting.
THE ROCK
Unfortunately no such rock exists along 3000 km of coastline. For if it was suitable for year round seal haul-out or breeding, it would have been colonised. However, under the present circumstances, with fewer options, Seal Alert-SA with it's vast marine experiences of this particular coastline, has identified a possibility. As noted by the following;
* Instrumental in campaigning for the new draft on Seals, of which Seal Alert-SA is a noted advisor. Section 3.1.1.12, of the new draft, defines the following, (Rough water/Spring tides) – Where possible pups showing a potential to survive may be returned to the colony from which they came or are thought to have come.
a. This is flawed because for a number of reasons it is not practical. Cow may have been illegally killed or starving. Pup is aborted on coast due to overcrowding. Previous attempts has resulted in pup re-leaving the island. Natural behaviour of wild seals, that are weak or non-surviving is to break away or be pushed off the island by the herd.
* Aware of our future direction. Seal Alert-SA in 2002, secured from Head of Marine Mammals at Marine and Coastal Management, Dr JHM David, Specialist Scientist, it reads (see attached letter), "This is to certify that MCM has no objection to the use of certain offshore rocks close to Oudekraal, by Mr Francois Hugo, pending the submission by Mr Hugo of an official application to MCM to rescue sick or injured seals".
* According to the "Think Tank" meeting of senior Public Protector Officials, the current Seal Protection Act, is not empowered to legally request an application to Rescue seals, its purpose being of entirely an exploitative nature.
* In 2003, Seal Alert-SA secured in writing from the Public Protector the following, I quote, "I confirm that I attempted to secure an indemnity undertaking from MCM to allow you to assist MCM by providing the assistance to seals they could not provide. The terms, inter alia that you and Seal Alert would be indemnified pending steps by MCM to standardisation of permitting requirements. The letter requests confirmation of the terms of the agreement. I received no reply. The absence of a response from MCM can be argued to mean consent to the terms of the indemnity". Advocate Gary Pienaar.
* In the new Seal Protection Draft, (For Seals) – government will not fund rehabilitation, but will encourage privately-funded rehabilitation facilities.
* In 2004, Seal Alert-SA was once again instrumental in having the area, from Hout Bay to the end of the rocks at Oudekraal, declared a protected Marine Sanctuary. One of only 6 sites in South Africa, protecting less than 10% of our coastal marine waters. No fishing of any sort is allowed.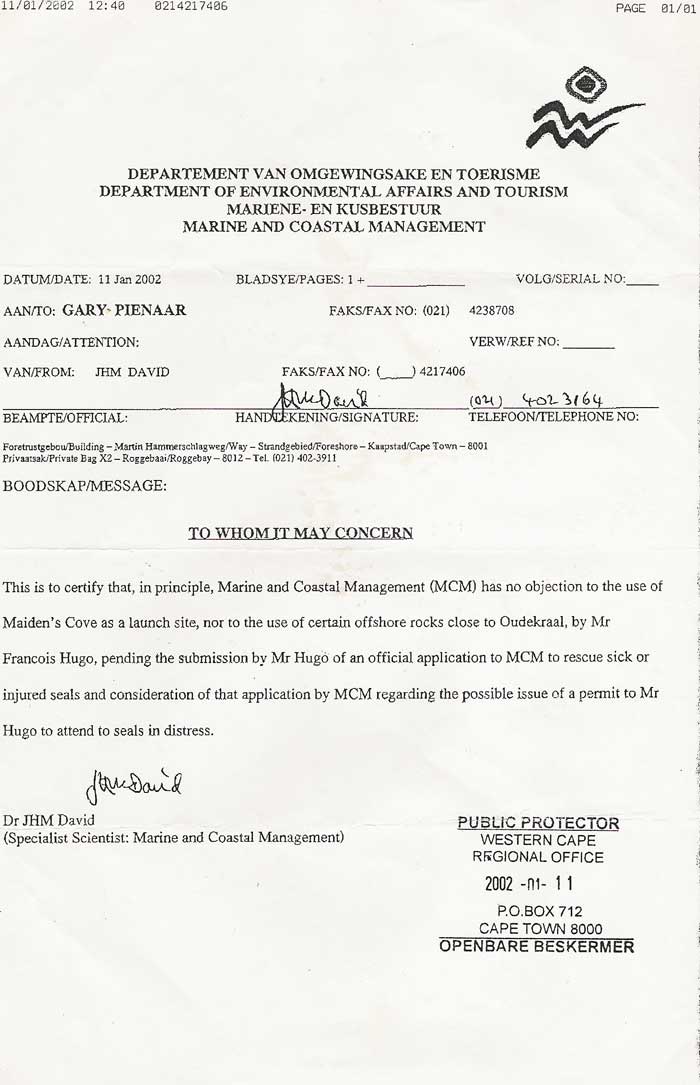 Seal Alert-SA intends to use the above in any attempt be made by MCM to stop the rehabilitation of pups on this rock

This rock, although a tiny "mini-me" of Robben Island, has all the environmental and location aspects offered by its original historic seal breeding island. (seen to the right in the distance)

BABY SEAL RESCUE

This completely barren rock, with no active seabird or seal breeding or seal haul-out activity, {Therefore no unnatural environmental or wildlife disturbance}, except the occasional temporary haul-out by a lone passing seals, will now become our "catamaran" seal pup rehabilitation facility. So what's needed now;
1. As this rock is completely inaccessible from the coast, its distance someway offshore, its position will offer the pups natural seclusion and protection, as nature intended.
2. The rock will therefore replace the "catamaran project", however, as the only way to reach said rock is by boat, launching either from Hout Bay or Cape Town, both an equal distance of 20 km by sea. Along this coastline, gale force offshore winds reaching speeds of 120 km/h are common throughout the pupping period. Whilst the pups will enjoy a dry and calm free rock, the conditions out at sea are quite severe. Unfortunately, our inflatable Seal Rescue boat sponsored by Seashepherd, although an excellent aid, is unable due to its lightness of transversing this 40 km return route, on a daily basis under all weather conditions. Likewise the old 1996, Jetski, single seater sponsored by Phil Wollen, a second excellent aid, except it is ageing, and it can only effectively carry the weight of a single person. I need a craft that can transport many seal pups to and from this rock, as well as much larger seals during rescue operations.
3. Seal Alert-SA has extensive experience boating along this coastline for over 30-years, as well as having expert experience in Jetski and other boat designs. We have therefore selected a very effective jetski for the job, based on our budget and reliability. It is a 3 seater, large craft, with a weight carrying capacity of 300 kg, in good second-hand condition of a 2001 model.
4. The location of this rock, sits between the seal colony off Hout Bay and another much smaller seal colony, that develops about a kilometre away, with 50 seals on one of the other rocks of the oudekraal rock group, and with Robben Island in the distance.
5. The sea temperature is a chilly 11 degrees C, and colder, with the wind chill factor, increasing this cold. It is therefore a must to use expensive drysuits, in commuting to and from the island, and for swimming to and from the anchored jetski to reach the island, as no landing of any boat is possible on this rock. As I am be required to spend up to 12 hours a day in the drysuit, fungus becomes a problem and drying of the suit, and therefore a few rotational suits are required for health reasons.

This Rock opens up many exciting natural possibilities;
1. Hundreds if not thousands of pups can be rehabilitated on this rock, particular if I can master the possibility, of a group of pups drinking "milk" from a bowl, instead of each being tube-fed.
2. Passing sick or injured seals that have isolated themselves from over-crowded colonies will seek refuge now on this rock, due to an existing seal scent. Making identification of them easy, together with standard procedures already developed to treat seals in the wild.
3. Free from human disturbance, that has plagued my existing site in Hout Bay Commercial Fishing Harbour, both from public and criminal elements of society, my ability to interact with wild seals on a deeper level will be taken to the next level. 4. Entangled seals can also easily be freed using developed techniques.

There is however a downside. The reason this rock is available, because by the start of winter, with big storms rolling in, the rock becomes completely awash by very big seas, however there is possibilities;
1. Every day, extra from birth, is a positive step closer to survival for these pups. Conditions for effective pup rehabilitation are near perfect until they get their first waterproof coat by March. From observation, I have until May, which is 5 to 6 months into their rehabilitation, of the use of this rock. From previous experience, a sufficiently adopted parent/seal bond has developed, which will allow me a whole range of possibilities;
1. They can all be transferred to the bigger Seal rock colony off Hout Bay for the completion of the rehab. The existing colony, has declined in the period to now represent approximately 25% of its overcrowded state in December pupping time. So disturbance and space, is ample and minimal.
2. Perhaps sufficient funding is available to purchase the catamaran to be used as an alternative, during the rough seas/winter rehab period.
3. The campaign to allow seals back to Robben, might become a possibility by June.

It must be noted however, that the weather or storms, uncommon in this period, could become a serious negative factor, particularly with global warming and the changing weather patterns. We will never know until we try.
We plan to video document every aspect of this exciting undertaking. Which will be forwarded to you almost daily/weekly.

Last year, just on new-born pup rescue responses. I rescued pups from 7 different seal colonies spread over a range of 1000 km. The majority and 4 of these, can actually be reached by Jetski and will form part of my pup rehabilitation program. However a considerable amount of driving by vehicle to rescue seals and pups is required. Les Ward of Marchig Trust made funds of approximately R20 000 last year, available for the purchase of such a second hand reliable 4x4. However we have been unable to source a suitable vehicle for such an amount. We are therefore in desperate need of a reliable 4x4, for our two standard beach buggies, are perfectly suited for the Hout Bay area, but not further afield. Being open vehicles. In addition in order to tow a bigger jetski we would need a bigger engined vehicle.

Herbert Henrich and I, are looking into the possibilities of obtaining somesort of sponsorship from Landrover, and perhaps on financing it, ourselves.

To give an example of a vehicle's necessity, last year;
1. I had to drive non-stop through the night to the Namibian border almost 1200 km return trip, to collect a pup taken 100km inland to a farm, and to get back by the next morning group pup feed.
2. Over 200 seals were dying 200 km from Cape Town, and I could only manage to make one trip, and rescue one pup, due to vehicle problems. Three months later the entire 200 strong colony had died.

However this is one aspect, that we have been sorely lacking in for several years. The lowest 4x4 vehicle of say a 1995 model is R70 000, a 2000 model is R140 000.

Below therefore is a list of our most urgent requirements;

1. Yamaha XL 700 Three Seater, which we will name "spirit of seal supporters" with a new trailer is R64 000
2. Drysuits with undergarments x 3, with part sponsorship are R25 000
3. 4x4 Vehicle is between R70 and R140 000, or if financed, deposit of around R30 000, with repayments of R3000 a month.
4. This is excluding all pup/seal rehab costs, food, medication, cream, vitamins, vets bills etc, currently at R500 a day or R15 000 a month.

Minimum funding R159 000, less R20 000 (les Ward), R 139 000 or
on vehicle finance R119 000, less R20 000 (Les Ward) R99 000.

As mentioned, we have received R47 585, with further pledges of R40 000, still to come, bringing our possible total to R87 585. Approximately R11 500 short, of our lowest requirements, (depending of course if we can secure finance). Failing this, we will be short, approximately R50 000 (ie a vehicle). We do however have our two Seal Beach Buggies, so we are not completely "dead in the water"

We are therefore a "GO" for this project.
If you can help further please do, as Seal Alert-SA will already be absorbing the R15 000 rehab costs a month or R180 000 a year.

Please let me know urgently, if any of you require further details.


For the Seals
Francois Hugo - Seal Alert-SA
sasealion@wam.co.za


NOTE ACTION AGAINST POISONING:

Bank account Details :
Snail Address is
SEAL ALERT-SA
BOX 221
POSTNET
HOUT BAY
7872

HEREWITH IS FURTHER DETAILS FOR BANK TRANSFERS
ZAR is South AfricanRand.

SEAL ALERT-SA
ACC : 911 2201 321
BRANCH CODE : 632 005
SWIFT CODE : ABSAZAJJ
BANK : ABSA
"This is the email address, I get from my bank ABSA, midbasesqi@absa.co.za ; or tel +27-21-421 5465, when they are confirming overseas payment."

Need more data:

Name: SEAL ALERT-SA
Address: BOX 221, POSNET, HOUT BAY
City/code : 7872
Country : South Africa


SA NAT.CLEARING CODE

BIC: (SWIFT-CODE) ABSAZAJJ
Bank name : ABSA
Address : DELPHI ARCH OFFICE PARK, RAATS DRIVE, TABLE VIEW
City/code : TABLE VIEW, 7439
Country : South Africa