FOR THE THOUSANDS OF CAPE FUR SEALS BABIES WHO START STRANDING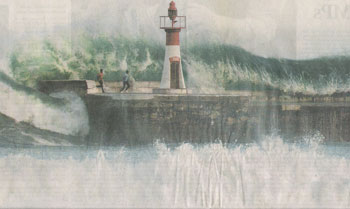 a storm that hit the Cape recently and why the pier below is not always safe to use.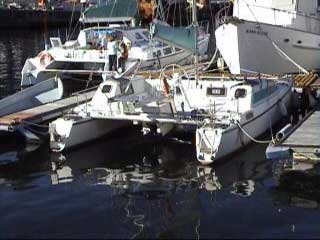 the shape of the proposed boat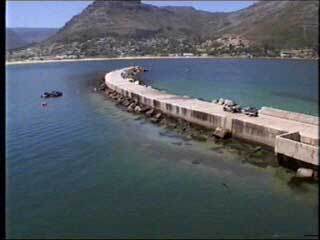 the tiny raft currently used for seal rescue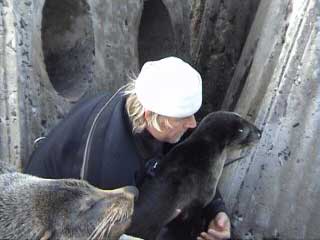 Dear All,

Seal Alert-SA answers some questions.

WHY IS THIS BABY CAPE FUR SEAL RESCUE PROJECT IMPORTANT ?
Unlike most other Animal Disasters, like the recent New Orleans Flooding or the Tsunami in Asia, these baby seals at the tip of Africa have been enduring these storms for decades. In addition, the factors of fishing and overfishing is even more relevant equally to these seals, causing widespread starvation and suffering. Unlike anywhere else in the world, where a number of well funded organizations will respond to a disaster, in the case of these seals, there has never been anybody, not a single organization or a single person. In fact, their suffering is so unknown, most South African's even living along the 3000 km coast-line where this happens, is not even aware of it.

WHY NOT USE THE PIER ILLUSTRATED IN THE PIC ?
Firstly MCM which controls this second busiest commercial fishing harbour in SA, refuses to grant me a permit to use it. The pier is open to the public and illegal crayfish poachers who use it at night. Injured seals have been killed by these poachers resting on these pier rocks. I cant be there 24-7-365 and Security to protect this pier would cost over R150 000 a year, alone. Baby seals fall between these concrete blocks with holes in them and die trapped unable to climb back out these holes.

WHY A 24-FOOT CATAMARAN BOAT AND NOT A LAND CENTRE ?

After two months Baby seal pups need 24-7 access to the sea, to learn to hunt and survive, whilst continuing their rehabilitation for the remaining ten months. A floating raft or boat is the only alternative.

WHAT IS SEAL ALERT-SA DOING TO BRING ITS SIDE ?
Firstly, this campaign is about purchasing a boat for Seal rescue. Since 1999, Seal Alert-SA through our manufacturing arm, producing Mini Global atlases, run by my wife Nelda, provides all the funds of the actual treatment, food costs and care. These costs are between R2000 - R10 000 per seal, with treatment periods of two-weeks to fifteen months. We have rescued over 5000 seals to date or approximately a 1000 seals a year. We take no salaries, absorb all admin, office and any costs related to the seals ourselves.

To understand this better, worldwide there is over 70 well funded Seal Centres, who combined rescues a total of 3000 seals from a worldwide seal population of 28 million. Seal Alert-SA basically rescues 1/3 to 1/4 of the world's rescued seals, single handed. In comparison there is 550 million cats and dogs, 19-times more than seals, and there are hundreds if not thousands of domestic Animal Rescue Centres. In South Africa, there is over 100 SPCA branches dealing with domestic animals.

Thanks to Earle Bingely of CVFA and his Petition on behalf of Seal Alert-SA, we now have over 5000 supporters from over 70 countries who have signed the petition, from which I estimate we can harvest about 25% of these email addresses. That is 1200 supporters to contact and request assistance, which I am in the process of doing. Secondly, I am busy setting up a Seal Alert-SA website, from which we will offer for on-line sale, as another means of funding, our Mini global Atlas collection.

I thank all of you that have already offered to once again assist, to whom I will each send a personal Thank You, but please understand this was not our intention, as we have almost no database of supporters and no website (due to the strange circumstances as detailed in the letter of the Public Protector to the Minister and in this country of South Africa), my appeal to you, was just to simple ask if you could spread the word about our appeal and to get it onto websites, as I have already received numerous complaints of my never ending long emails, and so was reluctant to overload everybody's in-boxes and make even more enemies than I already have.

I hope this answers at least most of the important questions.

Francois.