Beryl Scott from the organization "Beauty Without Cruelty":
"Francois, go and get the Seals their boat."
You can send a "thank you" to
Mrs. Beryl Scott chairperson@bwcsa.co.za fax and tel 0027-21-671 4583


*.*.*.*.*
From: SealAlertSA sasealion@wam.co.za
Date: Sun, 20 Nov 2005 17:43:04 +0200
WE DID IT - THANK YOU SEAL SUPPORTERS !


SAVING THE CAPE FUR SEALS
600 years ago, when the first European explorers visited our shores at the tip of Africa for the first time, they found a specie of seal, millions of years in the making, living in harmony on the more than 40 offshore islands dotted along our 4000 km of coastline.
To them, and how I envy them, these seals presented a sight - honourable to behold.
Sadly, it did not take long, to turn this once honourable sight, into a sight to kill and slaughter. Soon they were clubbing a 100 to death, simply to amuse themselves.
Centuries later millions upon millions of these wonderful seals have with the worst possible cruelty lost their lives, and all these islands filled with seals became no more. Sadly no help came, not from the indigenous bushman, or the sealers, or the governments, nor even in the latter years, the IFAW's of the world.
The plight of these animals never truly acknowledged, except in essence to further exploit their pain and cruelty.
In 1999, that changed, Seal Alert-SA founded on the "cries of millions of deceased seal's souls" rose up to accept the challenge and to ensure their future under the African sun. Facing criminal arrest, threats and intimidation, we fought hard to create the awareness about their suffering, and slowly but surely after seven years we got their message out.
Behind the scenes, Seal Alert-SA just did not talk about it, we tried to save every seal we could get our hands on. Financially their rescue devastated our resources, but this was a small price to pay for their future.
After forcing government to accept Seal Rescue for the first time in the history of the South African Fur Seals as a policy, and getting them to officially announce through a more effective Seal Conservation Policy that the part of the Seal Population in South Africa waters would be safe from future sealing and commercial slaughter, and enjoy greater protection and conservation, we turned our attention to an official complaint into past mismanagement of this species.
Moving on, we are currently campaigning to Ban Guns in Fishing, used to shoot thousands of seals illegally and indiscriminately and on forcing government to allow seals to return to islands banned to them, and from which they were historically driven off.
There is still immense work to be done, driven from islands, seals fled to the desert mainland where no humans lived, until their fleeing numbers increased to such a level, that commercial slaughter of their young once again became a viable option. With new born pups dying in the desert heat or being torn apart by hungry land predators, their fate on these desert beaches turned for the worse. 60 000 baby seals annually clubbed for their pelts and 7000 bulls killed for their penises, with another 5000 being victims of this industry, a by-catch from being ridden over by transporting trucks of seal bulls.
Until in 1988, this species of seal, could take no more, and since has seen annual mass death of over 300 000 seals each year.
From next year we plan to start addressing the clubbing in Namibia as well, an independent country, and have already started the ground work.
We will end the clubbing there and we will get the seals back onto the islands where they belong.
Slowly through our rescue of these seals we learnt, and as we learnt we become more knowledgeable, and soon we realized, there is a limit to what two people can do, a husband and wife team.
We slowly realized the future of seals lay in everybody's hands, not only from South Africans, but from across the world.
This is where YOU come in, you are that future, without you, there is no hope, no future for this species.
Over the years, as our awareness grew, carried forward by wonderful people like you.
Caring souls came forward out of the blue, with offers of much needed help, lead by Captain Paul Watson of Seashepherd and his advisor Dr Henrich, soon help for much needed equipment came in from Phil Wollen of Australia and after meeting the respected Madam Marchig one windswept day, the Marchig Trust of Scotland and Les Ward became annual supporters of Seal Alert-SA to acquire much needed equipment, once again.
Without these caring core supporters, Seal Alert-SA would have disappeared beneath the waves long ago.
This year, after more than 30 000 hours working with seals in the wild, I was determined to offer a viable in the wild solution to the impossible task of rescuing and rehabilitating new born baby pups, Seal Alert-SA made its first public appeal.
We needed to perfect the group rehabilitation of baby seal pups, in order to lay the ground work for their future re-introduction back to the islands.
We had a plan, a plan that required a floating boat or platform to do what is required during the 10 long months of each pups rehabilitation. With time not on our side, the call for funds slowly spread around the world, with Earle Bingley of CVFA grabbing this plea and acting, together with Jose and Marius of ActionAgainstPoisioning, Defne of Turkey for Seals and little Paola of OPIA in Italy, leading the appeal, on Seal Alert-SA's behalf.
Kindly Professor Osthoff an expert on food sciences and Earnest Slabber of Dairy Bell, volunteered to help develop a special and of utmost importance Cape Fur Seal "Milk".
Developed over some months with much effort, this team delivered their first batch.
Soon it became apparent to all that Seal Alert-SA was in desperate need of substantial funding, with Earle's Power Points illustrating wonderfully the way.
Once again, Les Ward and Madam Marchig, took the reins, and decided to address an appeal on behalf of Seal Alert-SA to IFAW.
An organization founded on the call to help end the Canadian Seal Hunt, who after decades had raised hundreds of millions of dollars, both here in South Africa and around the world, to end the hunt, which had never ended.
A letter with over 40 supporting organizations was finally sent to IFAW-SA, in particular Jason Bell. Their reply angered and shocked, us all, although Seal Alert-SA suspected from the beginning their reply. It read, unfortunately we can not provide one cent in a donation, although 400 000 seals are dying in southern Africa each year, this is not a regional priority for us, domestic cats and dogs in Africa's townships are, but nevertheless we at IFAW will continue to campaign vigoursly for funding for the seals.
Denied, but never beaten, the team of worldwide seal supporters made up of each one of you, reacted, slowly the concern and support spread around the four corners of the earth, and I knew, finally these wonderful seals, now had a future, YOU, each and everyone of you, to numerous to mention, made this a reality.
From Doctors to Pensioners, Artists to Poets, Young and Old, Working and not working, all did their part. From big donations to small, every penny added to a solution of help.
To watch this support grow, has been one of the highlights of my life, it showed that no matter how small, that individual act will change the world, in fact it is the only thing that has.
With you in support, and I know you are all bombarded with other problems, you should just how amazing each one of you really are.
As time moved rapidly on, I knew we had run out of time, the Seal pup boat, was sadly this year, not going to become a reality.
Alternatively made plans, thanks to you, still provided a solution of hope.
We knew at Seal Alert-SA that we could never hope to save single handedly 400 000 dying seals each year, but we could indeed try and save as many as we could, Frantically as the funds came in, they went out to acquire the much needed equipment, necessary to rescue and save seals in a watery, cold and rough marine environment.
We traded, bartered, and begged for the best deals, to stretch these funds to the maximum, to acquire the equipment, which although second-hand in most cases, should prove to be reliable.
From the funds received we acquired a jetski to go out in all weathers, drysuits to swim in the cold and remain at sea for hours and bits and pieces of vital equipment, soon it became apparent that we needed to finance a 4x4 vehicle, and so with the kindness and trust, loaned the required amount on a repayment scheme.
As Seal Alert-SA hurriedly readied itself for the arrival of baby seals coming washing ashore, our finances depleted to zero, we knew our task ahead was fraught with impossibilities.
Just to rescue a baby seal a day for their two months of pupping time, would require a budget of in excess of R400 000. Determined to succeed we continued to get ready.
Our plan, our objective was clear, go out and find, and Save and Rescue at least one dying seal a day, save its life, give it life, and return it to where nature intended.
We therefore hope to rescue 365 seals this year, and expose their suffering around the world to its maximum.
Then out of the blue, came a call, from a wonderful lady, by the name of Beryl Scott from the organization Beauty Without Cruelty, a few emails later, Beryl instructed, we don't want to give you just R50 000, with another R50 000 to be repaid as per your offer, we want to donate the whole amount. Francois, go and get the Seals their boat. Discussions followed whereby it was agreed. Beauty Without Cruelty would donate the full R100 000, without any strings attached, refusing to accept any counter-offer. Nevertheless, Seal Alert-SA has pledged when its finances are better to re-donate, the R100 000, so that Beauty Without Cruelty, can donate this amount again to some other much needed cause.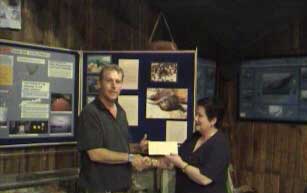 Beryl Scott of "Beauty Without Cruelty" handing Francois Hugo their R100 000 donation
So, my wonderful, wonderful seal friends - We did it, not only did we get the Seals their first baby Seal Rescue Boat, but we are now able, to respond to any seal needing our help anywhere along 4000 km of coastline, by road or by boat, in good weather and bad, in cold waters or rough.
From baby new born seals to big alpha bulls the pride of the species, and it is all thanks to YOU.
WE have jetski's, boats, vehicles and wetsuits, we are equipped.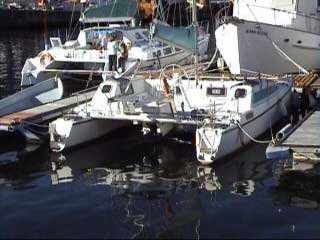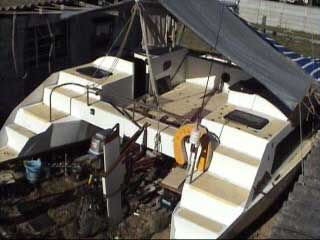 A similar boat and the one on the right, the Seal Pup Boat which is being prepared
However I must caution all is not solved, it costs between R2000 and R7000, to save each seal or on average a $1000.
The more we save, the more it costs, we at Seal Alert-SA, thanks to YOU, we will do what we can, but if you can help towards the costs of each separate rescue, please do.
As the ink has still not dried on many of the donations, we are trying frantically to get ready, and hope to be somewhat operational within the next week.
Please bear with me, and over time, we will get everything operational, in our logo and colours, carrying all your supporting names proudly.
To say thank you, to each and everyone of you is not and can never be enough.
So as you have ALL done your part, the best way to say thanks, is for me to do mine, get out there and save them, love them and give them - hope!
To this end I present our first new born baby seal rescued, aptly named "Sky".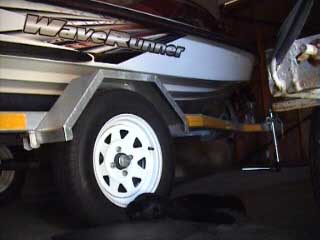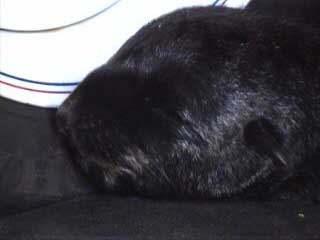 sky - saved, feed and loved, has chosen to sleep next to the wheel of her newly sponsored Seal Rescue Jetski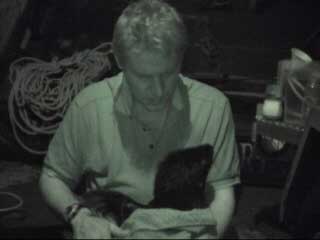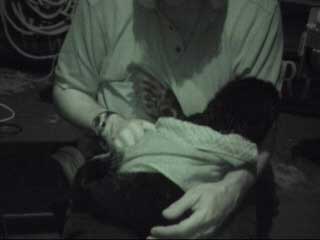 A quick swim, a rub, a massage, some bonding

To all Seal supporters - if I have omitted to mention anybody's name it is not for lack of anything, and I apologise for doing so, except it was just an attempt to keep this update as short as possible.
A full list of everybody will be sent to the various websites as soon as all the equipment is re-painted, signage complete etc.

Visuals, Power Points and info to follow shortly.
The Seals at the Tip of Africa, say a Big, Big Thank You.
You ALL have made history this day.
We ARE going to SAVE a species.
This is OUR legacy we will leave this earth.
If any of you need our banking details, herewith attached.


To mail a donation directly to Seal Alert-SA:


SEAL ALERT-SA

BOX 221

POSTNET

HOUT BAY

7872

HEREWITH IS FURTHER DETAILS FOR BANK TRANSFERS:

ZAR is South AfricanRand

More information to be able to send the money via internet:

SEAL ALERT-SA ACC : 911 2201 321

BRANCH CODE : 632 005

SWIFT CODE : ABSAZAJJ

BANK : ABSA

SA NAT.CLEARING CODE

BIC: (SWIFT-CODE) ABSAZAJJ

Bank name : ABSA

Address : DELPHI ARCH OFFICE PARK, RAATS DRIVE, TABLE VIEW

City/code : TABLE VIEW, 7439

Country : South Africa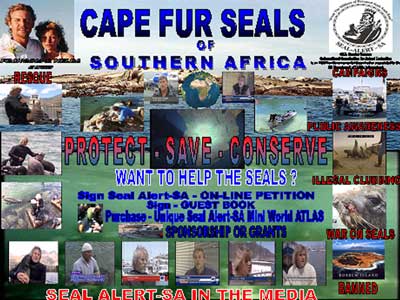 THANK YOU

For the Seals
Francois Hugo Seal Alert-SA