10 Dec 2005 Seal Alert-SA - Rescues 3rd - 4th and 5th baby seal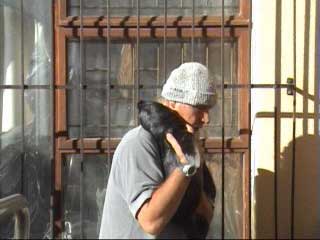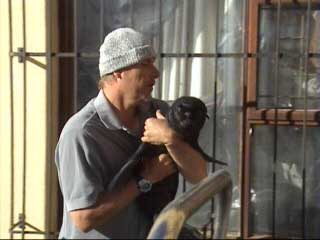 SealAlertSA mailto:sasealion@wam.co.za
Saturday, December 10, 2005
Dear All Seal Supporters,
At 8.30pm last night, having just tube-fed the 3 seal pups, another call came in. We have found a seal pup, "he is quite happy, he is swimming in our fish pond at home and we have just fed it milk and tinned fish".
Without trying to sound rude and thankful there are other people who care deeply for our wildlife, I urged that we arranged to meet as soon as possible, as "forcing" this pup to swim in a clearly disease or bacteria heavy environment will be deadly, the unprocessed milk and tinned fish, will do more harm than any good, create stomach bugs and the stress from so much handling further weaken whatever weak immune systems this pup has left, after his day's ordeal. I raced off to meet his rescuers. They have decided to name him "meg", and I think he is one lucky little chap, from the moment I opened the car boot, there dripping wet in a bucket, this days old pup was already starting to slip.
So at least 3 pups were rescued from this sad beach, from all this unnecessary death of our wonderful wildlife.
We now have 4 very confused, moaning, groaning, fighting little Cape Fur Seal pups.
There was some in-fighting with the new arrivals, much noise, but at last, the group have made peace with each other, and a little "rescued" seal colony is busy forming. Slowly bonds of trust that will guide them to survival are slowly forming, and I am covered in "seal poo and cream and pee" from head to foot, from now on, 6 changes of cloths a day will be the norm. My wife, Nelda, will unfortunately have to put up with the "baby seal smell" for many months to come, and I notice she is turning her back to me when we sleep.
Even when I walk around or go into shops, I suddenly get these strange stares, and clearly they are smelling "all is not well with this chap', but so is the life of the "Seal-Man".
Saturday, December 10, 2005 6:50 PM
Dear All Seal Supporters,
Busy, busy busy is not the word. I can't seem to get a moment to finish anything, if its not the pups wanting feed, love, cleaning, then it's a rescue, between all this, the blind seal is back and I am desperately trying to get the boat finished. I feel like one of those puppets on a string, and everybody around me, is in festive, holiday mood and relaxed.
This morning a young female seal was found stranded, next to another dead pup about 30km away. At first they thought it had given birth. Over the phone, I suggested ways we could save it and somehow get each other together, as my hands were tied up with the pups. The seal left the beach and returned to the water, beach inspectors then demanded it go to the "infamous" Dr Oakley, who would just have put it down. Instead, her new protector, picked up the seal as it re-beached and headed off to Hout Bay.
A quick emergency "tube feed" and onto some pilchards. All signs looked positive. I left the seal on my pier in the harbor, alongside the blind seal for company and headed off to purchase some more items for the boat. 30 minutes later I returned, and saw community children who were busy throwing stones at these two seals. Thankfully the new rescued seal stayed motionless, clearly still very weak. I decided to bring her home for care.
Pups were at first very upset with this intruder in their colony, but were soon, attempting to suckle, which clearly was annoying this larger young female, who obviously had no milk. Soon they were all one big happy family lying on top of each other "fat" belly's to the air.
The pups from yesterday, have been named.
The bigger one, who gave me a nasty bite, and is clearly the leader, has been called by Jose and Marius - "Piki"
The other one, quieter but more rounded, has been given the name "Samuel" by the Felix Schneier Foundation.
The others are cute "Mumkin"
The pup from last night, who was named "Meg"
And the young female, has been named by her rescuer, as "Buller"
So, our family, has grown to 5, and boy are they keeping me busy, each one wants what he or she wants, when they want it, if this is the first week, heaven help me over the next 12 months.
Speak soon.
For the Seals
Francois Hugo Seal Alert-SA
*.*.*
Sent: Friday December 9, 2005
Good Morning All Seal Supporters,
The first gale-force seasonal summer winds began to blow last night, reaching 45 knots, and it is predicted to continue for at least another week. Knowing that these new born baby seal's must be taking a terrible pounding throughout the night, on their inappropriate small awash offshore rocks. I left at 4 am to "walk" the beach opposite southern Africa's largest offshore seal colony, where an estimated 14 000 baby pups are born, each year. Whilst driving there, I found myself feeling how sad it is, that our Marine Officials, can cause so much suffering and misery, year after year - banning seals from their historical large islands, and forcing this upon them, how an earth do these people sleep at night. I truly feel sorry for these people, to have such hatred for such an amazing animal. Just like, a few days back on the 4th December, I expected much of the same. So sad that this goes on day after day, for over 90 days at least. A quick calculation would place this year's death toll between 9000 and 18 000, just from this tiny offshore colony, in other words, just about every baby seal pup born - will die.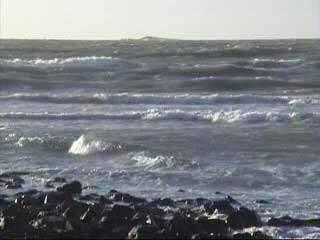 Their tiny awash rock colony in the distance of misery, fear and death.
Clearly some of these "protected" seals died in great pain, what is very concerning is that a number were very, very small and extremely thin.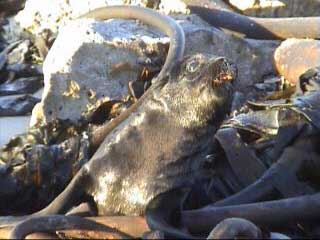 Amongst the death, shouts out life, this little fellow had such a "cry" on him, he could be heard clearly against the noise of the wind
Less than a metre, lay another sad death and more
Seabirds attacking the "eye-balls" of fresh dead seal pups.
The soft parts under the flipper and eye-balls are targeted.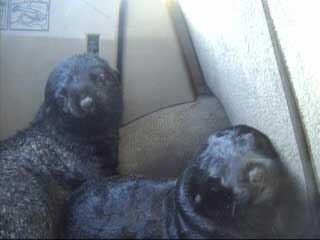 Two very frightened, very nervous, weeks old, baby pups - just rescued. The one at the back, narrowly missed being run over by seconds, as he had made his way away from the sea, across 100 metres of beach onto a high-speed freeway, with vehicles zooming past.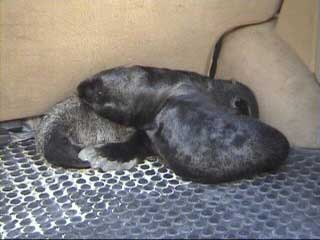 These two innocent "motherless" victims take refuge in each others comfort, and are fast asleep by the time I arrive home.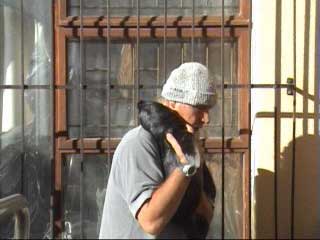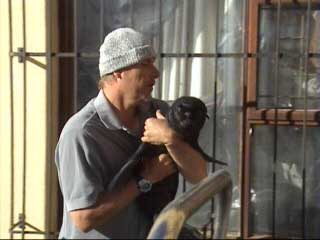 Victim 1 and 2, off to meet "mumkin", and to begin their long and slow, and very difficult rehab back to the wild.
Well, dear Seal Supporters, thanks to all your generous help, with the timing could not be closer, the Beauty without Cruelty - "Spirit of Seal Supporters" Rescue/Rehab boat, is almost complete and ready to be launched. For the past 2 weeks, I and my two workers have slaved away from sun-rise to sun-set, revamping, painting, installing protection rubbers, ramp for the pups etc. I am just waiting for a wind-free day to do the signage and then we launch, naturally, "mumkin" confirmed and approved all modifications.
So begins the next long 10 to 12 months, of returning these baby seal pup's, back to what nature intended. We expect many more arrivals and rescues, and I no doubt will be covered in bruises and bites, for my efforts. From now, I become their "mom and dad", and on demand every 2 to 6 hours, for the next coming months, I will lovingly nurse, feed and love them, and if they "bond" and "trust" me enough, and survive, I will teach them how to swim and be the seals they were meant to be.
I therefore ask, if the following "supporters" could "choose" appropriate names for these two :-
1. Dr Schneier, who was one of our very first "seal supporters" this season.
2. Jose and Marius of ActionAgainstPoisoning, who are just two of the very best people to know in this world, and without them, these seals would have had no hope.
Finally, as the rehab costs are intense and very expensive, on average between $1000 and R6000 a seal, if you can spare and can help, please do, my banking details to follow.
To mail a donation directly to Seal Alert-SA:
SEAL ALERT-SA
BOX 221
HOUT BAY
7872
HEREWITH IS FURTHER DETAILS FOR BANK TRANSFERS:
ZAR is South AfricanRand
More information to be able to send the money via internet:
SEAL ALERT-SA ACC : 911 2201 321
BRANCH CODE : 632 005
SWIFT CODE : ABSAZAJJ
BANK : ABSA
SA NAT.CLEARING CODE
BIC: (SWIFT-CODE) ABSAZAJJ
Bank name : ABSA
Address : DELPHI ARCH OFFICE PARK, RAATS DRIVE, TABLE VIEW
City/code : TABLE VIEW, 7439
Country : South Africa
Will keep you all updated, speak to you all soon.
For the Seals
Francois Hugo Seal Alert-SA