September 2004
POISONING OF STRAY DOGS IN EGYPT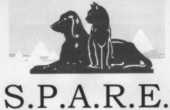 www.sparealife.org
Sent: Sunday, September 19, 2004
EGYPTIAN DOGS CRY OUT S.O.S.
Dear all,
The "al-Akhbar" daily newspaper, widely read and distributed, published today a news item on the first page mentioning that the Governor of Cairo established a joint committee with members from the Veterinary Department, the Ministry of Agriculture, the Ministry of Interior and the Ministry of Health to start a campaign to dispose of strays in the streets of Cairo. The strays are likely to be killed with strychnine, since the Veterinary Department is involved, and with rubber bullets, since the Ministry of Interior is involved as well. Same news was published on "al-Ahram" newspaper, Egyptian elite's newspaper.
These methods were and still are used against strays, but never before was this matter a news on two widely spread newspapers of Egypt as if it is something of great honour to do it, and which indicates that it is going to be wide and aggressive since they declared this publicly.
We urgently request and beg for your help, an e-mail to the following contacts or fax to the following numbers in the names of your organizations or yourself would be of help to those poor creatures, Egypt has only two organizations working for cats and dogs and they are not enough and without your help will lose the struggle for those animals please respond for the sake of those animals who are helpless against the campaign starting immediately.
Minister of Agriculture:
H. E. Ahmed El Leithy
002 02 3373388
00202 7498128

Minister of Tourism:
H. E. Ahmed Magrabi
00202 6839207

Governor of Cairo:
Mr. Abdlazim Wazir
00202 3904620
Mr Anis Mansour, a renowned columnist and animal advocate:
anis@ahram.org.eg
Mr. Salah Montasser, a renowned columnist:
salahmont@ahram.org.eg
Mr. Salama Ahmed, a renowned columnist:
salama@ahram.org.eg
If you fax or email them please send a copy to
spare@menanet.net
and
mona@sparealife.org
so that we can follow it up.
Mona Khalil, Vice president Society for the protection of Animal Rights in Egypt (SPARE)
www.sparealife.org
---
POISONING CAMPAIGN IN OLH√O, ALGARVE, SEPTEMBER 2004
We understand stray cats are being poisoned in the Algarvean town of Olh"o.
The fourth victim, found this month by ADAPO, the new local animal protection organization, was a cat living behind the old hospital. It had been sterilized a year ago by ADAPO, who run Cat CafÈs around old factory ruins where feral animals live.
We have known this lovely small fishing town Olh"o, famous for its "water dogs", to be liberal and friendly towards dogs and cats.
The City Council has warned citizens to keep their pets indoors during a poisoning campaign against vermin. As it could be expected from such random actions, stray animals are the victims.
---
INTERNATIONAL DEMO IN GENEVA-SWITZERLAND

www.norbm.org/
RBM-Marxer is an Italian laboratory which has been performing experiments on animals for over thirty years.
NoRBM
is a campaign carried on by some Italian people who want to stop such cruel and useless experiments.
Serono, a Geneva-based multinational pharmaceutical company, now practically owns RBM holding some 97% of the latter's shares. Without Serono, RBM would have been closed down years ago and no more animals would have been tortured and killed in its laboratories. Serono is RBM's sole and last big stockholder!
Don't miss the international demo against the vivisection experiments financed by Serono on October 30, 2004, in Geneva, Switzerland. Meeting point: Rue du Mont Blanc, near the railway station, 2 p.m.
Show Serono and the whole city of Geneva how many people say "
NO TO VIVISECTION
"!
Further info:
www.norbm.org/rbmvivisection/
Please spread the news all over the world. Thank you.
The demo is organized by the Swiss antivivisection organization
ATRA
.
Contacts: Italian or English:
no_rbm@yahoo.it
French or German:
infoatra@bluemail.ch
---
NEWS FROM FLAC, FRANCE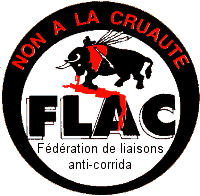 F.L.A.C (Federation of Anti-Bullfighting Societies)
BP 16
34301 AGDE
FRANCE
anti.corrida@free.fr
flac.anticorrida@wanadoo.fr
anti.corrida.free.fr
anti.corrida.free.fr/anglais/Liens/2004actionsgb.html
- Demonstration in Tarragona, Catalunia, on Sunday, September 19, 2004
Called by the anti-bullfight party of Tarragona, "Parti antitaurin de Tarragone",
tarragonaantitaurino@yahoo.es
Meeting at 4 p. m. in front of the arena, on Saturday, October 16, 2004
- Demonstration in Istres, Bouches-du-RhÙne
Called by the ComitÈ FLAC Marseille Bouches du RhÙne, represented by Alain Camisuli, BP 43, 13908 MARSEILLE CÈdex 20.
Meeting at 2 p. m. in the parking lot of the SNCF train station of Istres.
Presence near the arenas, during this day which is locally dedicated to promoting bullfighting and to its propaganda directed towards the youth:
"Aficion day - Day of local traditions and bullfighting with tribute to a character well-known to the aficionados: Victor MendËs. Demonstration of bullfight schools (becerradas without killing), localtradition show." Source: Website of the l'Office du Tourisme d'Istres (Tourist Information Website of Istres)"
- Laure Adler, director of France Culture, awards the Hemingway Prize to... Marion Mazauric and Simon Casas.
September 9, 2004
"For the attention of Laure ADLER, director of the France-Culture radio station.
Madam,
The newspaper "La Provence" dated Tuesday, September 8, informs us that you will award the Hemingway Prize to new talents this Thursday, September 9th.
The attribution of this prize which takes place at the Paris ThÈ'tre Edouard VII in presence of the publisher Marion Mazauric ("Au Diable Vauvert" publishing) and of the author of "T'ches d'encre et de sang" (published by "Le Diable Vauvert"), and of a certain Simon Casas who is also Director of the NÓmes arenas.
Always in search of respectability, the promoters of corridas and bullfighting are looking for circles that they know will contribute to the public awareness of their activites, and particularly in the world ofliterature.
Let us tell you our anxiety about this immense fraud that the Corrida promoters organise today, with the support of representants of the culture world.
We are convinced that the propaganda made for activities that common sense rejects, contirbute to fuel violence, the same violence that we are told is supposed to be fought !
One again, the bullfighting lobby tries to take culture as a support, so as to legitimate what is nothing but the metaphore of lie and cruelty.
Snobism obviously encourages such aberration that a more in-depth reflexion should exclude.
As a conclusion, we remind you that on August 12th 1999 we have won a law suit at the NÓmes TGI (tribunal), relating to acts of cruelty against animals, an action directed towards the participants to the "Fiesta Campera" on Franquevaux (Gard, France), which was a private corrida that took place on June 10, 1995, in the Alain Bonijol domain.
Among the participants were Mazauric and the torero Denis LorÈ. Obviously the appeal of October 20 and of November 1, 2002, will change the sentence..!
For F.L.A.C, Josyane Querelle, President."
---
PEACEFUL MARCH IN LISBON, SEPTEMBER 18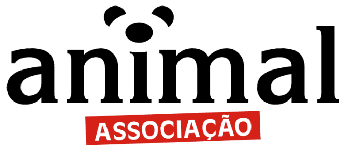 www.animal.org.pt
Animal will run a National Anti-Bullfighting March, against bullfights and for animal rights in Portugal, on the 18th (a Saturday).
It will be a big demonstration, with people coming from all over the country and from abroad as well, among them the representatives of other organizations.
SPEAK UP AGAINST BULLFIGHTS AND ANIMAL ABUSE IN PORTUGAL
Join the March Against Bullfights in Portugal - 18th September (Saturday), Parque Eduardo VII, Lisbon, at 5 p.m.
An international demonstration of people and organizations speaking up for animals in Portugal. Please JOIN US in the most important action in the animal protection movement in Portugal. Be part of the more decisive demonstration of ever in the defence of animals in Portugal
For more informations about the March, please email Miguel Moutinho at
miguel.moutinho@animal.org.pt
or ring him at 00-351-96 235 81 83.
For general information email
info@animal.org.pt
or visit
www.animal.org.pt
---
CRUEL "BECERRADAS" IN MAJADAHONDA (MADRID) ON SEPTEMBER 16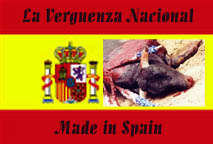 From: The BrightEyes Society at
brighteyes@brighteyes.dk
Dreadful tradition revived!
The people from Majadahonda, a locality outside Madrid, had not carried out their "becerradas" for several years. A becerrada is similar to the Pamplona run of the bulls but using calves instead of bulls. Just as in Pamplona, the idea is that the animals get chased through the streets, taken into a bull ring and killed. In Majadahonda, however, the young animals are not just chased through the streets but dreadfully tortured along the way; a witness reports how scissors were stuck in the eyes of the animals etc. in a great orgy of sadism by the drunken rabble. On the 16th September this event will take place again and witnesses have heard villagers talking of actually lynching the hapless calves, something done in other Spanish villages.
Anyone requiring more information or photos can email us.
Email your protest to Mayor Guillermo Ortega at
alcalde@majadahonda.org
, sending a copy to the local press at
diariodelnoroeste@diariodelnoroeste.net
---
PROTEST AGAINST "TORO DE LA VEGA", SPAIN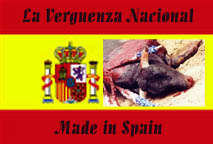 From: Maria Lopes at
marialopes@2kat.net
Source: International Movement Against Bullfights
September every yearin Tordesillas a bull is tortured and murdered in a spectacle called "Toro de la Vega". Hundreds of men run with medieval spears after a bull, sticking them into his body until his death.
This year on September 14 "Rodanero" will be speared to death.
Please send the postcard (created by Gabriela Lima, get it from
www.2kat.net/iwab
- please click on "Campaigns") as well as the text below to:
ayto.tordesillas@dip-valladolid.es
soturmadrid@cict.jcyl.es
presidente_responde@cpat.jcyl.es
alfonso.fernandez@cpat.jcyl.es
turismo@tordesillas.net
iuvalladolid@iuvalladolid.org
conferenciaepiscopal@planalfa.es
"How can it be that non-human animals are still tortured and killed in in 2004?
"How can Spain pretend to be a civilized country if it allows the existence of such a barbaric and savage spectacle?
"We cannot admit that in the 21st century hundreds of men armed with medieval spears chase a bull and pierce it to death.
"Name and country
---
BABY ELEPHANTS TORTURED FOR TOURISTS IN THAILAND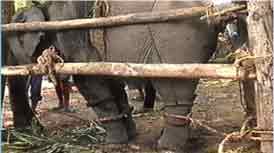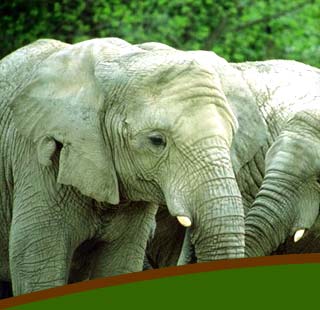 About 3800 of the 5000 endangered Asian elephants still existing in Thailand are in private hands. Most are used as tourist attractions in elephant camps where they are forced to perform circus tricks and give rides.
PETA has uncovered the horrific torture that is routine in Thailand's secret 'training' camps.
Still-nursing baby elephants are literally dragged from their mothers, kicking and screaming. They are immobilized, mercilessly beaten and gouged with nails for days at a time. These ritualized 'training' sessions leave the elephants badly injured, traumatized or even dead.
www.helpthaielephants.com
www.helpthaielephants.com/factstruths.html
---
DISAPPEARANCE OF DOGS RAISES QUESTIONS AFTER OLYMPICS GREECE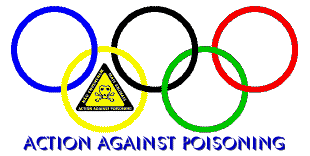 Tina Susman, Newsday September 5, 2004
ATHENS, GREECE -- What happened to the stray dogs of Athens? Alongside doping and judging scandals, that mystery became one of the messy sideshows to the Olympic Games, pitting animal welfare groups against one another and dredging up bad memories of the country's checkered record on animal rights. On one side are some animal rights activists who allege that officials sanctioned a poisoning campaign to rid the Athens area of thousands of stray dogs that normally roam the streets. Strays were conspicuously absent during the Games.
Energized by a Manhattan resident, Marijo Gillis, who lived in Greece for 14 years and who describes animal abuse as "typical Greek behaviour", they remind skeptics of the time in January 2003 when scores of dogs and cats were poisoned in the National Gardens just as Greece was to host a summit of European leaders. Gillis' lobby group, Welfare for Animals in Greece, has waged a fierce campaign against the Greek government largely consisting of e-mails purporting to show evidence of cruel kennel conditions and mass killings. Temporarily housed? On the other side are Greek officials and animal welfare societies, who say that in the weeks leading to the Games, stray dogs were housed in kennels to ensure they didn't scare tourists or chase marathoners and cyclists racing for medals through the city. They say militants have used the National Gardens incident and two subsequent poisoning cases in 2003, all of which remain unsolved, to cast Greece as a callous nation of cat- and dog-haters.
Most strays were rounded up before the Games, neutered, given medical treatment and will be released after 45 days unless they are adopted, said Anna Palaki of the non-governmental Hellenic Animal Welfare Society. It has about 200 dogs in a kennel in a desolate area on the outskirts of Athens, under the airport landing path. Somewhere in the middle of the dispute are scores of independent Greek organizations, generally staffed by volunteers who feed and care for strays, who say that while some animals may have been rounded up for safe-keeping, there's no question poisonings picked up before the Games.
"It's just impossible to say who was responsible", said Tina Eglezopoulou, who cares for stray dogs at the port of Keratsini, which hosted cruise ships carrying tourists to see the Olympics. "I don't have the culprit, I can't blame it on anyone in particular, but we've had a lot of poisonings and a lot of disappearances in my area and they started two months before the Olympics", she said. No one disputes that many dogs were caught before the Games. Thomas Tomas recalls trucks roaming the plaza late at night where he works at a fast-food restaurant, near the Olympic complex, and unloading men who captured strays. The government says such dogs are in kennels, both state-run and private, across the region.
The roundup came on top of a July 2003 law passed after the mass poisonings, which requires municipalities to catch and neuter stray dogs, tag them, and release them. Cats are not caught for neutering because they are not considered nuisances. If catching strays only to put them back on the corners whence they came seems odd, Greeks explain it by pointing out their fierce opposition to euthanasia. The 2003 law forbids putting down healthy animals, and animal groups say it's more humane to let dogs live on the streets they consider home than to kill them or keep them in kennels.
"How do you put a dog that's had the freedom of roaming Athens into a cage? How for that matter do you put it into a flat?" said Mary Cochran, who moved to Athens from Scotland nearly 10 years ago and heads a Greek organization, "Friends of the Cat", which sterilizes and feeds the countless felines who lurk in the National Gardens, scamper among the city's cafes and lounge among the marble slabs of the Parthenon.
Care from strangers
Cochran says free-roaming dogs don't have such bad lives. Like the cats, they often get regular meals in the neighborhoods they haunt from people who put out food in the morning and at night, when the heat subsides and the strays begin to stir. No matter how rosy a picture animal groups try to paint, though, animal rights have not had a traditionally high profile in Greece, where it's not unusual to see people whacking their dogs with the backs of their hands for straying too far from their sides. Animal lovers say abandoned pets are a constant problem, as are scattered poisonings. Many Greeks seem convinced the killings did not happen. Others, like Eglezopoulou, scoff at such believers and say they've been duped.
www.startribune.com/stories/484/4963715.html
www.canadianvoiceforanimals.org/AthensStrays.html
---
2008 OLYMPICS IN BEIJING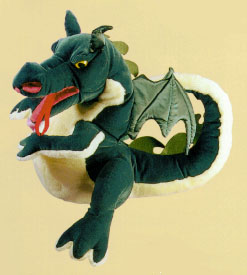 The countdown to China begins Sunday 29.08.04, when Beijing's mayor takes possession of the Olympic flag during an eight-minute pageant at the Athens closing ceremony tying ancient Olympia to the Great Wall of China.
Directing is Zhang Yimou, famous for his visually lush movies including "Raise the Red Lantern" and the Oscar-nominated "Hero."
Wang Wei, secretary-general of the organizing committee: "The Games will be a kind of vehicle to showcase China opening up. China is the biggest developing country, the fastest-growing economy, and the Olympics enjoy the greatest popular support in China."
"Daily Times", August 29, 2004
Shanghai's bullfight plan hits a hitch "Spanish matadors might be charging into Shanghai for a traditional bullfight, but there will be no Spanish bulls. The city's Entry-Exit Inspection and Quarantine Bureau has reminded organisers that Spain is one of twenty-one countries listed with mad cow disease.
"There is no room for negotiation", Fang Yong, a bureau official, was cited as saying by the Shanghai Daily.
Undeterred, organisers have found a solution. "We will airlift bulls from other countries such as Mexico, to substitute the Spanish ones", said Zhu Weifeng, director of the Spanish cultural festival which will host the spectacle in October. The substitute bulls would be as fierce as the Spanish ones, he said. The most important thing is the matador's performance, not the bull's, Zhu added.
Three of Spain's top fifteen matadors have been invited to stage the show, which will strictly follow traditional corrida customs, where the bulls are fought to the death. A special built-to-standard bullring will be set up at the Shanghai Sports Stadium, where the city's professional football teams play." - AFP
---