August 2004
MILLIONS OF ANIMALS TO BE POISONED BY THE E. U.
Send a polite letter to your representative (MEP) at the European Parliament!
From VivaLife Magazine:
Millions of animals are shortly to die hideously cruel deaths in chemical poisoning tests across Europe under the new 2003 E.U. Chemicals Policy.
Thousands of chemicals that are already in use will be put through a battery of outdated, cruel and inaccurate tests in which laboratory animals will be literally poisoned to death. This massive onslaught on animals amounts to nothing more than a futile data gathering exercise.
New, non-animal tests are available to produce the same results and are faster, cheaper and a vital way forward for chemical assessment. Immediate action is needed to try and head off this insanity, so please send a polite letter to your member of the European Parliament (MEP) and urge her or him yo work for a strictly non-animal testing strategy. For further information and lobbying postcards for MEPs, contact BUAV on 0207 700 4888 (London) or click the button to visit
www.stopeuchemicaltests.com
---
POISONING CAMPAIGN IN PREPARATION FOR NATO CONFERENCE IN ISTANBUL
Poisoning seems to become an standard paragraph in the scenario for the organization of important events. These pictures of June 2004 show the present situation in Istanbul. Clearly the responsible Istanbul authorities want to please the attendants of the coming NATO conference with a killing spree.The petition "Help the stray dogs of Istanbul" directed at the mayor of Istanbul, is being signed by people from all over the world.
We have received signatures from, amongst others, Portugal, Italy, Spain, U.S.A., Brasil, France, Argentina, Germany, Canada and Belgium. So far, 1660 people have already signed the petition. Please keep the petition going, thanks on behalf of the stray dogs in Istanbul :-)
---
AYAMONTE, SPAIN: DOGS KEPT AMONG WILD ANIMALS!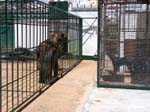 In fact, the policy there is:
- keeping abandoned dogs among wild animals;
- denying them adoption;
- rather than taking care of them, killing them at a far-away shelter while a better facility is near by.
This denotes ignorance, if not cruelty, as well as disrespect for animal life and animal protection laws. It gives the city of Ayamonte a bad image and makes one wonder why public funds are spent in such a disgraceful way.
---
'GENTLER' PORTUGUESE BULLFIGHT STILL DRAWS FIRE
by Daniel Silva
animal.org.pt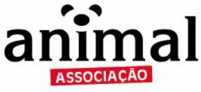 LISBON, Aug 3 (AFP) - Posters for bullfights in Portugal, especially in the tourist resorts that dot the southern Algarve coast, often proudly proclaim "The bull is not killed".
But despite a 1928 law banning the slaughter of the animals in the bullring as is the case across the border in Spain, bullfights in Portugal are coming under increasing attack by the nation's fledgling animal-rights movement. "Bullfights here are different from those in Spain in terms of show but not in terms of the suffering of the animal," said the president of Portugal's main animal rights organisation ANIMAL, Miguel Moutinho, which has led protests against the practice.
Unlike in Spain where bullfights end with a single matador killing the bull with the thrust of his sword, in Portugal the finale occurs when a group of men known as "pegados" challenge the animal to charge at them and they grab it around the neck until it stops moving.
The bull is usually then led away by cows and is killed out of sight of the audience, and supposedly under more humane conditions, at an abattoir. Before the finale however the bull, as in Spain, is repeatedly jabbed with spears by men in bright costumes, causing blood to cover the animal's back. To put pressure to end the practice, animal rights groups have begun to target the firms which back bullfights by taking out ads in the arenas where they are held.
Last week Avis Rent a Car, owned by New York based travel lodging and real estate services company Cendant Corp., was bombarded by e-mails from people from around the world who threatened to boycott the firm because it had sponsored two bullfights and a Portuguese bullfighting Internet news site. The e-mail campaign proved to be effective. Within 24 hours of its launch by ANIMAL, Avis issued a statement saying its name had been incorrectly used and it would not support bullfights.
Moutinho said the aim is to make bullfighting an economically unviable activity so that it eventually ends. "Using the torture of animals as entertainment can't be morally accepted", he said.
Polls show most Portuguese do not consider themselves to be bullfighting fans, with the highest number of backers above 60. Young people of university age, who have embraced northern European values, including respect for the dignity of animals, are the most opposed. While newspapers and television stations continue to cover bullfights during the season, which runs from Easter until the end of September, audience numbers have been steadily declining. The six major bullfights broadcast on Portuguese television last year drew an average audience of 449,000 viewers, according to ratings agency Marktest. By comparison in 1995 major televised bullfights routinely captured audiences of nearly one million viewers. Bullfighting arenas, even in the Alentejo, a southern province of rolling hills of cork trees and large farms where the sport is the most popular, are often less than half full. Organisers however attribute the declining attendance to inadequate promotion and the poor state of bullfighting arenas, not to any increased discomfort with the suffering of the animals.
"Bullfights need to be refreshed, updated, modernized," the editor of weekly bullfighting newspaper Farpas, Miguel Alvarenga, wrote in an editorial last week on the fall in bullfighting attendance. "After sitting comfortably in a football stadium or cinema, nobody likes to sit in the uncomfortable and pre-historic seating made of stone of bullfighting rings," he added.
---
BITE BACK
August 11, 2004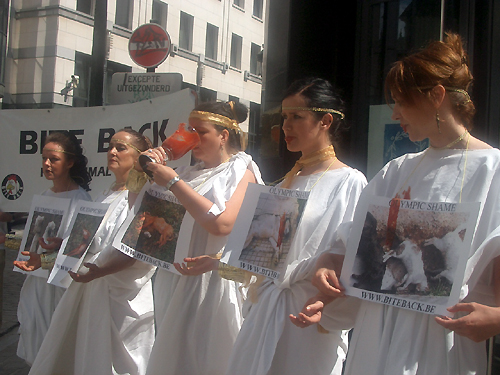 Bite Back protest outside the Greek Embassy in Brussels. Participants, dressed as Greek goddesses, were holding photos of poisoned dogs and drank 'blood' from a cup.
Bite Back is a young Belgian animal rights organisation. At their website you will find a link to an online petition as well as information about the horrible slaughtering of strays in Athens.
Bite Back
Postbus 107
3740 Bilzen
Belgium
www.biteback.be
info@biteback.be
---
LATEST NEWS FROM MARIJO GILLIS
August 11, 2004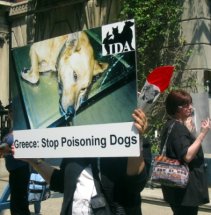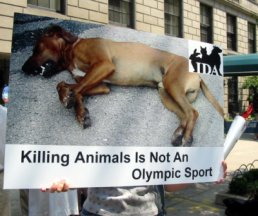 Banners waving, pulses racing, New Yorkers came out in force to protest the extermination of Greek strays in preparation for the 2004 Athens Olympics.
The Greek Consulate on Park Avenue was the reluctant host to a crowd of dynamic, passionate animal advocates shouting in unison at the top of their voices: "SHAME ON GREECE - "BOYCOTT GREECE". Consulate employees peered out the windows, and visitors to the consulate scurried inside and left even more quickly as demonstrators dogged them about their inhumanity. The police, well, what can one say? They were magnificent, sympathetic and everything "New York's Finest" are supposed to be. They moved police barriers from across the street and defiantly placed them right up to entrance of the Consulate, allowing us to congregate a mere three feet from their door. Huge posters of the innocent victims were plastered everywhere. Pedestrians and motorists were chanting in empathy and blowing car horns. Hundreds of leaflets and photos were distributed. Organizations around the world protested with us.
Half-way through the demonstration, two smiling FBI agents escorted quasi-terrorist Marijo Gillis, founder of WAG, and Dr. Debra Tanzer, animal activist "extraordinaire", to a meeting requested by the Consul-General. Despite the intensifying roar of the crowd below, we had a cordial discussion which lasted for forty minutes and the very gracious Consul-General took written note of WAG's and supporting organizations respectful demands. A formal letter prepared by WAG to the Greek Prime Minister was sent via diplomatic pouch to Athens.
Major animal welfare organizations continue to support our campaign and we are so grateful. IDA President, Dr. Elliot Katz, Best Friends and HSUS called WAG today, (the first day of the Games--a day that shall live in infamy) for updates and continued offers of support. IDA and Lawrence Carter-Long are magnificent!
Reuters News Television interviewed WAG for over two hours and produced a dramatic, provocative three-and-a-half minute news clip for direct feed to over 350 major news outlets and networks worldwide featuring WAG's exposÈ, "Greece in all her Glory". WAG's telephone has not stopped ringing since. Calls from Greece yesterday and today report that our documentary was shown on Greek television networks and has caused quite a stir with Greek officials. As a matter of fact, a panel consisting of the Mayor of Athens (maybe future Prime-Minister), the Deputy Mayor as well as a member of the 2004 Athens Olympic Organizing Committee were on the air defending themselves. They continue to deny all charges - but our growing movement has left them little room for excuses or lies. Calls from correspondents covering the games in Athens, started at 5 am on Thursday and have not stopped. What better way to end the day?
Marijo Anne Gillis
, founder
Welfare for Animals in Greece
Welfare for Animals Global
a New York advocacy and lobby group
tel (212) 427-0587
fax (212) 427-6381
wag_ny@msn.com
or
winkieperkyebby@msn.com
---
PEACEFUL DEMONSTRATION OUTSIDE THE GREEK EMBASSY, LONDON
August 26 at 12.30pm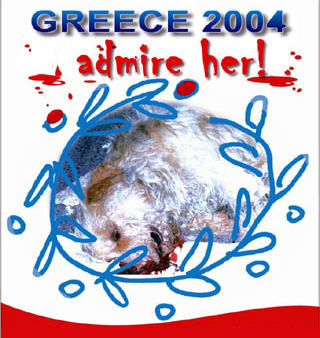 Nearest tube: Holland Park, Central line, no car parking
PROTEST AGAINST THE POISONING OF DOGS AND CATS IN GREECE - PETITION FOR GREECE TO IMPLEMENT ITS ANIMAL WELFARE POLICIES

If you can join us on the day (and we sure hope you can!), you may consider 'dressing up for the occasion' (in black, or wearing a black arm-band to symbolise the death of the victims of poisoning) or bringing along a couple of placards or maybe even a small coffin/wreath .... with a black ribbon with the words in red: 'In memory of all the victims of poisoning' (or similar). Let your imagination take over ... you'll think of something.
Since it would be good to know how many people we can expect to turn up, please confirm your attendance if you think you might join us.
vesna@greekanimalrescue.com
---
RAISINS AND GRAPES CAN BE TOXIC TO DOGS!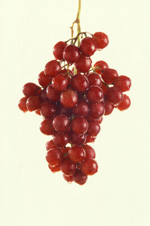 For unknown reasons raisins and grapes can be lethal for dogs. Symptoms, among which vomiting, diarrhea, anorexia and lethargy, can last for days or weeks. Without prompt treatment, severe kidney damage and death may result.
Please visit
www.aspca.org/site/PageServer?pagename=grapes
---