PLEASE ACT to stop the senseless cruelty
of Brazil's "farra do boi" festival
One of the most savage rituals of cruelty toward animals is Brazil's Farra do Boi. Farra do boi, loosely translated as " Festival of the Oxen" or "Ox Fun Days", involves the torture- killing of several hundred oxen each year in more than thirty communities throughout the Brazilian state of Santa Catarina. In other states of Brazil, the spectacle is denounced and has stirred violent protests.
Before the event, the ox is confined and starved for several days. To increase the ox frenzy, food and water are placed within sight, but out of reach.The Farra begins when the ox is driven from its pen and chased through the streets by crowds of villagers with sticks, knives, whips, stones, bamboo lances, and ropes.The attackers – men, women, and children – pursue the ox as it attempts to flee, even into the ocean.
WSPA sources in Brazil have seen cattle tormented in every conceivable way. The helpless animals are doused with gasoline and set on fire. Pepper is thrown into their eyes, which are often then gouged out. Participants break the animal's horns and legs and cut off their tales. Oxen may be stabbed or hit as many times as possible as long as the blows are not fatal, for the cattle must survive until the end. This torture may continue for THREE DAYS OR LONGER. Finally the animal is killed and the meat is divided among the participants to eat.
Some say the ritual is a symbolic re-ennanctment of the Passion of Jesus, with the ox representing Judas. Other believe the animal represents Satan, and torturing the Devil washes away their sins. But nowadays the festival hasn't religious conotation. For the people from the little coastal villages, Farra do Boi became just an opportunity to party and for some, a source of extra money by selling drinks and food for the participants.
For more information, visit www.farradoboi.org, or Canadian Voice for Animals.
Click here to see the shocking photos. Click here to see some movie clips. Click here to take action.
Send a letter of protest to the Governor of Santa Catarina, Luiz Henrique da Silveira, camich@pm.sc.gov.br, R. José da Costa Moellmann, 193, 88020-170 Florianópolis - SC - Brazil.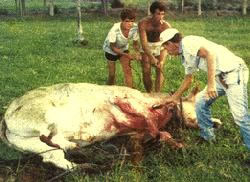 After several hours of torture...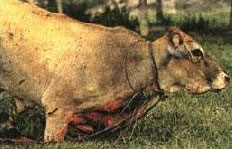 This mutilated ox is still alive...