BOB HUNTER CO-FOUNDER OF GREENPEACE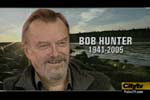 BOB HUNTER


Bob Hunter, co-founder of Greenpeace died yesterday
Go to
www.pulse24.com/News/Top_Story/20050502-013/page.asp
Tuesday, May 3, 2005
LEGEND LOST
Throughout his life, Citytv Ecology Specialist Bob Hunter fought every battle you can imagine in his zest to save the environment.
He was the co-founder of Greenpeace, recognized as one of the leading enviro-action groups in the world.
He stood down ships seeking to stop whaling and later the Canadian seal hunt, forcing himself before powerful vessels aimed on killing the innocent creatures he vowed to protect.
He took on critics and corporations, the well meaning but misguided and the greedy anything-for-a-buck crowd.
In the end, Bob emerged with so many victories. But he finally lost the one battle he couldn't win - the fight to save his own life. He died from prostate cancer Monday morning. He was only 63.
Bob came late to the CityPulse family, but like so many of his other endeavours, he made an immediate and special impression.
His stories on everything from Temagami to his journey along the Thelon River and his tracking of his old friend, Capt. Paul Watson's journeys with the Sea Shepherd Society, prompted action and outrage alike.
Nothing pleased him more.
But Bob was a seasoned pro well before he arrived on the shores of the CityPulse newsroom. He was a columnist for the Vancouver Sun and later for Eye Weekly and the author of 13 well-received books - one of which won a Governor General's Award.
He ran for the Liberals in a provincial by-election in 2001, losing to the N.D.P.'s Michael Prue. He hosted "Hunters' Gatherings" on CablePulse24 for several years, bringing new colours to both sides of intense green issues.
His editorials on the station won countless awards. His "Paper Cuts" segment on Breakfast Television was a morning ritual for hundreds of thousands. And the accolades he brought to the medium were reflected off camera as well.
Bob was honoured as one of Time Magazine's Eco Heroes of the 20th Century. A scholarship in his name continues to enrich students at the U. of T. And his passion for the environment proves it was easy being green.
But it was his power with words that inspired so many. "I think my earliest heroes, if I had any, were writers," he once recalled. "And having seen it, I had to express it. Otherwise it wouldn't have been worth living."
But Bob took that living seriously, risking his life most famously in the early 1970s, with an iconic image, sandwiched between a whaling ship's harpoons and one of the great mammals, in an effort to protect it from a crew bent on harvesting the creature.
He later repeated the death-defying act at Canada's seal hunt.
Those who witnessed his bravery remain in awe of that courage all these years later. "Greenpeace as an organization already existed at that time," recalls fellow eco-warrior Dan McDermott. "The mind bomb of that action - putting yourself between the harpoon and the whale - arguably saved the whales."
Hunter was also there protesting nuclear tests and the dumping of toxic waste. And he never shied away from the danger or the controversy.
When he was diagnosed with prostate cancer in 1999, he tried treatments that were both conventional and unconventional. In the end, none worked and the cancer spread.
He fought his final battle the way he had so many others, discussing it on his show and giving updates on his progress until he was too ill to continue.
He's survived by his wife of 31 years, Bobbi, a 26-year-old son named Will, his 19-year-old daughter Emily, two children from a previous marriage - 41-year-old Conan and 37-year-old Justine - and four loving grandchildren.
At the time of his marriage, he recalls promising Bobbi that their life together "won't be dull". And to the end he delivered on that vow, leaving an indelible mark on both history and nature that - like the ecosphere he tried so hard to protect - will be his legacy.
Funeral arrangements and a memorial service have yet to be finalized.
To read Bob's famous journal on his journey through Bloodvein, click here.
To read an excerpt from Bob's last book, "The Greenpeace to Amchitka - An Environmental Odyssey", click here.
* To contribute to The Robert Hunter Scholarship for Environmental Studies, contact the University of Toronto, Innis College, at 2 Sussex Avenue, or call 416-978-0169.
To see one of Bob's "Paper Cuts" segments, click the video links in
www.pulse24.com/News/Top_Story/20050502-013/page.asp
May 2, 2005
"Yes sad but I figure he be better out of it, this world is no place for the good or innocent."
---