PRISONERS OF GREED PUPPYMILLS BREED MISERY


www.prisonersofgreed.org/

This website is produced by the Coalition Against Misery. If you would like to join the Coalition, please click on the blue link on the left.

Hundreds of thousands of dogs suffer in puppy mills in this country. They are prisoners of greed. The dogs are locked in small cages. They freeze in the winter and swelter in the summer. They never get out of their prisons. They are bred over and over again until they die. The only way to free them from their misery is to eliminate the demand for puppies by refusing to buy a puppy in a pet store and boycotting those stores that sell puppies. When the demand ends, the misery will end. The state and federal governments do not enforce the laws to protect the dogs. The commercial breeders and brokers have huge well-funded lobbying efforts. Please join this fight to free the prisoners of greed. The only person who is going to make a difference for these dogs is you. You, the people, can free them.

The Coalition Against Misery is going to put a full page ad in the New York Times about Pennsylvania Puppy Mills. See web site.

You can view the movie about puppy mills called Prisoners of Greed see web site. It is a very large file so may take some time to download.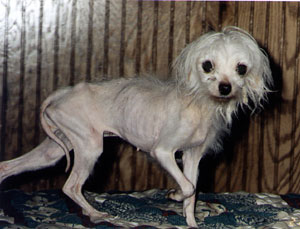 HOPE
The only way you can be sure that the puppy in the pet store did not come a female dog just like Hope is to never buy a dog in a petstore.
When Linda, an HUA volunteer and director, picked the little dog up at the commercial kennel in Kansas, she was horrified. She did not think that the dog would live long enough to make it back to the shelter. Linda called the shelter on her way back and asked to have our vet standing by. She took the dog directly to the clinic. Hope weighed just two pounds. She had lost almost all of her hair from malnutrition, infection and stress. Her teeth were rotten. Infection had spread throughout her tiny body. Linda asked the vet if there was any hope for her. He said there was a little hope. So she became Hope.
Hope has touched the heart of everyone who has meet her. If you ever wondered about what puppy mills were like, all you have to do is look at Hope's face. Look at the expression in her eyes. Look at her emaciated body. Then tell everyone you know never to buy a dog in a pet store.
Hope is a Maltese. She was 6 years old when she was rescued. Her first days of freedom were spent at the vet's where they worked to save her life. She went home to Linda. Her health was still very precarious. She gained weight very slowly. At first the only food she would eat was Gerber Baby Meat Sticks. It took months for her to gain weight. When she had her teeth cleaned, she lost 22 teeth
Her first trip out to the yard was very surprising to her. She had no idea what it was. She had never been outside. At first she was quite timid but gradually she seemed to enjoy herself. Hope is very happy. Her health has always been fragile so she gets very special care.
When you see the cute puppies in the pet store, think of Hope. The kennel she came from in Kansas still sells puppies to pet stores on the East Coast.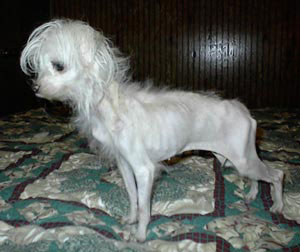 HOPE A WEEK AFTER RESCUE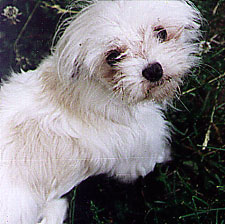 HOPE TODAY



---