BAN TROPHY HUNTING - STOP THE CRUELTY



CAMPAIGN AGAINST CANNED HUNTING

CONTACT US Chris or Bev - Campaign Against Canned Hunting
P.O. Box 356, Wilderness, 6560 - South Africa - Telephone: 044 8771495

BAN TROPHY HUNTING - STOP THE CRUELTY

www.cannedlion.co.za/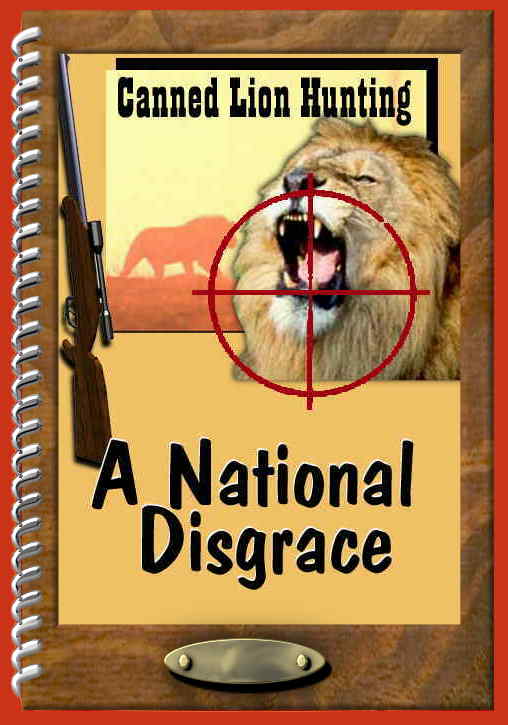 BY CHRIS MERCER
This book represents five years work and research by Chris Mercer into canned trophy hunting and the broader issues that surround it. This book is aimed at convincing the South African Government that trophy hunting is a national liability, not an asset, and argues that hunting has already corrupted the South African nature conservation authorities beyond redemption.
After dealing specifically with the new 2005 Policy for the management of large predators which government is attempting to foist upon the people of South Africa whether they like it or not, the main submissions discuss the wider implications involving civil rights in a democracy and trophy hunting. Next come the submissions of other members of the animal welfare community, followed by the draft sanctuaries policy which has been submitted to government by the authors in the hopes that government will recognise wildlife santuaries and adopt the ethics framed in the draft policy.
Finally the paper presented by the League Against Cruel Sports to the British Minister of the Environment recently is included in order to educate readers about the attitude of some of the powerful animal rights organisations to the issue of trophy hunting.
For easy access to the various chapters in the book go to
www.cannedlion.co.za/
and click on the title in shown index
CANNED PREDATOR HUNTING INDEX
About the Authors
Executive Summary
Acknowledgments and Roll of Dishonour
Useful Addresses
Critique of 2005 Policy
Con in Conservation
Main Submissions
Rita Miljo's statement
Michele Pickover
Enkosini
Vervet Monkey Foundation
Beauty Without Cruelty
Drakenstein
Litigation vs Government: Letter of Demand
Litigation vs Government: Letter of Deferment
Kuruman Canned Rhino Hunt
Proposed Sanctuary Policy
Shumba's story
Ethical Illiteracy
Hunting and the IUCN
WWF Scaremongers
2005 Draft Policy and Regulations
2005 Draft Regulations
Addendum The Myth of Trophy Hunting as Conservation, by LACS
Schedule of Lion Policies on Canned Hunting.
(available separately by email from
kraptor@mweb.co.za)

/> 1992 Transvaal Policy
2002 Limpopo Province Policy
Point by point critique of that policy
2002 Adopted Policy
CONTACT US
Chris or Bev - Campaign Against Canned Hunting
P.O. Box 356 - Wilderness, 6560 - South Africa - Telephone: 044 8771495
INTRODUCING CHRIS MERCER
A trained lawyer, qualified in both English and Roman-Dutch law, Chris practised law in Zimbabwe until political events there brought him to South Africa.
He and his partner Beverley Pervan co-authored the book "For the Love of Wildlife" and recently published a book called "Canned Lion Hunting - A National Disgrace."
But he and Bev are best known for their long-running struggle, against bitter official opposition, to establish the Kalahari Raptor and Predator Sanctuary. Few people know that wildlife sanctuaries are prohibited in South Africa, and that rehab centres are obliged currently to slaughter any un-releasable animals. After seven years of Court battles, the Kalahari Raptor Centre's charitable work has finally been accepted by conservation officials. Chris and Bev have been forced to retire for health reasons from hands-on work with orphaned and injured wildlife, but the Centre which they founded continues to rescue birds and animals in the Kalahari.
They are now employing their unique knowledge and experience to campaign for more public participation in wildlife management, more humane policies, and to get animal welfare considerations placed on the conservation agenda in South Africa.
Re: Canned Lion Hunting Tour Of UK
Chris Mercer will be touring UK in March, giving presentations about canned lion hunting in South Africa. He will be talking to business groups, schools, universities etc. The tour will consist of 20 or so venues throughout UK over a period of four weeks. At each venue, there will be a half hour presentation of slides and video. This will be followed by an hour or so of questions, and then a book signing session.
The public meetings presently arranged are:
Venue - - - - - - - - - - - - - - - - - Address
Monday 6th March 6.00pm - - - - Conway Hall, Central London.
Sussex Horse Rescue Trust - - - - Uckfield, Sussex. Tuesday 14th March
Bradford Central Library - - - - - - Saturday 25th March West Yorks
Edinburgh and Glasgow - - - - - - TBA (contact Adv for Animals in Scotland)
It is hoped that you will publicise these venues to your members and colleagues in the animal rights and welfare community. You are also welcome to participate in the tour of UK,, should you wish to organise your own venue in your chosen area at a suitable date and place.
The sickening details of how the hunting industry conducts business in South Africa are all on the website www.cannedlion.co.za <
www.cannedlion.co.za/
>
With the approval of the S.A. government, lions are now bred in cages for slaughter by hunters, often using dogs and bow-and-arrow, and there are now at least 3,500 lions caught up in this institutionalized cruelty.
The book "For the Love of Wildlife", which was recently reviewed in BBC Wildlife magazine, is available from Vine House Book Distributors, Chailey, Sussex email:
sales@vinehouseuk.co.uk
and will be available for purchase at all venues.
Contact:
Chris Mercer.
PO Box 356
Wilderness 6560
South Africa.
www.cannedlion.co.za/
Email address.
chrisandbev@mweb.co.za
Tel: South Africa 27 044 877 1495.
---