***ANIMALS MISSING BY KATRINA***
Subject: URGENT! THE ANIMALS ARE STARVING TO DEATH
FOR MISSING OR FOUND ANIMALS GO TO :
GO TO disaster.petfinder.com/emergency/
<< All the instructions you need are on www.Animalrescueneworleans.com
PLEASE don't let anymore animals die. . .
Thanks so much, Jane Garrison >>
----- Original Message -----
From: Zelda
zpenzel@nyc.rr.com
Sent: Wednesday, November 09, 2005 11:06 AM
Subject: URGENT! THE ANIMALS ARE STARVING TO DEATH
New Orleans urgent update 11/7Message from Jane Garrison in New Orleans
Sent: Tuesday, November 08, 2005 12:00 AM
Subject: URGENT! THE ANIMALS ARE STARVING TO DEATH
11/7 Very depressing day. . .
Today we found 3 dead cats at 3 separate houses. These were cats who had only died in the past few days. Two of the cats were found dead on their front porches next to empty food and water bowls. The other was found dead on the back porch of a house where again, no food/water was available. Why did these animals die? Because we do not have enough people to feed them.
This is not a normal city on a normal day where animals can search through trash for scraps. This is a city where the majority of the residents have not returned so no trash is being generated. This is a city where there are no puddles for them to drink out of because it has not rained in over a month. This is a city where there are no residents who will feed them because very few people are actually living in New Orleans.
This is a city in a crisis. These animals have nothing but us to help them.
I hate to say it but the animal community is failing these animals. Today we only had 24 people to put out food and water stations in a city that has thousands of animals on the streets. It is a tragedy that these animals made it through the hurricane, made it through the flood, made it through another hurricane and are dying because they don't have enough food and water. Please don't think that someone else will go and help. . . because they won't and they're not.
Please get in your car, get on a plane and come to New Orleans to help put food and water out for these animals. We currently have over three thousand locations in our database where we know animals are hiding under porches and under houses. I am begging you to please help. We will provide you with the list of locations and all the dog and cat food you will need.
Just come. . .
All the instructions you need are on
www.Animalrescueneworleans.com
.
PLEASE don't let anymore animals die. . .
Jane Garrison
SHOCKING VIDEO "STATES OF DEVASTATION KATRINA'S AFTERMATH":
www.dallasnews.com/s/dws/photography/2005/katrina_video/straydogs.html
dogsdeservebetter.org/katrina.html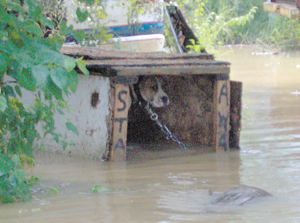 *.*.*.*.*
Look at : KATRINA
www.forpitssake.org/katrina.html
----- Original Message -----
From: Kinship Circle
info@kinshipcircle.org
To: Kinship Circle
info@kinshipcircle.org
Sent: Tuesday, October 25, 2005 3:00 PM
Subject: UPDATE: Animal Rescue New Orleans with Jane Garrison
10/25/05 UPDATE: Animal Rescue New Orleans
Jane Garrison & David Meyer
PLEASE READ ENTIRE ALERT.
YOU WILL FIND MANY OF YOUR QUESTIONS ANSWERED HERE.
We apologize, but cannot always respond personally to emails due to the
daily demands of coordinating this relief effort.
UPDATE FROM THE FIELD:
Bingo, the dog found in a bathtub too weak to lift her head after 7 weeks, is now able to walk and eat on her own. Affectionately renamed Bubbles, she is still under a vet's care. The skin-and-bones Dobbie mix - whose guardians had tossed her out with the trash - - remains on IV antibiotics, but eats from people's hands.
On Oct. 24, 2005 we rescued 20 dogs and 19 cats, among them a beautiful feline whose guardian had perished in the hurricane. A returning neighbor notified Jane about the white, fluffy cat spotted around her damaged home, just waiting. Rescuers had to trap the frightened kitty, alone for over 7 weeks. But she is now in loving hands with plenty of food and water.
As addresses in our original database decrease, we enter Phase Two of this rescue mission - Trapping animals on the streets. Katrina added hundreds, if not thousands, of companion animals to New Orleans' existing stray population. We will not turn our back on any of these animals. Once trapped, most quickly accept human kindness. On Oct. 24, rescuer Matt Rossell "tamed" a pack of dogs, including one very pregnant female. He succeeded in trapping the dog believed to be the alpha. Back on a leash, this dog reverted to his "old life"" rolling on his back for a tummy rub.
Apparently signaling approval for the others, the rest of the dogs came right over to Matt, ready for their own dose of love and attention!
Their stories are why we are still here. Please join us in New Orleans.
HOW TO VOLUNTEER FOR ANIMAL RESCUE NEW ORLEANS
1. We need volunteers THROUGH END OF NOVEMBER, at which time we will assess
continued need and update you.
2. WHEN YOU KNOW YOUR ARRIVE/DEPART DATE, SEND FOLLOWING INFO TO:
info@kinshipcircle.org
. If you've already sent this, PLEASE DO NOT SEND AGAIN!
*Full name(s) / Name of organization (if applicable)
*Full street address
*Cell phone, land phone, email
*Brief description of animal experience, including professional, rescue, shelter, etc.
*Arrive/Depart dates in New Orleans
3. Type "HURRICANE VOLUNTEER" in the subject line of your email, or we may miss it.
4. If you are an Animal Control Officer, Veterinarian/Vet Tech, or Experienced Humane Trapper state this in subject line of email. I.E., HURRICANE VOLUNTEER: Animal Control Officer
CONTACTS
1. LOCAL RESIDENTS (IN LOUISIANA) / FEEDING ASSIGNMENTS
Jane Garrison: 843-343-8887,
JaneGarrison@comcast.net
2. ARRIVING IN NEW ORLEANS WITH QUESTIONS ABOUT LODGING, DIRECTIONS, ETC.
Holly: 757-641-4527 or Rob Stone: 253-307-0969
3. VOLUNTEERS WHO CAN EXPORT/TRANSPORT/FOSTER
Karla Osbeck:
vixey23j@yahoo.com
or 310-800-7011
4. DONATE MONEY OR SUPPLIES
Priscilla Gargalis:
pgargalis@yahoo.com
5. VOLUNTEER QUESTIONS NOT ANSWERED IN THIS ALERT (ONLY)
Kate Danaher:
katedanaher@animalearthhuman.org
Brenda Shoss:
info@kinshipcircle.org
TRAVEL & ACCOMODATIONS
- Fly into New Orleans or Baton Rouge.
- Rent a vehicle with room for supplies. Vans and SUVs appreciated.
- Attend 7:30 am daily meeting (location listed below)
- CAMPING: Bring tent to camp on parking lot/small fenced yard located alongside property at 1585 Magazine Street.
- HOMES: To inquire about availability in resident homes or FEMA tent (limited to 20 people), contact Holly: 757-641-4527
- HOTELS: Some hotels in New Orleans or Metairie are open.
Volunteers may research this on their own.
www.traveltoday.com/hotels/Metairie/LA/USA/
www.discoverneworleans.com/hotels.html
- AFFORDABLE TRAVEL & RIDESHARES:
Email Shanah Lia Richardson at
illinoiskatrinapets@hotmail.com
for help locating affordable travel options or rideshares.
WHAT VOLUNTEERS WILL DO
Ideal people are willing to stay at least a week and be self sufficient.
MORNING ASSIGNMENT MEETINGS - 7:30 am
NEW: Corner of Magazine and Felicity Streets by empty Star Hair & Nails bldg.
Around the corner from prior location at 1823 Magazine Street.
(Southern Animal Foundation has been wonderful but we don't want to block
their front door each morning)
If you arrive after 7:30 am meeting:
Call Jane Garrison 843-343-8887 for food/water assignment area.
Call Holly: 757-641-4527 or Rob Stone: 253-307-0969
1. FEED AND WATER TEAMS: Responsible for keeping animals alive until they can be trapped. Does not require any experience or special skill . . . just a strong desire to help!
2. RESCUE TEAMS: Rescue animals described in calls to our dispatch number as "animals in need." Teams also comb city to pick up street animals who approach them without need to trap. Animal handling experience necessary.
3. TRAPPING TEAMS: Animal Control Officers, DVMs, Vet Techs or Individuals with Experience Trapping Animals. These volunteers are encouraged to spend at least one week in New Orleans and may submit (air, car rental, or gas)
travel receipts for reimbursement. An estimate of travel expenses is required for approval. Send to Kate Danaher:
katedanaher@animalearthhuman.org
CARE FOR CRITICAL ANIMALS
Animals unable to survive transport brought to:
SE Veterinary Specialists, 504-219-0444
400 N. Causeway; Metairie, Louisiana
PROCEDURE FOR OTHER RESCUED ANIMALS
Other animals dropped off at Southern Animal Foundation by 4:30 pm.
Then transported to Best Friends in Tylertown, MS.
Southern Animal Foundation
1823 Magazine Street; New Orleans, LA 70130
SUPPLY NEEDS
CONTACT Priscilla Gargalis:
pgargalis@yahoo.com
Send to - ATN: Rescue Groups
Southern Animal Foundation
1823 Magazine Street
New Orleans, LA 70130
Dry Dog/Cat Food
ANC (pop-top) Canned Cat Food
Fresh Water (gallon containers)
Pedialyte
Disposable Lasagna Trays or Litter Boxes (for water on the streets)
Large Plastic Dog Crates / Small Crates
Catch Poles
Humane Large Dog Traps & Cat Traps
Towels and Sheets
Cans of Mackerel for Trapping Cats
Cat/Dog Gloves
Car Chalk for Marking Rescue Vehicles
Gift Cards to Gas Stations / Gift Cards to Wal-Mart
Monetary Donations for Vet Care, Spay/Neuter, etc.
Vet Supplies (Lactate Ringer fluid bags & tubing), antibiotics, etc.
Bottled Water, Gatorade, Energy Bars, Snacks for Rescuers
MONETARY DONATIONS
Make check payable to: 1-800-Save-A-Pet.com
secure2.convio.net/sap/site/Donation?ACTION=SHOW_DONATION_OPTIONS&CAMPAIGN_ID=1541
Or mail check to:
1-800-Save-A-Pet.com / P.O. Box 7 / Redondo Beach, CA 90277
Indicate in check memo: Katrina Animal Relief
Make check payable to: Jane Garrison
2294 Otranto Rd.
North Charleston, SC 29406
Indicate in check memo: Katrina Animal Relief
GIFT CARDS:
www.walmart.com/catalog/product_listing.gsp?cat=175427
Jane can download Walmart gift cards from this site. Or, you may go to any Walmart to purchase a gift card and mail to the address above.
SUGGESTED PERSONAL SUPPLIES LIST
current Hepatitis vaccinations
(Hepatitis A most important)
current Tetanus shot
pepper spray
hand sanitizer; alcohol and hydrogen peroxide
insect repellent (non- aerosol if flying)
sunscreen
first aid kits
thick "bite-proof" work gloves
sturdy, waterproof (rubber) work boots/shoes
change of shoes, extra socks, hat
long sleeve shirts, long pants (for coverage, but lightweight)
eye protection (sunglasses)
cases of dust/surgical masks
utility knife, crowbar
belt (to hang gears/supplies from)
flashlights, D batteries
cell phone & car charger
phone cards (in case cell phones don't work)
waterproof walkie talkies helpful
toilet paper
pillows, blankets, sheets, towels
water, Gatorade, snacks
other personal-care items
cash
Come prepared to camp:
tent, sleeping bag, air mattress or cot
More frequently asked questions:
savinglives.1-800-save-a-pet.com/site/PageServer?pagename=KatrinaFAQforVolunteering
TO SUBSCRIBE TO KINSHIP CIRCLE HURRICANE ALERTS:
Regarding Animal Rescue New Orleans with Jane Garrison, as well as other efforts, send an email to
info@kinshipcircle.org
FOR DETAILS NOT ADDRESSED IN THIS ALERT, TRY:
savinglives.1-800-save-a-pet.com/site/PageServer?pagename=KatrinaVolunteers
www.AnimalRescueNeworleans.com
*********************************************************
GRASSROOTS EFFORT
FOR ANIMALS OF THE STORM
KINSHIP CIRCLE
Brenda Shoss, Information & Volunteer Coordinator:
(desk) 314-863-9445; (cell) 314-795-2646
7380 Kingsbury Blvd.; Saint Louis, MO 63130
www.kinshipcircle.org
ANIMAL RESCUE FOUNDATION (ARF)
Julia Fischer, Supply Storage & Distribution Director:
(cell) 251-455-9377; (home) 251-645-8605
shelter phone: 251-478-9743
771 Holcombe Ave.; Mobile, Alabama 36605
www.animalrescuemobile.org
*DISCLAIMER:
Information in all alerts is verified with original sources, to the best of our ability. We cannot assume responsibility for the consequences of its use. Call or email contacts at specific locations before going.
Grassroots Effort for Animals of the Storm Kinship Circle * Animal Rescue Foundation (ARF)
- - - - - - -
From: Kinship Circle
info@kinshipcircle.org
Sent: Thursday, September 22, 2005 8:29 PM
Subject: RITA / KATRINA: Impact On Animal Rescue
9/22/05—RITA / KATRINA: Impact On Animal Rescue
In this alert:
What Can I Do Now To Help Animals In The Path Of Rita?
How Does Hurricane Rita Affect Katrina Animal Rescue?
How Bad Is Hurricane Rita? Will I Be Safe?
PawNotes
Many of you have sent what we lovingly refer to as "screaming emails" about how you can help Texas animals facing Rita, a hurricane the size of Georgia
poised to strike Galveston, surrounding areas, and Houston. Still reeling
from Katrina, it is difficult to believe this is happening.
Here is what we know as of early evening, 9/22/05:
========================================================
WHAT CAN I DO NOW TO HELP ANIMALS IN THE PATH OF RITA?
1.) There is no response from major organizations that we are aware of at
this time. However, this means nothing. Rescue teams on the ground since
Katrina struck may already have plans underway to extend relief into Texas.
Still, we cannot direct you anywhere because the facts are not in.
2.) We will post information as we receive it.
3.) Denise Wilson, a volunteer coordinator who lives in Texas about 200
miles from Galveston, informs us:
--You cannot drive into Galveston. Roads are closed and the city has evacuated.
--Houston evacuations are also underway.
4.) Some evacuees have left their pets at temporary shelters in Nacogdoches
and Lufkin. These are small Texas towns off Hwy 59 with big expo-type
centers housing pets. These shelters may need help. We have no one at these
shelters to verify this.
5.) From volunteer coordinator Sharon Gorski,
possecop@msn.com
: "Best thing
you could do would be to bring crates to animal shelters north of the storm,
and hope they can go rescue any pets left behind. The more crates they can
stockpile, the better off they will be when and if they can or need to
rescue any stranded animals. If they do not need to use the crates, the
crates can be donated to La."
6.) TRANSPORT ANIMALS TO HOUSTON SPCA-------forwarded--------
The Houston SPCA has agreed to take the Whiskerville Animal Sanctuary
animals. Now the critical issue is transport. Whiskerville is located in
Texas City, which is on the Texas coast but not actually on Galveston
Island. All city and county government has been shut down. They desperately
need help from outside their community to get the animals moved to the
Houston SPCA.
If you are near enough, with vehicle to help
If you have contacts in Houston area who can arrange transport
CALL: Whiskerville Animal Sanctuary, 409-682-5584
(Only call with actual offer; need lines open)
Police will let people into Texas City, at least through today
Almost 400 animals (300 cats, 100 dogs) at Whiskerville
Have donated funds to pay for arranged transport, if necessary
========================================================
HOW DOES HURRICANE RITA AFFECT KATRINA ANIMAL RESCUE?
Nothing definitive. We are sharing with you various reports we've had today.
1.) NEW ORLEANS:
We have heard mandatory evacuations are ordered, by 6:00 pm, for the New
Orleans area. Some independent rescue groups have already been asked to
leave. Our rescuers cannot gain access into Plaquemines Parish today, but
have sent people to New Orleans (including two fireman) to get as many
animals as possible. If the levee breaks again it could potentially cause
more damage than the first break.
2.) MISSISSIPPI: We have NOT heard anything about mandatory evacuations from
Mississippi and animal staging areas some 30-40 miles inland. Mississippi
expects rainfall that could exacerbate already flooded areas, resulting in
closed highways and impassable security points.
3.) LAMAR-DIXON: Sources indicate -
NEW VOLUNTEERS: Do not book flights or drive cross country until the worst
of Rita has passed. You will encounter even more gas shortages and
standstill traffic due to departing evacuees. Increased security measures
may prevent access.
VOLUNTEERS ALREADY IN GONZALES AREA: (2:30 pm, 9/22/05) Report to
Lamar-Dixon volunteer stations. Help is still needed.
4.) The volunteer opportunities listed in our last alert (9/22/05 - Katrina:
Latest Volunteer Update) are most current. However, we do not know how long
or if these efforts will be suspended due to Hurricane Rita's evacuations.
5.) YOUR OPTIONS?
Postpone your journey until next week when (hopefully) Rita is behind
us—without major impact on Louisiana.
Travel as planned, entering and working in Mississippi until able to access
Louisiana areas. *NOTE: Lamar Dixon has not yet stated it is rejecting
volunteers. They have recommended new volunteers do not come at this time.
If we learn of any changes, we will post them.
We cannot tell you what to do. We offer information only. Conditions could
CHANGE over the next hours or days.
========================================================
HOW BAD IS HURRICANE RITA? WILL I BE SAFE?
SOURCE: HURRICANE LOCAL STATEMENT NATIONAL WEATHER SERVICE, from Lake
Charles, LA, Thursday:
...Rita now a category 4 hurricane, but still an extremely dangerious storm.
...Hurricane warnings in effect for portions of TX and LA coastline.
...A hurricane warning in effect along the coast from Port O' Connor, TX to
Morgan City, LA. Preparations to protect life and property should be rushed
to completion.
...Inland hurricane warning in effect for counties/parishes between
Interstate 10 and the coastline: Jefferson and Orange Counties of SE Texas,
Calcasieu, Jefferson Davis, Acadia, Vermilion, Lafayette, upper and lower
Saint Martin, Iberia and Saint Mary Parishes in SW and S Central Louisiana.
...Inland Hurricane watch in effect for counties/parishes North of
Interstate 10: Hardin, Tyler, Jasper and Newton Counties of SE Texas,
Beauregard, Allen, Evangeline, Saint Landry, Vernon, Rapides and Aoyelles,
parishes of SW Louisiana.
Rita moving toward West-Northwest 9mph. Gradual turn to NW expected over
next 24-36 hours. This track would bring center of storm ashore along
extreme upper TX coast early Saturday morning.
CURRENT EVACUATION ORDERS FOR SE TEXAS AND SW LOUISIANA:
Mandatory Orange and Jefferson Counties; Mandatory Cameron and Calcasieu
Parishes; Mandatory Jefferson Davis Parish (S of Interstate 10 and all low
lying areas); Vermilion Parish (Mandatory S of Hwy 14 and people in mobile
homes, with special needs / Voluntary for others); Acadia Parish (Mandatory
S of Hwy 92 / Voluntary for others in low lying areas); Mandatory St. Mary
Parish (S of intracoastal canal); Lower St. Martin Parish (Mandatory for
special needs patients / Voluntary everyone else); Voluntary Iberia Parish
(S of Hwy 90 and 14); Voluntary Lafayette Parish (people in mobile homes,
low-lying areas, medical conditions requiring electricity)
SOUTHEAST LOUISIANA / TROPICAL STORM WATCH FOR PARISHES: Assumption,
LaFourche, Terrebonne, Jefferson, Orleans, St. Tammany, Washinton, St. John
the Baptist, St. Charles, St. Bernard, Plaquemines...
SIGNIFICANT DAMAGE expected across region due to extreme winds and lengthy
duration. Numerous trees, power lines downed. Widespread, extended power
outages likely. Some structures will fail. Isolated tornadoes possible
across SE Texas and SW Louisiana beginning Friday night as Rita approaches
coastline. Extreme rainfall, 8-12 inches expected. 10-15 inches possible.
========================================================
PawNotes
From: Priscilla Gargalis
pgargalis@yahoo.com
Date: Thu, 22 Sep 2005
Subject: Re: Jane Garrison's letter a fake?
Having been to Lamar Dixon just last week to volunteer...I can assure you
that Jane's plea was a serious one, AND volunteers are desperately needed,
invited or not. My friend and I just showed up and were put to work
immediately. No questions asked. If people are waiting for a written
invitation or "permission," that is a disservice to the animals.
Please help put an end to this rumor once and for all. If people can afford
to make the trip, then they need to GO! I am happy to speak with anyone who
wants more information, or wants to know what to expect once they get there.
Thanks,
Priscilla Gargalis
pgargalis@yahoo.com
*********************************************************
GRASSROOTS EFFORT
FOR ANIMALS OF THE STORM
KINSHIP CIRCLE
7380 Kingsbury Blvd.; Saint Louis, MO 63130
Katrina relief contact Brenda Shoss:
(desk) 314-863-9445; (cell) 314-795-2646
www.kinshipcircle.org
ANIMAL RESCUE FOUNDATION (ARF)
771 Holcombe Ave.; Mobile, Alabama 36605
Katrina relief contact Julia Fischer:
(cell) 251-455-9377; (home) 251-645-8605
www.animalrescuemobile.org
*.*.*

CLICK HERE FOR HELPING IN THE HURRICANE:
SUGGESTIONS FOR DIRECT GIVING
From:
REETSTER1@aol.com
Sent: Friday, September 16, 2005 1:44 PM
Check out KATRINA
KATRINA
www.forpitssake.org/katrina.html
comments@whitehouse.gov
Tell President Bush: "Please take immediate steps to instruct all troops, relief workers, and other responders under the command of the United States government to take on animal rescue and relief missions."
Kathleen Blanco, Governor of Louisiana
225-925-1938
www.gov.state.la.us/govemail.asp
Tell Governor Blanco: "Please devote all of your available resources as Governor of Louisiana to help rescue pets and other animals affected by Hurricane Katrina."
*.*.*.*.*
Hi All, just ONE brief letter to ALL news stations. Here's the ready-to-mail list minus the ones I couldn't find, and below you'll see to whom they're going. Thanks a lot for writing....again! Adela
READY-TO-eMAIL:
NETAUDR@abc.com
NETAUDR@abc.com
niteline@abc.com
abc.news.magazines@abc.com
2020@abc.com
wnn@abcnews.com
NETAUDR@abc.com
thisweek@abc.com
Today@NBC.com
WT@nbc.com
Nightly@NBC.com
Dateline@NBC.com
MTP@NBC.com
viewerservices@msnbc.com
Feedback@foxnews.com
Feedback@foxnews.com
Viewerservices@foxnews.com
Comments@foxnews.com
Foxnewsonline@foxnews.com
Afterhours@foxnews.com
Atlarge@foxnews.com
Friends@foxnews.com
FNS@foxnews.com
Newswatch@foxnews.com
(PLUS 3 ON THEIR SITES)
----- Original Message -----
From: Julie Cleaver
Sent: Saturday, September 10, 2005 8:21 PM
Subject: Call or e-mail local newstations to get boats out to save animals!
Please call or email the following news stations to ask them to get a reporter on this to find out who has given the order to hold back the boats and to help break the logjam.
ABC-7 Local News -
abclocal.go.com/kabc/
(DIRECTLY TO WEBSITE e-MAIL):
abclocal.go.com/kabc/story?section=stationinfo&id=1642694
ABC National - contact page:
abcnews.go.com/Reference/story?id=54216
(DIFFERENT NEWS TEAMS):
NETAUDR@abc.com
type on subject line: GOOD MORNING AMERICA
NETAUDR@abc.com
: WORLD NEWS TONIGHT
niteline@abc.com
: NITELINE
abc.news.magazines@abc.com
: PRIMETIME
2020@abc.com
: 20/20
wnn@abcnews.com
: WORLD NEWS NOW
NETAUDR@abc.com
: WEEKEND NEWS
thisweek@abc.com
: THIS WEEK
NBC -
www.nbc.com/
Wow this is a difficult one. I couldn't find a contact. If anyone can....
CBS -
www.cbs.com
Another difficult one. On site e-mail: Must scroll to the end and click on "feedback", and...
CNN contact page -
www.cnn.com/feedback/
"(What are we reporting that YOU want to talk about?)"
(On site e-mail):
www.cnn.com/feedback/forms/form1.html?18
&
www.cnn.com/feedback/forms/form1.html?39
MSNBC contact page -
www.msnbc.msn.com/id/3303518/
Today@NBC.com
WT@nbc.com
Nightly@NBC.com
Dateline@NBC.com
MTP@NBC.com
viewerservices@msnbc.com
Foxnews contact page -
www.foxnews.com/story/0,2933,167407,00.html
Feedback@foxnews.com
Weekend
Feedback@foxnews.com
Viewerservices@foxnews.com
Comments@foxnews.com
Foxnewsonline@foxnews.com
Afterhours@foxnews.com
Atlarge@foxnews.com
Geraldo Rivera
Friends@foxnews.com
FNS@foxnews.com
Sunday
Newswatch@foxnews.com
A N D.....
Please call or email the Governor's office at 1-866-310-7614
(use this script if you want):
First, I want thank you and everyone there who's working so hard on the relief effort; our prayers are with you.
Second, I've been hearing many reports that animal-rescue people with boats are not being allowed into New Orleans to rescue animals. Who can I call to get the boats let in?

WED, 7 SEP 2005 URGENT PETITION TO NEW ORLEANS MAYOR
www.thepetitionsite.com/takeaction/840979272?ltl=1126071044
sign and pass it on. We have done it, will you please? Thank you!
"Mayor Ray Nagin of New Orleans has stopped all animal rescue now that mandatory evacuation has begun. Please sign this petition, and forward it to anyone you can to sign, to make sure animals are included. Animals can survive on this water, but they are going to starve to death and the contaminated water will shortly start to kill them. Many are chained and cannot get food.
Please sign the petition, even in South Africa we see the visuals on CNN and Sky News. It breaks my heart, they don't understand why they're left behind - neither do I.......please help save them. Humans shouldn't be the only priority - we're the ones responsible for them and now they're dying with each passing moment."
*.*.*.*.*
Sent: Monday, 5. September 2005 08:21
Dear Friends:
Today on CNN they showed pictures of thousands of dogs and cats left in New Orleans to starve to death.
Those that did not die in the flood have found refuge on the tops of buildings and in trees and any place they could find that is dry.
The federal government of the United States are telling those who are rescued to either take their medicine or their pets.
This is emotional blackmail and it has to stop.
Please write to the president of the United States at this address:
president@whitehouse.gov
These dear souls will die a horrible death unless the international community lets the USA know that this is not a civilized way to treat fellow sentient beings.
I know that we've asked a lot from you lately, but unless we speak out and demand that a rescue attempt be made for the animals of New Orleans, they will die.
We thank you and the animals thank you.
Kindest regards,
Earle Bingley
Canadian Voice For Animals Canada
www.canadianvoiceforanimals.org/
*.*.*.*.*.*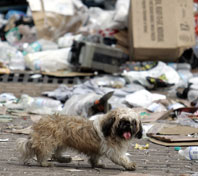 Sent: Samstag, 3. September 2005 18:12
Subject: Help to the people and animals in New Orleans!!!!
www.hsus.org/

secure.hsus.org/01/disaster_relief_fund_2005?
HSUS in the Field >> HSUS Disaster Center >> Recent Activities and Information >> In the Disaster Zone, Scenes of Separation and Kindness
September 4, 2005
By Bernie Unti
Few children could conjure up a worst nightmare: On Thursday, following strict orders, an officer outside the New Orleans Superdome took away the last thing one little boy trying to board a bus had left his dog.
Such tragic scenes played out again and again during the awful days after Katrina hit land: people not being permitted to evacuate with their pets. Amid the chaos and tumult Katrina unleashed, numerous evacuees were forced to leave behind their cherished animal companions in their homes, in their offices, in hospitals, and other public facilities, and at rescue stations and shelters that do not permit pets to accompany their owners.
Even after losing everything you have, it seems, you can still suffer loss.
The separation of people and pets happens in every disaster, although in recent years, cooperation between The HSUS and the American Red Cross has led to some advances. The Red Cross has done much more to promote pet evacuation planning and to develop referral lists for those who are forced to relinquish a pet when disaster strikes. Moreover, The HSUS has been tireless in trying to persuade relief agencies and humane organizations of the need for animal-friendly shelter options in every community.
So far, however, rescue workers dealing with Katrina have barred pets from buses, shelters, and other facilities. And the Red Cross does not permit animals in its shelters. The harsh and depressing fact remains: In most disaster scenarios, people and their pets have to go their separate ways.
Little deeds of kindness
Even on the bleakest landscape of loss, there were a few bright spots. Louisiana State Treasurer John Kennedy, helping people board buses at an Interstate 10 overpass near Baton Rouge, intervened when some evacuees balked at being told to leave their pets behind. One woman told Kennedy, "I've lost my house, my job, my car, and I am not turning my dog loose to starve."
Kennedy joined other volunteers in taking down the names of those leaving on the buses and asked the Louisiana SPCA to come out and collect the animals. The SPCA took two cats and fifteen dogs, including a mixed-breed dog Kennedy found tethered near the road with a unopened can of dog food next to him and a note that read, "Please take care of my dog, his name is Chucky." All of the animals will be cared for until the evacuees are able to secure shelter in other cities and states.
Kennedy was not alone in his sense of duty to evacuees trying to hang onto their pets. Some 250 miles to the west, at the Houston Astrodome and the Reliant Arena, workers with the Houston SPCA were accepting hundreds of animals from evacuees, with the goal of eventually reuniting animals with the people who love them -- people who would never have given up their pets but for the violent disruption of their lives wrought by Katrina.
Houston SPCA officials expected to see the number of animals coming to its care soar into the thousands once rescuers got access to storm-devastated areas.
Safe Harbor
For at least some of those seeking to flee Katrina's impact zones with their pets, the news was not all bad.
In a timely recognition of the value of animal life, and of the value that people place on their companion animals in good times and bad, an upscale hotel in Houston opened its doors to pets displaced by Hurricane Katrina. As the city absorbed an exodus of human and non-human refugees from Louisiana, managers at Houston's Hilton Americas Hotel dismissed their usual restrictions, allowing hurricane refugees to bring more than 100 dogs, cats, birds, hamsters, and rabbits to safe harbor within its walls.
Houston's Camden Property Trust, which is letting hundreds of evacuees live rent free for sixty days in some 600 apartment properties that were vacant when Katrina hit land, has also adopted a pet-friendly policy. "We've been inundated with people driving up in their cars with families and pets," said Richard Campo, Camden Property's CEO.
In every disaster, stories emerge of practical reason, compassionate instinct, and wise judgment on the part of individuals attempting to do right by the afflicted. Things are no different this time around.
Copyright © 2005 The Humane Society of the United States. All rights reserved. | Privacy Policy | Contact Us
Aug 31, 2005; New Orleans, LA, USA; Hundreds of refugees who were rescued from St. Bernard Parish arrive at the Algiers Ferry Terminal across the Mississippi River from downtown New Orleans. Photo by Lisa Krantz/San Antonio Express/ZUMA Press. (©) Copyright 2005 by Lisa Krantz/San Antonio Express/ZUMA Press
Please consider making an emergency contribution to our Disaster Relief Fund. Your support is critical to our ability to help suffering and stranded animals during this crisis. Click here to make your donation now:
secure.hsus.org/01/disaster_relief_fund_2005?
Dear Annamaria,
In the past few days, we have all watched in horror and disbelief at the devastation wrought by Hurricane Katrina.
In the midst of this tragedy, all of us at The Humane Society of the United States have been heartened by the tremendous outpouring of support for our disaster relief efforts in the region. I'm proud to say that because of your support, our response to assist animals and their caregivers has been immediate.
Shortly after the hurricane slammed into the Gulf Coast, HSUS teams were on the ground determining the areas where the most critical relief was needed. Today, experienced HSUS rescue staff and volunteers are working with state officials, federal agencies, and other organizations to evacuate animals out of the hardest-hit areas. They are also establishing pet-friendly shelters and delivering supplies, resources, and medical assistance.
In Louisiana, were helping to set up an emergency facility at the Coliseum in Baton Rouge where strays will be brought, evaluated, and then transported to safety. While thousands of people are being evacuated from the New Orleans Superdome and relocated to Houston to be sheltered in the Astrodome, HSUS volunteers are helping transport animals from evacuees arriving at the Astrodome and ferrying them to the temporary shelter, which will be fully operational today.
In Mississippi, seven HSUS disaster field teams left to conduct damage and needs assessments and to provide help as they find needs from Jackson south to the Hattiesburg area. The HSUS team includes about 35 trained responders and 8-10 vehicles (plus trailers and RVs), including the HSUS Disaster Response Unit. Team capabilities include companion animals, horses, farm animals, and wildlife. The team leaders are pushing very hard to get help to Gulfport, Mississippi, but at this time Route 49 is open only to state-authorized emergency vehicles.
We will continue to keep you updated on our efforts and we expect to be granted more access to the hard hit areas over the weekend. So many pets are trapped and alone, and we are determined to find and rescue them. And we plan on being there as long as it takes.
Again, I want to personally thank you for your generosity at this time. Quite simply, we would not be able to provide the relief needed for stranded and injured animals in a crisis of this magnitude without your help.
Sincerely,
Laura Bevan
Incident Commander
HSUS National Disaster Animal Response Team
Jackson, Mississippi
Copyright © 2005 The Humane Society of the United States| All Rights Reserved.
Humane Society Disaster Relief Fund | 2100 L Street, NW | Washington, DC 20037
disaster@hsus.org
| 202-452-1100 |
www.hsus.org
*.*.*.*.*
GO TO disaster.petfinder.com/emergency/
Look at : KATRINA
www.forpitssake.org/katrina.html
----- Original Message -----
From: Katie Walter
Sent: Sunday, September 11, 2005 8:43 PM
Subject: Where to find lost animals from Katrina-PetFinders
From: Judy Burke:
Petfinder.com has unveiled a comprehensive animal emergency response system helping companion animal victims and their caretakers during disasters. This is a collaborative database linking information from the public and emergency response organizations and making it available to rescuers, victims, and volunteers.
The database features the following:
*displaced hurricane victims post the locations of their pets so that rescuers can go in and save them
*rescuers post the descriptions and photos of pets they find making them available for distraught pet parents to find them
*volunteers post their offers of foster care which displaced hurricane victims can search to find temporary care for their pets
This is a collaborative effort powered by Maddie's Fund and a coalition of organizations who are all working together to assist the victims of Hurricane Katrina. Thanks to: American Humane Association, Humane Society of the United States, ASPCA, Best Friends Animal Society, LSU School of Veterinary Medicine, United Animal Nations (EARS), IFAW and Code 3 Associates, Alley Cat Allies and everyone who has come together to put the pets first.
Visit
disaster.petfinder.com
for the database
Continue to visit
katrina.petfinder.com
for regular updates
If you have hurricane-related needs, please let us know. Our thoughts remain with everyone affected! --Kim
disaster.petfinder.org/emergency/
God bless you,
Judy, Rowdy, Gizmo & Bandit,
who will always be in our heart.
Green Bay, WI
Naples, FL
"Saving one life will not change the world, but it surely will change the world for that one life".
Author unknown
"You don't throw away a life just because it's banged up a little"
Papillon Club of America Rescue
www.Papillonclub.org/rescue
PapillonRescuePrayer@yahoogroups.com
*.*.*.*.*.*.*.*.*.*.*.*.*.*.*.*.