HOME NEEDED FOR ***2 PUPS*** IN ROMANIA
NOVEMBER 2005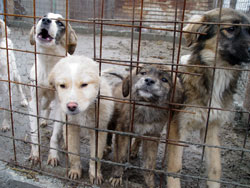 DOGS LOOKING FOR LOVE
Sweet dogs at Noah's Ark who need your immediate help.
If you would like to support our efforts with international adoption
please email: info@schnuffie.com
BUILDING NOAH'S ARK DOG SHELTER IN ROMANIA
www.schnuffie.com
10 volunteers will traveled to Romania in the spring of 2005 to rebuild the Noah's Ark dog shelter in Bucharest.
Schnuffie Productions was filming this endeavor with Clive Pearse, host of the Home and Garden channel's "Designed to Sell" show.
download the Building Noah's Ark PDF file
www.schnuffie.com/Building_Noahs_Ark.pdf
View the trailers:
What happens when you. . .?
www.schnuffie.com/Building_Noahs_Ark.wmv
&
What we can accomplish together
www.schnuffie.com/Fundraising_Trailer.wmv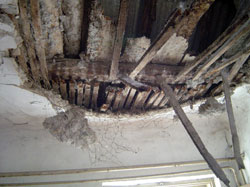 MEET THE VOLUNTEERS
The shelter has no running water or a proper roof to give the animals shelter from the elements. We plan on changing that.
There are currently over 200.000 stray dogs roaming the streets of Bucharest. The shelters and animal care are not a priority for the government. The humans and stray dogs of Bucharest need our help.
How you can help
*
Financial Support
*
Let others know about this project
*
Donate your frequent flyer miles
*
Sponsor a volunteer
*
Sponsor a dog
*
Donate Medicine and Vaccines
History
The dramatic economic problems under dictator Nicolae Ceausescu had far-reaching consequences. The population fought for their own survival and many dog owners were forced to put their pets out on the streets. The dogs' numbers grew out of control and became a real problem for the city's administration. For a long time the chosen solution was to kill the dogs. The strays were strangled, beaten to death, or poisoned with strychnine. But the killings have not succeeded in stopping the swelling dog population. Recently, the newly re-elected mayor of Bucharest enacted a new law making it harder for international organizations to support the local shelters.
One of the people who are making a difference is Mihaela Eremia who opened Noah's Ark Dog Shelter near Bucharest. She is currently housing over 400 stray dogs, providing food and shelter the best she can. Her efforts are working towards getting the dogs off the streets and placing them in loving homes.
Spring 2005
Next year Schnuffie Productions and a group of volunteers will travel to Romania to build a new roof for the shelter. The estimated amount for building materials and other construction related costs are $15,000 dollars. We will need transportation and hotel accommodations.
The shelter is also in dire need of medicines like antibiotics, external and internal parasite medication and vaccinations, especially for the puppies.
Mihaela and a handful of her volunteers are amazing people. They are trying to make a difference in a world where many people feel helpless and have lost all hope. Let's help them help the dogs of Romania.
If you have any questions or would like to donate, please contact me at +1 818-720-0725 or send an email to
info@schnuffie.com
Schnuffie Productions would like to thank you for your interest and support.
Noah's Ark Shelter near Bucharest, Romania
The roof is in need of repairs.
More ceiling damage.
Staff prepares bread and yogurt for the dogs
Volunteers helps take care of the animals
Dogs are also in need of medicines
Stray dogs can be found everywhere
on the streets of Bucharest
HOW TO SOLVE ROMANIA'S STREET DOG PROBLEM EFFECTIVELY, HUMANELY AND FOR EVER.
www.fpcc.ro/index.php?lang=en&page=home&homepg=howto
---