HOME NEEDED
***MAXI*** 3 JAAR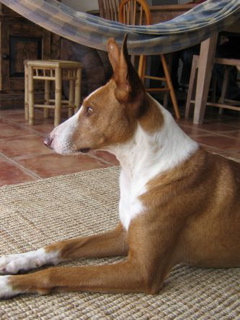 Update van het opvanggezin 10 april 2006
Maxi weegt nu 23 kilo en is 57 cm hoog. Hier ook een nieuwe foto:
Update van het opvanggezin 14 maart 2006
Maxi is vriendelijk en makkelijk in de omgang.
Ondanks dat hij gek is op een aai of een vriendelijk woord dringt hij zich nooit op.Hij weet zich in huis heel goed te gedragen.Ook buiten is het een fijne hond.
Maxi gaat leuk om met onze kinderen (4-6-11). Hij speelt rustig met ze en is niet onstuimig.
Kan even alleen zijn.
---
***ROMEO EEN LIEVE GALGO*** 3 JAAR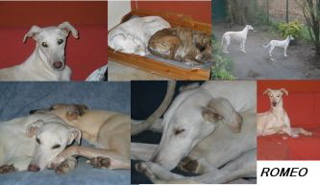 ROMEO - Leeftijd onbekend
Romeo is een lieve witte Galgo reu van een jaar of 3 a 4. Hij is heel sociaal met alle honden. Hij leeft hier met diverse reuen en teven samen en dat geeft nooit problemen.
Hij heeft een heel lief en zacht karakter. Als je je handen naar hem uitsteekt dan schrikt hij en knijpt hij zijn oogjes dicht in afwachting van . . . . . . . . . .
Maar verder is hij gelukkig geen bange hond.
Hij is gek op wandelen, staat helemaal vrolijk te wachten tot hij zijn riem om heeft.
Romeo begint nu ook steeds vrolijker te reageren naar ons. Als we thuis komen staat hij net zo mee te kwispelen.
Hij daagt de honden uit om te spelen. En in huis is hij verder een echte Galgo, lekker veel slapen.
Hij is wel gericht op eten dus je kunt niets laten staan, maar hij zal het nooit uit je hand of van je bord pakken.
Als hij eet kun je met je handen in zijn bak, Oftewel een super lieve schat.
Hij kan alleen niet met katten en heeft een jachtinstinct, maar als je geen katten hebt dan is dit echt de perfecte hond.
Zo lief, rustig, zachtaardig en hij heeft prachtige ogen.
Bijzonderheden: Voor meer info kunt u contact opnemen met Anita tel 077-3740041 of email:
patrick.anita@home.nl
---
For information go to:
PODENCO IN NEED FOUNDATION
visit their web site:
www.podencoinnood.nl
email via
podencovrienden@planet.nl
More info via tel 0031 (0)525-652339 or 0031 (0)299-351118
General information at
www.podencoinnood.be
, English text included
DUTCH
www.podencoinnood.nl/adoptie/Podenco/index.htm
---