ROMANIA
By Rolda:
rolda@care2.com
Sent: 22. April 2006 17:34
Subject: Flooding disaster in Romania!
Flooding Disaster in Romania, April 2006
Apr 18, 2006 — By Bogdan Cristel
"BISTRET, Romania (Reuters) - Ten thousand Romanians faced evacuation on Tuesday as rescue workers raced to fix a broken dam on the Danube before the swelling river could flood their low-lying villages.
The Danube continued to rise in southeast Europe after reaching its highest level in more than a century over the weekend, fed by heavy rains and melting snow.
Thousands of hectares of farmland, as well as several ports and villages across the Balkans were already under water and torrential rains were expected to start in Romania late on Tuesday.
Romanian authorities said the situation was critical in the southern village of Bistret where villagers helped the army to carry sandbags in their horse-drawn carts to fix a breach in a nearby dam.
"I remember how hard I worked to build this dam in the 1960s, and I thought this dam was never going to break," 80-year-old Dumitru Bratan said. "I am so glad that the army is helping us. I hope everything will be fine."
Rescue teams prepared to move 10,000 people from nine villages in the area, including Bistret, to hospitals and schools in higher-lying settlements if the dam-fixing failed.
The Danube receded slightly where it leaves Serbia to enter Romania, but water levels were on the rise further east as the flood wave traveled to Tulcea and Constanta counties where people hurried to reinforce dykes.
"Another rain shower and the whole town will be flooded and there's little we can do to stop it, because water will come from the sewers," Cernavoda deputy mayor Gheorghe Hemes told Antena 3 TV station.
TV footage also showed that most of Galati port in the southeast of the country was underwater with some 1,500 workers and volunteers trying to build a 7 km (4 mile) barrier to protect residential areas.
More than 1,000 people were evacuated in Romania overnight, mostly in southern Dolj county, taking the total up to more than 4,700. Around 600 houses were flooded and 170 destroyed. "
(Reuters News, April 2006)
We desperately need volunteers,to help us move the animals to higher ground, and we also appreciate any donations in terms of:
* Dry animal food
* First aid items
* Medical supplies
* Blankets
*DONATE ONLINE NOW:
We need your support!!!! Any donation is IMPORTANT and very appreciated!!!!
Please donate secure online by clicking this link:
www.paypal.com/xclick/business=rolda%40care2.com&item_name=Romania+Animal+Rescue%2CInc.&no_note=1&tax=0&currency_code=USD
<
www.paypal.com/xclick/business=rolda%40care2.com&item_name=Romania+Animal+Rescue%2CInc.&no_note=1&tax=0&currency_code=USD
>
or by using the PayPal button from our website:
www.rolda.home.ro/
(Please mention "flooding" when sending your donation!)
**Others ways to help ROLDA:
*Write an add in local newspaper about ROLDA' urgent needs!
*Write an article in the local newspaper and inform readers about Romanian
flooding situation!
*Organise a fundraising event in your area: it will be fun and in the same
time, you'll help hundreds of innocents animals!
*Print and spread out this leaflet!
Respectfully,
Dana
ROLDA Romania
www.rolda.org/
Phone/Fax: +40 236 830 117
Mobile: +40 748 903 612
*.*.*
ROMANIAN ANIMALS NEED YOUR SUPPORT

www.ipetitions.com/campaigns/Romania/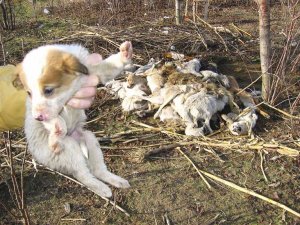 STOP ANIMAL CRUELTY AND ABUSES IN ROMANIA!
On 26.05.2004, Romanian authorities voted an animal protection law that refers only to wild animals and animals with owners...authorities said that there will be ANOTHER LAW for strays...I wonder why?!
Those "strays" do not have souls, like animals with owners do?!
Currently, there is a law regarding strays'administration, that has as consequences the "conviction" of dogs without owners to a sure, unfair death!
Local authorities are administrating few local shelters all over Romania, in which dog catchers, that kill innocent dogs with a cruelty that is hard to be described, are working. They did it before, and nothing will stop them from applying barbarian and "free" euthanasia methods: killing with sticks and rocks, torturing animals, injecting poison into animals' hearts, hanging dogs,...
Dogs from City Hall pounds are living in tragic conditions, without food and proper medical care. Those dogs are sentenced to live in prison all their lives, in overpopulated local shelters - if they are "lucky" enough not to be killed anyway!
Why can nothing prevent or stop those atrocities from happening?! Because of a lack of a well-edited law for animals' protection (with big penalties/even prison for those who broke the law and for those who abuse an animal in any way), no animal lover from Romania can protect from a legal standpoint any abused animal, even if the justice is almost every time on our furry friends' side!
All slaughters that are taking place in Romania broke many national and international laws (The Universal Declaration of Animal Rights, The International Animal Protection Regulations, The Humans Rights,...), and without constant international pressure, nothing real will be changed here for animals!
PLEASE SIGN AND CIRCULATE THIS PETITION TO AS MANY ANIMAL LOVERS AS POSSIBLE!!!
PLEASE, ALSO SEND PROTEST LETTERS TO ROMANIAN AUTHORITIES TO MODIFIE IMMEDIATELY THE LAW FOR ANIMALS' PROTECTION IN ROMANIA AT EU STANDARDS!!!(Ex.German or British example)
Please write directly to the following addresses to express to Romanian authorities your point of view :
President of Romania Mr.Traian Basescu:
presedinte@presidency.ro
Romanian First Minister Mr.Calin Popescu -Tariceanu:
premier@gov.ro
tariceanu@pnl.ro
Minister of Agriculture(responsable with animals,also):
Mr.Gheorghe Flutur - E-mail:
pnl@senat.ro
Mr.Adrian Nastase(President of Deputy Chamber and the President of Romanian Hunters Association):
srp@cdep.ro
You can also send your protest letter to the following email addresses:
Guenter.Verheugen@cec.eu.int
,
Margot.Wallstrom@cec.eu.int
You can send protest letters by mail directly to:
Senatul Romaniei
Piata Revolutiei, nr. 1, sector 1
Bucuresti
Romania
Guvernul Romaniei
Piata Victoriei nr. 1, sector 1 ,
Bucuresti
Romania
If you would like, you can copy all protest letters sent by email /mailing to ROLDA, at
rolda@care2.com
or at our mailing adress:
Feroviarilor Street 16,Bl.C2,ap.18
6200 Galatzi,Romania
PLEASE CIRCULATE IT AS MUCH AS POSSIBLE!!!
Only together we can make THE difference for those poor innocent voiceless souls!
(fields marked with * are required)
More info about this...
www.rolda.home.ro/
Stop Slaughters and Animal Abuses in Romania!
Please contact ROLDA Staff for any suggestions ,comments or questions at:
rolda@care2.com
---