HAVE A HEART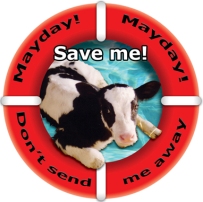 Compassion in World Farming
MAYDAY! MAYDAY!
The calves need your help.
As you know, live calf exports are due to resume next week on 3 May 2006.
Please visit our website to send a Mayday e-card to Margaret Beckett, via
www.ciwf.org/campaigns/primary_campaigns/long_distance_ecard.htm
Secretary of State for the Department of Environment, Farming and Rural Affairs, asking her to do all she can to persuade industry not to send live calves again.
To have maximum effect she needs to receive the card before Wednesday May 3.
Thank you for your support.
www.ciwf.org.uk/campaigns/primary_campaigns/long_distance_heart.html
Long distance transport overview Live exports resume from UK
British-born calves, alive and in their thousands, could again be sent on long and stressful journeys to be reared in veal production systems that would be illegal in their country of origin.
Scientific evidence shows that calves travel particularly badly. If the ban on British beef exports is lifted this spring, up to 500,000 calves could be sent not only by road, but also by ship across the channel, causing them extra distress in what might already have been an unacceptable journey for such young animals.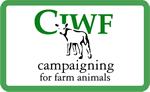 CIWF does not want a trade in live calves to resume - instead we want a trade in meat and an 8 hour maximum limit on all journey times in the EU. And thatís eight hours full stop.
You can help by sending this e-card to Ben Bradshaw, asking him to Have a Heart - and do everything he can to persuade industry to trade in meat not in live calves.
*.*.*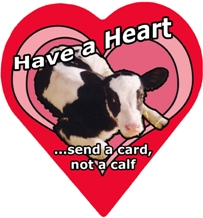 Dear Mr Bradshaw,
I don't want calves to be exported live.
They are especially prone to stress and infection after being separated from their mothers and scientific evidence shows they travel very badly.
Please Have a Heart and do everything you can to persuade industry to trade in meat not in live animals.
Yours sincerely,
Your Details
* required field
Email Address*
Name*
Post / Zip code *
Send Now
Compassion in World Farming: Charles House 5a Charles Street, Petersfield, Hampshire, GU32 3EH Reg No 2998256
Tel +44(0)1730 264208 Fax +44(0)1730 260791 Contact us
---