ANIMAL SHELTER CRUELTY SCANDAL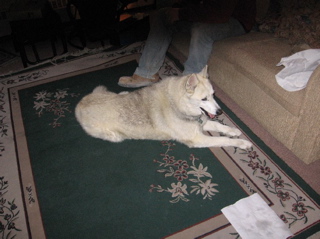 give them life like this dog Tacarea gets
Subject: ANIMAL SHELTER CRUELTY SCANDAL
Sent: Friday, February 10, 2006
I believe this is an important petition; Please sign and pass to as many as
possible. Thank you,
Earle
www.canadianvoiceforanimals.org
Subject: Animal Shelter Cruelty Scandal
Freeport Animal Shelter Caught In Cruelty Scandal
www.thepetitionsite.com/takeaction/247088339
The Freeport Humane Society is Gassing Animals. This is a cruel and inhumane form of euthanasia. This must be stopped!!
(Please ignore the Deadline. It is being corrected by Care2. This petition was created 02/07/2006 and is ongoing.)
Full Petition:
"The animal shelter in Freeport, NY (Long Island Humane and Dog Protective Association) uses a carbon monoxide gas chamber to kill animals. It is a sad truth that until we unite to make this illegal in New York State, the use of CO gassing will legally continue. Upon the being contacted by shelter insiders the ADL-LI recently learned that the current operations at the Freeport animal shelter employ a sort of cruelty that goes above and beyond the regular procedures regarding euthanasia. One chief of operations, Cheryl Salem has been observed using this chamber regularly and illegally.
The Freeport Shelter is a small, privately owned nonprofit with a questionable financial history as reported by the BBB annual report on charitable organizations. It's had the same 4-6 board members for years, 3 are related. We need your help in advising the remaining board members that an immediate resignation or termination of Cheryl Salem is in the best interest of the animals.
"I was young. She told me it was legal, but we started calling it bloody Sunday because she usually does it on Sundays but sometimes at nights too."
-Anonymous Employee-(regarding Cheryl Salem's use of the chamber at night on weekends)
"Sometimes sick ones or the kittens and puppies wouldn't go down so she put them in the tank over and over." -Anonymous Employee"
Info From:
www.animaldefense.info/
The animal loving community everywhere is shocked and appalled at such cruel methods of euthanasia. These methods are out dated and should be stopped.
Just the thought of an innocent animal laying on a concrete floor fighting desperately, through nausea, for their last breath of air tears me up inside. Don't let that be how they spend their last fleeting moments of an already tormented life. Please hear our words and feel their pain.
We beg you to take on a more humane method of euthanasia, Immediately revoke Cheryl Salem access to the shelter and arrange protection for the animals. Also we ask that you appoint someone humane with experience to temporarily run the shelter, and take down the gas chamber for good.
------------------------------------------------------------------------
Please read, sign, and cross post this very important petition.
Want to do more for this cause?
Here's what you can do:
Call & Email these people asking them to:
(1) Immediately prevent Cheryl Salem access to the shelter and arrange protection for the animals.
(2) Appoint someone humane with experience to temporarily run the shelter.
(3) Break down the gas chamber.
Rory McEvoy, Board Of Director & Attorney
work direct line: (212) 912-2787
home: (212) 249-5413
rmcevoy@eapdlaw.com
Lori Zimbalatti, Board of Director
work switchboard: (781) 485-4500
home: (617) 864-6052
Millicent McEvoy, Board of Director
home: (516) 565-1640
---