PETITION AGAINST THE SLAUGHTER OF SEALS IN CANADA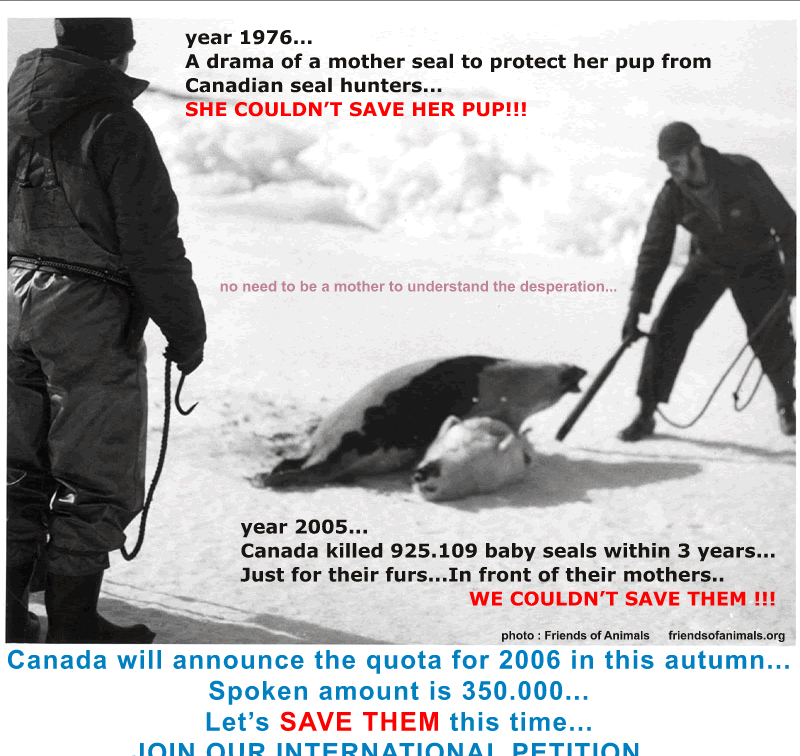 URGE CANADA'S NEW PRIME MINISTER TO STOP THE SEAL HUNT



SIGN THE PETITIONS GO TO:
community.hsus.org/campaign/harper_protectseals?rk=91zMJns1SXEPW and scroll down please
The Humane Society of the United States is committed to working with the Canadian government to permanently end the seal hunt. With the recent election of Prime Minister Stephen Harper, we have renewed hope that 2006 will be the last year that seals are clubbed and shot on the Canadian ice.
Prime Minister Harper and the Conservative Party now in power have already voiced opposition to the Canadian seal hunt. As he begins his term, we have an unprecedented opportunity to influence the Canadian government and save countless baby seals. Please, take just a moment today to contact Prime Minister Harper and urge him to put an end to this brutal hunt.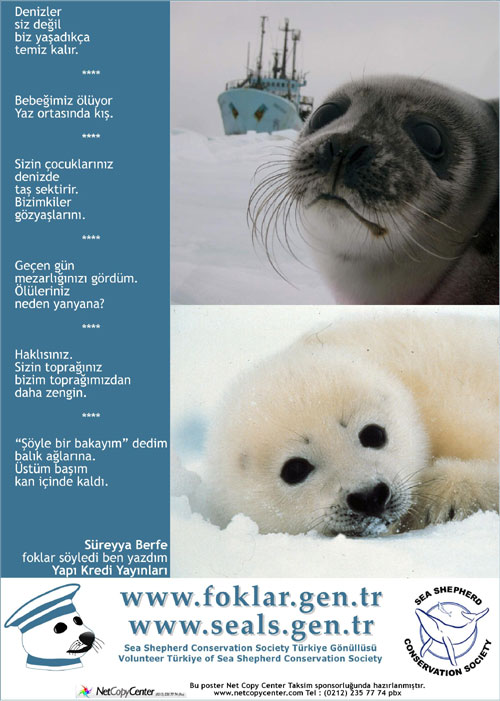 PETITION AGAINST THE SLAUGHTER OF SEALS IN CANADA
www.seals.gen.tr
To: Paul Martin, Prime Minister of Canada, Geoff Regan, Minister of Fisheries and Oceans, and to each Member of the Parliament of Canada :
We the undersigned, are totally opposed to the slaughter of hundreds of thousands of seals which is permitted and supported by the Canadian government, and is unwillingly subsidized by Canadian taxpayers.
This is the largest slaughter of marine mammals in the world and is a threat to the survival of the entire species. It jeopardizes the North Atlantic ecosystem including mammals, many species of fish and crustacea.
The slaughter is unnecessary. Scientiric evidence shows that it was overfishing which destroyed the stocks of cod and other fish and there is no solid evidence that exterminating seals with help the cod population recover. The slaughter procedures only unessential, luxury, and vanity items and a small amount of meat, which is generally considered to be foul and unfit for human consumption.
About 95% of the seals to be slaughtered are babies only a few weeks old. Many are cruelly struck on the head with picks or shot with rifles in front of their mothers. A postmortem survey has shown that up to 42% of these babies are skinned alive.
Killing hundreds of thousands of living beings is immoral and unethical. The way they are killed is incredibly cruel and barbaric.
We will boycott all Canadian seafood, all other Canadian products, and will not travel to Canada either for tourism or education until the slaughter of seals is permanently ended. We will look at all labels to ensure that nothing we buy is from Canada and we will encourage our family and friends to do the same.
We petition you to halt this slaughter immediately and permanently.
Sea Shepherd Conservation Society & Seals.Gen.Tr Petition
Your Name:
Where Are You From
Email Adresess:
Your URL:
Comment:
---