BRING THE ELEPHANT HOME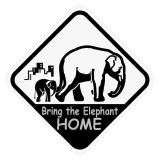 Help to get the Thai elephant off the street

info@bring-the-elephant-home.nl

www.bring-the-elephant-home.nl/index.htm
Bring the Elephant HOME wants:
* Help creating a better future for begging elephants in Bangkok;
* Getting understanding of and attention for the problems of elephants in Thailand;
* Reawaken people's compassion and love of elephants and the urgent need for protection;
* Education of tourists by showing that there are natural and animal-friendly alternatives to the work elephants;
* Promote eco-tourism in Thailand;
* Raise extra funds for animal-friendly and sustainable elephant projects in Thailand.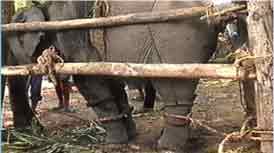 Elephant with mahouts on their way to work, in the most crowded areas of the Thai capital.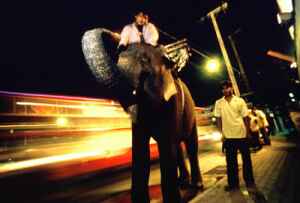 Sleeping under a highway-bridge, eating grass polluted by exhaust fumes, getting hit by traffic, being given drugs to make them work longer and forget about their misery ... this is no way of life for a living creature!
Bring the Elephant HOME has been created to support abused and overworked elephants in Thailand. The first and most urgently in need of our attention are elephants who are made to beg on the streets of Thailand. The aim of the walk is to get all elephants being used for begging off the street.
Bring the Elephant HOME wants:
* directly save two elephants of the street to guarantee a better future for them;
* getting understanding of and attention for the problem of streetelephants through the media;
* education of tourists by showing that there are natural and animal-friendly alternatives to the work elephants are being forced to do now
* raising of extra funds for animal-friendly and sustainable elephant projects in Thailand.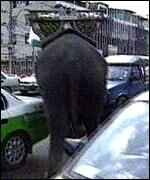 Elephants on the streets of Bangkok
For centuries elephants in Thailand have been migrating during the dry season to the cities, where a lot of tourists and therefore food can be found. However, the last fifteen years, elephants can be found on the streets of Bangkok all year round. Businessmen buy elephants and rent them out to the so-called ¨mahouts¨, otherwise jobless people who use the elephants to generate an income.
Drugged slaves
Begging from tourists has turned into a very lucrative trade, and the number of baby elephants seen on the streets is a sure sign that more are being brought in. These youngsters have often been poached in the neighbouring country of Myanmar. The elephants are being used to transport tourists or to beg. The elephants in Bangkok spend their days trying to find shelter in a concrete jungle, and spend their nights performing for tourists.
They are made to work in the most crowded tourist areas, sleep in parks or under motorway bridges, fall into pits in the street and tred on sharp objects such as nails. Many elephants have been involved in traffic accidents, they are often drugged to keep them going till dawn, amid the noise and exhaust fumes. The grass that they eat is poisoned by exhaust gasses and they suffer from insufficient shade.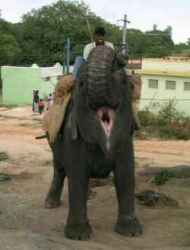 The ban of elephants from Bangkok city
Although the Thai government has recently prohibited elephants on the streets of Bangkok, the animals are still regularly brought into the city by their keepers, or mahouts, who encourage tourists to give them money in return for being able to feed their charges a few leaves. Many of these elephants previously worked in logging camps. When the government closed down all logging operations in 1989 in order to protect the country's remaining forests, their keepers had to find another means of income.
The story of the elephant Maximus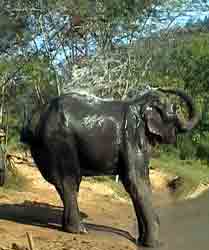 MAX
Born in 1961 at Um Phang District, Tak province. His mother was a logging elephant and Max shared the fate of the other infant elephants. Weaned unnaturally early he was taken from his mother so she could return to the heavy work of hauling logs.
Max eventually ended up in Bangkok where he worked the Silom and Patpong districts with his mahout begging for food. People were fascinated by the size of him. Tourist were eager to buy bananas and other food from the mahout to give to Max. In exchange, they could take pictures of themselves with Max to show friends back home and tell them stories of the elephant-giant they had encountered in Thailand. Max's picture has gone around the world. Yet how many people ever looked into his sad, tired eyes and tried to understand how much fear even big elephants might have when forced to work in a strange place far from natural environment?
In 1999 the government began a campaign to get elephants out of the streets in Bangkok. Never easy, the life of a panhandling elephant soon became more gruelling. Max and his mahout couldn't walk their usual beat any longer and, hoping to avoid the authorities, fled to the outskirts of the city. Their make- shift hiding place was at the edge of the big municipal garbage dump. Max obtained many of his meals from this putrid refuse, often becoming sick from the, sometimes poisonous, poor quality food. Now and then, when the municipal police came to search the area, the mahout fled, leaving Max alone for long periods with no shade, food, or water.
As it became more and more difficult to make money in Bangkok, the mahout finally moved Max to the seaside resort area of Chonburi, by Pattaya, in 2000. One hot April evening, Max and his mahout set out from their camp to seek out tourists in the city. The big male's back was piled high with bananas, cucumbers, and watermelons for his mahout to sell to people at inflated prices so they could feed Max. In the darkness along the super highway, an eighteen- wheeler commercial truck struck Max from behind and dragged him some 5 meters. The great elephant lay on the asphalt unconscious and bleeding. Luckily his mahout escaped injury because he was walking beside Max . He called to the police for help and a doctor came to offer assistance, but Max collapsed, toppling over again and again.
The mahout took Max home to treat him. Max struggled hard to survive and succeeded, but he was far from well. Although he had lots of willpower to stay alive, infection from the injury had spread throughout his body. Possibly broken, his right front leg stiffened until it could no longer bend. The mahout lacked the money needed for medicine. All he could do was look after Max as best he could.
A year later Max could walk again, but slowly, haltingly, the front leg rigid, locked in place. The mahout took him to the streets of Bangkok again using Max to gain sympathy from concerned well-wishers. People were more willing than ever to give money for Max's food. The elephant found himself working day and night along hot, busy, polluted roads. And every year, Max had to make one trip to the distant town of Surin to join the Elephant Round-Up festival. The year 2002 saw his destination and life change in a way he must have found hard to imagine.
Lek and an English couple attended the annual elephant festival. Luckily for Max, they noticed him and were immediately impressed by this great, gentle male. They knew that this elephant needed help and they determined to do all in their power to help him.
Today Max is at Lek's Elephant Haven, where he at last he can live a natural life in a real home in freedom and with dignity. He won't have to pound those mean-streets again. He has plenty of good food to eat and a chance to join with other elephants as friends. Max is still sick. He needs lots of medicine for his treatments. Still, Max's most important need is for love and care from people, and now, at long last, he has a great deal of both.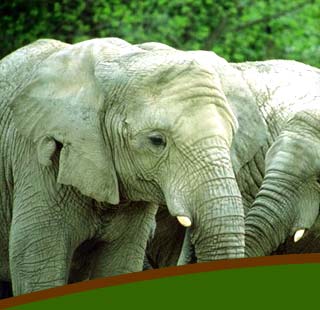 ---