PAUL MARTIN STARTS CRUSADE TO STOP THE "BARBARIC SLAUGHTER"
PAUL McCARTNEY HAS ANGRILY DENOUNCED CHINA - THE YEAR OF THE DOG
----- Original Message -----
From: Dave Neale
Sent: Friday, March 10, 2006 2:44 PM
Subject: CHINA'S CANINE TORTURE SHAME
www.westpress.co.uk/displayNode.jsp?nodeId=145809&command=displayContent&sourceNode=145792&contentPK=14155731&moduleName=InternalSearch&formname=sidebarsearch
CHINA'S CANINE TORTURE SHAME
Be the first reader to comment on this story
09:48 - 09 March 2006
With the start of Crufts today, a popular West television presenter begins his crusade to stop the "barbaric slaughter" of less fortunate dogs in China. Paul Martin, who hosts the antiques show Flog It, has joined forces with the Animals Asia Foundation to raise awareness of the 10million dogs killed for food and two million destroyed for fur every year in the Communist state.
Pet ownership is on the rise in China, but two months into the Year of the Dog, millions of animals are still being brutally killed - some of them stolen family pets.
Dave Neale, the UK director of Hong Kong-based Animals Asia, said: "The dogs suffer a lingering, violent death - bludgeoned over the head, stabbed and bled, hanged, electrocuted, or thrown conscious into vats of boiling water. The slaughter process is unimaginably cruel." Vegetarian Mr Martin, whose companion while on the road filming with the BBC is his German shepherd Bluebelle, was so horrified he has pledged to lobby the Chinese ambassador.
He said: "Like any animal lover, I was shocked by what I've found out. Dogs are not food, but our friends. They offer us love, protection and friendship and have a very important place in our hearts. That's why I'm asking people to write a polite letter to the Chinese embassy asking them to put an end to this barbaric slaughter." Under Communism, dog ownership was forbidden in urban areas, but before this, China had a tradition of pet-owning going back nearly 1,000 years, a tradition which is slowly being revived. According to Animals Asia, thousands of the dogs caged and slaughtered are actually much-loved family pets that have been stolen.
Mr Martin, from Marlborough, Wiltshire, said:
"Chinese Year of the Dog is an auspicious date for humans and I want to help make it just as lucky for our four-legged friends. It's important to do all we can to support Chinese pet owners who are as horrified as I am about this trade." Animals Asia, which also runs the Moon Bear sanctuary so passionately supported by Western Daily Press readers, has been working for years to inspire new attitudes to companion animals in China. The charity says dogs and cats should not be considered livestock because they are carnivores and are therefore inherently different in temperament and physiology.
!Here's your chance to again help the Moon Bears of China, the focus of a phenomenal Daily Press appeal. Laura Croker, 33, from Portishead, near Bristol, is set to run the London Marathon next month to support Animals Asia, which runs a sanctuary for bears rescued from China's bile farms. To buy raffle tickets or sponsor Laura, log on to
www.justgiving.com/lauracroker
or ring 01275 845 504
Dave Neale
UK Director
Animals Asia Foundation
Find out more about our historic China Bear Rescue and Friends or Food? projects by visiting the Animals Asia Foundation website at
www.animalsasia.org
observer.guardian.co.uk/uk_news/story/0,6903,1651778,00.html
----- Original Message -----
From: B.E.S.
brighteyes@brighteyes.dkcCARTNEY.phc
Sent: Sunday, November 27, 2005
Paul McCartney has angrily denounced China and vowed never to perform there after seeing 'horrific' undercover film of dogs and cats being brutalised and then killed for their fur.
The former Beatle condemned images of the animals being killed in a fur market in the Guangzhou region of southern China, adding that he intends to stay away from the 2008 Beijing Olympics. He and his wife, Heather, a committed animals right supporter, also urged people to boycott Chinese goods, which drew a sharp response from the Chinese embassy in London.
In the film, shot for the People for the Ethical treatment of Animals (Peta) campaign group, dogs and cats are pictured being thrown from the top deck of a converted bus on to concrete pavements. The screaming animals, many with their paws now smashed from the fall, are then lifted up with long metal tongs and thrown over a 7ft fence.
Some are beaten by laughing workers. All are then killed and skinned for their fur. Many are believed still to be alive as their skins are peeled away.
The McCartneys looked close to tears as they watched the footage for a special report on BBC1's Six O'Clock News, to be screened tomorrow night. 'This is barbaric. Horrific,' Paul McCartney said. 'It's like something out of the Dark Ages. And they seem to get a kick out it. They're just sick, sick people.
'I wouldn't even dream of going over there to play, in the same way I wouldn't go to a country that supported apartheid. This is just disgusting. It's against every rule of humanity.'
In another piece of harrowing footage, shot by an undercover investigator connected to Peta, cats are seen squirming inside a sack, which is then thrown into a vat of steaming water. They are boiled to death and skinned by a fleecing machine.
Campaigners estimate that more than two million dogs and cats are killed for their fur in China every year. The rapidly expanding economic giant, which also farms animals such as mink for their fur, makes over half of the world's fur products.
The comments by McCartney will come as a blow for his Chinese fans - the Beatles are hugely popular in the world's most populous state.
'People think because China is going to host the Olympics then they must be coming into the modern world, but then you see this sort of stuff,' he said. 'Surely the authorities there must realise how bad this looks? How can the host nation of the Olympics be seen allowing animals to be treated in this terrible way?
'If they want to consider themselves a civilised nation, they're going to have to stop this.'
The footage also provoked fierce criticism from Heather Mills McCartney. 'I don't understand why they don't at least treat them humanely,' she said. 'Why do they have to torture them in this way? What do they get out of it? They're not even killed cleanly. I've seen so much footage where these poor creatures are clearly alive when they're skinned. And for what? For fashion? It's sick.
'People in every other country in the world should now boycott Chinese goods. If we can hit them in their pockets, maybe they'll do something to stop this.'
China's embassy in Britain strongly rejected the McCartneys' claims. A spokesman said: 'I have not seen this footage so am yet to be convinced of its authenticity. The distribution of the fur trade happens mostly in the European and American markets, so the fashion industries in Europe and America are to be at least partly blamed for this. I do not agree with the call for a boycott of Chinese goods. Sir Paul should be calling for a boycott of the fashion industry using fur in the European and American markets.'
observer.guardian.co.uk/uk_news/story/0,6903,1651778,00.html
---
www.dailyom.com/articles/2006/2004.html
The Year Of The Dog
According to the Chinese calendar and zodiac, January 29, 2006 brings us the Year of the Dog. This means that we have the helpful energy of this loyal companion to accomplish much good in the world and in our lives this year.
When we think about dogs, we think of their steadfast love, loyalty, friendly companionship, and forgiving nature. Dogs are playful, but work hard and rest well.
They create balance in their lives. We no longer need to be envious of a dog's life, because we can incorporate these qualities to our lives this year.
Dog energy emphasizes the defense of our deepest loyalties with honesty and integrity. Dogs thrive in the security of a healthy, happy home. They value personal happiness and comfort more than material wealth. We may want to envision the world's leaders being guided by the values inherent in dog energy. We can also choose this year as a time to focus on what's important in our lives and apply a dog's steady efforts to lovingly protect it.
To the Chinese, dogs symbolize justice and equality.
We too can utilize this spirit to bark at injustice, right any wrongs, and restore order. Since dogs also enjoy helping people, this can be a good year for humanitarian efforts and the group consciousness energy needed for rallies and protests.
Canine qualities like warmth, empathy, and genuine interest in others is beneficial
in most situations. The Chinese calendar includes a five-year cycle of elements, and fire is the element for 2006. This means that this year's dog energy is lit by the fire to get things accomplished.
The Year of the Dog takes places every twelve years. With a dog's forthright honesty and true moral integrity to guide this burning enthusiasm, we can look forward to a truly great year ahead.
*.*.*.*.*
Subject: China Pets Face Bleak Start to Year of the Dog
January 27, 2006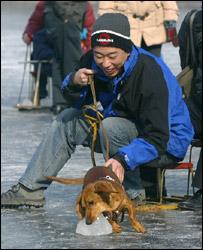 China Pets Face Bleak Start to Year of the Dog
By REUTERS
Published: January 27, 2006

SHANGHAI (Reuters) - Dogs in China face a bleak start to the Year of the Dog as families trawl pet stores for gifts ahead of the Spring Festival, animal rights activists say.

Just weeks after bringing cats and dogs home, many residents realize they are too much like hard work and abandon them on the street.

The phenomenon is expected to be at its worst after the Lunar New Year holiday which begins on January 29, heralding the Year of the Dog, which makes canines an auspicious seasonal gift.

``New year is twice as bad. Pick a year and then pick the animal,'' said Carol Wolfson, founder and director of Second Chance Animal Aid, a nine-month-old Shanghai organization that runs an adoption and shelter program for abandoned pets.

``Pet stores pump them full of antibiotics to make them look cute and then they die a few weeks later. Or else owners just put them out on the street when they've had enough,'' Wolfson told Reuters.

Abandoned animals are the dark side of the explosion of pet ownership across China in recent years. The national pet population hit nearly 300 million in 2004, up 20 percent from 1999, according to state media.

Raising dogs was banned under the rule of late Chinese leader Mao Zedong as a bourgeois pastime and was only made legal a few years ago once living standards rose with the economy.

While more people have the means to raise pets, many do not have the will to provide long-term care.

Some dogs and cats end up being killed for their fur in barbaric conditions, crammed into cages which are then thrown on to the ground, shattering their bones, according to animal rights group People for the Ethical Treatment of Animals (PETA).

``With the Summer Olympics in Beijing fast approaching, we hope the Chinese government will take action to restore the damage that the fur industry has done to the country's international reputation,'' PETA Asia Pacific director Jason Baker said in a statement.

Abandoned dogs and cats fill cages on the second floor of the Shanghai Pet Association, piles of excrement lying on the tiles beneath them.

``People just drop their pets off outside the door. Often the cats are sick with skin disease or have infections,'' said Xia Jun, 24, who runs the center.

Since it was founded in December, his organization has built a network of more than 60 ``foster parents'' who take of the animals after they are picked up and vets give them check-ups.

Xia said the association aimed to rehouse 500 cats and dogs in 2006, but was braced for the worst in coming weeks.

"We expect the dumping phenomenon to perhaps double over the new year period,'' Xia said.

Some so-called animal protection organizations are not so altruistic -- many have been found to be selling the cats and dogs they gather to restaurants, with dogmeat widely believed to keep out the cold in winter.