JOIN TO PUT AN END TO LIVE EXPORTS! SIGN THE PETITION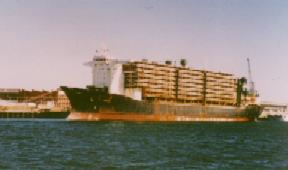 Tuesday, May 2, 2006 GO TO Animals Australia: www.AnimalsAustralia.org
www.ciwf.org.uk/campaigns/primary_campaigns/australian_live.html


A sheep licks the lorry wall out of desperate thirst.
THE MAIN PROBLEMS WITH LIVE ANIMAL TRANSPORT OVER LONG DISTANCES:
* Overcrowding
Animals are crammed into vehicles, where they often get trapped, injured or trampled to death by their companions
* Stress, dehydration and exhaustion
Animals can be in transit for hours or days on end, sometimes without sufficient water or rest , even in severe heat. They can become exhausted from the sheer stress of the journey, and some donít make it as a result.
* Animals are sentient beings
That means they are living creatures who can feel pain and suffer just like humans.
Tuesday, May 2, 2006 Lyn White
lwhite@animalsaustralia.org
Dear Friends,
Overseas assistance very welcome. There is a specific letter for non-Australians to send or edit and personalise if you wish.
Thanks so much.
Love,
Lyn
Trouble with links or images? View this message online:
www.animalsaustralia.org/takeaction/live-export
- - - - - - - - - - - - - - - - - - - - - - - - - - - - - - - - - - - - -
Dear Friend,
At this very moment, tens of thousands of Australian animals are on the open ocean heading for the slaughterhouses of the Middle East.
Australia's live export industry has exported over 140 million animals to countries notorious for cruelty to animals. At least 2.5 million animals have died on ships en-route. However, they may well have been the lucky ones, saved from enduring the brutal handling and slaughter that awaited them in the Middle East.
Lying bound and helpless across a blood drain in a Middle East slaughterhouse, these sheep are 10,000 kms from home and the protection of our laws. They and millions of others, have been knowingly supplied to endure acts of cruelty that would be illegal in Australia.
The 'activities' of this immoral industry have been far away from Australian eyes and consciences. Those who profit from this industry don't want you to know what happens to our animals in the Middle East or on ships. They know that for every person who becomes aware - it brings their final judgement day ever closer.
They won't want you or other Australians to watch the video, hear their protestations and then see the truth. Live animal export is Australia's greatest shame.
For more information about live exports, contact
Animals Australia:
www.AnimalsAustralia.org
or phone toll-free: 1800 888 584
----- Original Message -----
Sent: Sunday, February 26, 2006 8:07 PM
Subject: THANK GOD FOR ANIMAL RIGHTS ACTIVISTS
Last Update: Monday, February 27, 2006. 8:05am (AEDT)
Minister suspends live exports to Egypt
Federal Agriculture Minister Peter McGauran has halted the export of Australian livestock to Egypt, amid allegations of animal mistreatment.
Channel 9's 60 Minutes program has aired footage of cattle in an Egyptian abattoir, having their tendons slashed before slaughter.
The 60 Minutes reporter believes the cattle are Australian, but Livecorp says that is unlikely.
Mr McGauran is not taking any chances. He says no Australian livestock will be sent to Egypt until the matter is resolved.
He has asked his Egyptian counterpart to provide a comprehensive response to the allegations, and an Australian veterinarian based in the Middle East has been sent to Egypt to investigate the matter.
He says it is a precautionary move and he is confident the trade will resume.
"It's highly unlikely that these are Australian cattle but we do need that confirmed, the Egyptian authorities are on the case, I've dispatched an Australian vet to Cairo and as soon as we can assure ourselves that Australian cattle are not subject to these shocking cruelties, then the trade will continue uninterrupted," he said.
Angus Adnum from the Queensland Livestock Exporters Association says, while the Egyptian market is not significant, the practices shown are unacceptable.
"Egypt has been a very small part of the Australian trade. I'd be surprised if there's been any more than 10,000 go there, 12,000 in the last 12 months," he said.
"It really hasn't been figuring as a big market on our radar, and I don't expect it to next year. Their currency is pretty weak.
"That should not stop us from doing something to assist them in their practices."
He says none of the cattle shown were from Australia.
"There has been in the past, quite a number of Northern Territory cattle go over there and I haven't seen a lot of bullocks from the Northern Territory that you can lead with a bit of string like they were," he said.
"That doesn't excuse what we saw on television, that was unacceptable, absolutely unacceptable to producers or whoever may have seen it."
-------
Sent: Sunday, February 12, 2006 3:27 PM
Subject: Australia: Police, animal rights activists clash
www.news.com.au/story/0,10117,18119624-1244,00.html
Police, animal rights activists clash
From: The Sunday Tasmanian
By KANE YOUNG
February 12, 2006
TWELVE people were arrested after clashes between protesters and police at a rally against live sheep exports in Devonport yesterday morning. About 40 protesters, including many from interstate animal-welfare organisations, tried to stop sheep from being loaded on the Al Messilah, which is bound for the Middle East.
Seven of the 12 people arrested, on charges including trespassing and obstructing police, are from interstate. All 12 were bailed to appear in court at a later date.
Suzanne Cass from Against Animal Cruelty Tasmania hailed yesterday's action as a success despite the arrests.
"I don't think Devonport is ever going to be the same again," she said.
"It was brilliant. We wanted to highlight the plight of these animals to the country and I think we will have achieved that."
Eight police are now guarding the Al Messilah as 50,000 sheep valued at $2.5 million are loaded on to the ship, which leaves for Kuwait tonight.
Early yesterday morning the protesters, some from NSW, Victoria and South Australia, used powerboats and kayaks to try to stop the ship from docking.
Acting Inspector Adrian Shadbolt, of Devonport police, said protesters had defied an order to stay at least 50m from the ship and several had laid in front of the sheep trucks, including one man who had tried to chain himself to a vehicle.
Primary Industries Minister Steve Kons and Liberal counterpart Jeremy Rockliff inspected the Al Messilah yesterday and both said they supported the farmers' right to participate in the live-sheep export trade.
Mr Kons said the State Government would prefer sheep to be processed in Tasmania but could not interfere in the Commonwealth-regulated live-sheep trade and would not stand in the way of farmers getting the best price for their product.
"The live-sheep trade has come a long way in recent years and the
shippers have to meet the strictest conditions in the world for sheep exported from Australia," he said.
"I spoke to some of the protesters at the wharf and assured them the conditions on the ship met strict Australian standards."
Police will maintain a presence at the wharf until all the sheep are on board to ensure the road remains open to traffic and to ensure the safety of protesters, who are expected to return this morning.
DPIWE officers will also closely monitor sheep at the feedlot and at the wharf to ensure their welfare.