FREE THE UNLAWFULLY DETAINED SEA SHEPHERD ANTI-WHALING SHIP IN SA
SPONSOR "OCEAN ALERT" IF YOU CAN

Photo Sea shepherd - scroll down for information about the Farley Mowat



12 MARCH 2006 PAUL WATSON OFFERS OLIVE BRANCH TO



THE PERFECT SHIP FOR THE CAMPAIGN TO SAVE THE WALES "OCEAN ALERT"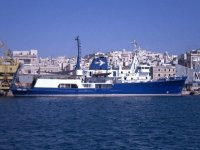 PAUL WATSON : " WE ONLY HAVE NINE MONTHS BEFORE THE SLAUGHTER OF THE WHALES BEGINS ANEW.
WE MUST STOP THEM."
60 MINUTES AUSTRALIA VIDEO LINK - THE WHALE WARS MARCH 12, 2006 - Please distribute
Sea Shepherd Paul Watson
paulwatson@earthlink.net
Monday, March 13, 2006 2:49 PM
Sixty Minutes Australia Link (click below)
ninemsn.video.msn.com/v/en-au/v.htm?g=69fcfa61-6ecc-4879-a2ae-1df6190b01f3&f=39
We can stop the slaughter of whales in the Antarctic Whale Sanctuary. We just need the right ship to do it with. We have found that ship. We now need to raise the money to purchase it and place it in position to intercept the Japanese whaling fleet.
Please consider making a pledge towards buying this ship. Once we have enough to purchase the ship we will call the pledges in. We now have 23 pledges totaling $265,000. Pledges can be made in any amount between $100 and 2.9 million.
To purchase this ship will cost $2,800 per whale targeted for death by the illegal Japanese whaling fleet. This is not a great deal of money to save a whale's life.
SealAlert-SA
sasealion@wam.co.za
Friday, March 3, 2006 3:44 AM
Dear All Seal Supporters,
A close friend, Captain Paul Watson is making a desperate and urgent call for pledges or donations for a ship, that can finally put an end to the Japanese Whaling activities in the remote subantarctic area. By each making a pledge/donation, you will each become part of a legacy to save these beautiful creatures, who need everyone's support, if they are to remain free and not hunted. If there is one person, who can stop this, its is Seashepherd International, www.seashepherd.org. Nelda and I, made our pledge of $500, please join us and make history.
As you also know, Paul's existing ship, the Farley Mowat, as soon as it docked in Cape Town, after its epic 4000 km voyage to Shut-Down the whaling fleet, has been detained unlawfully by the South African Maritime Authorities.
Please sign the on-line petition and help free it.
www.thepetitionsite.com/takeaction/308555848
For the Seals and Whales
Francois Hugo - Seal Alert-SA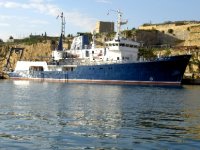 PAUL WATSON : " WE ONLY HAVE NINE MONTHS BEFORE THE SLAUGHTER OF THE WHALES BEGINS ANEW.
WE MUST STOP THEM."
----- Original Message -----
From: Paul Watson
Sent: Wednesday, March 01, 2006 8:06 AM
Subject: The Perfect Ship for the Campaign to Save the Whales
The Perfect Ship for the Campaign to Save the Whales "Ocean Alert"
This initial message is being sent out to only a few select Sea Shepherd members and supporters:
The perfect ship for our campaign is now available. An offer was made on this ship a month ago but the sale did not go through.
The ship is in Malta and they want 2.9 million U.S. for it. We could probably get it for 2.5 million.
The top speed of this vessel is 25 knots. It is as fast as the harpoon ships and much faster than the Nisshan Maru.
Built in 1968 and a recent extensive and expensive refit
This is the ship that can stop the Japanese fleet - Guaranteed.
I have attached two small photos.
We need to raise the funding. Ideally if we could arrange to borrow funds for the ship, we could secure it and get it out and moving to do fund-raising. From Malta we could visit Nice and Monaco, Capetown, Perth, Melbourne, Sydney and Auckland before heading south to Antarctica.
I will send more details soon. This is an initial look the ship that can do the job.
What we need to do is secure pledges. Towards this end, Allison and I will pledge $5,000 ourselves.
The great thing about a pledge is that no one needs part with any money until we know we have enough pledges to turn it into reality.
Phil and Trixie Wollen of Australia have pledged $40,000 so we can start this with $45,000 in pledges.
3,000 pledges of $1000.000 each will get this ship for us.
Or 6,000 pledges at $500.
Or one major pledge of $2.9 million.
It will not take many people to stop the whalers.
Please let us know if you can make a pledge or will work to collect pledge. Also please let me know if you have any ideas on how we can finance this ship or get sponsorship for it. Corporate sponsorship is also a possibility. It will be a high profile campaign and tour and a good advertising investment.
The point is we must start moving on this now.
We only have nine months before the slaughter of the whales begins anew. We must stop them.
Captain Paul Watson
HISTORY
This ship has had a colourful history beginning life as the Canadian Coast Guard vessel CS Alert. Refitted with a 10 tonne A Frame capable of operating two mini manned submarines, Ocean Alert was chartered by a civilian company for numerous tasks including filming, several surveys and research projects worldwide. While underway towards Papua New Guinea to undertake research into Dolphin behaviour, her Charterers ran into financial trouble and she became stuck in Malta and was eventually sold.
It was soon realised that Ocean Alert provided the platform needed to extend any business and offer a low cost responsive and flexible option to their customers at the same time. After taking specialist advice, her new owners decided that an extensive refit and reclassification was required and decided to keep the vessel in Malta.
Lloyds were contracted to guide the reclassification and documentation through in Malta. The surveyor in charge and the new owners in Malta were both meticulous and thorough so the new owners now had a new regard for Lloyds 100A1 vessels and an understanding what standards ships have to be to gain this classification.
The vessel now fully complies with all major legal requirements and legislative standards and is ready for charter. The new owners were very fortunate firstly in having a top rate and hard working ship crew who, amongst other jobs, completely rebuilt the ship's four engines, three generators and just about everything else mechanical required for the special survey.
Malta has a fine skill base centrally located in the Mediterranean so many local contractors were used. Malta Dry-docks proved to be the second fortunate choice. They were an invaluable partner during the refit, undertaking the majority of the structural work including large amounts of steel renewal.
The replacement of thirty-nine frames, six shell plates and a large section of keel have helped to produced a fine strong vessel fit to operate safely for many years to come. MDD carried out all work to Lloyd's satisfaction in a timely and cost-effective manner.
In general, Ocean Alert is a versatile vessel and can undertake work in several fields of operation. Traditionally the new owners have been involved in supporting the cable industry primarily through route clearance and Pre Lay Grapnel Runs (PLGR) and will continue to do so operating a variety of vessels including their own ship Ocean Alert. Additional to this work and since acquiring the ship, the company now have been approached to charter the vessel in other areas such as Hydro graphic surveying, pipe and cable route survey, seabed research, ROV operation, wreck and debris investigation and filming.
Through a wide range of equipment such as gate valves, cranes and a moon-pool, A frame and winch the ship has the capability to respond to such requests. For instance, the retractable moon-pool makes the fitting and interchanging of transducers and other sensors cheap and quick, features not found on today's mass produced ships. The 240 sq M covered aft deck / work area makes her adaptable and an ideal platform for a variety of tasks. Ocean Alert has air-conditioned accommodation for 30 supernumeraries, a dedicated survey room and a comfortable, spacious, well-appointed lounge.
She is certified to work worldwide except ice regions, and has capacities to stay at sea for a minimum of thirty days having spacious freezers and two desalinators. Her legacy from the coast guard as a search and rescue vessel gives her a top speed of 24 knots and a steaming speed at 10 knots on two of the four engines consuming only 8 tonnes of fuel per day including the generators. The two controllable pitch four blade propellers and twin rudders combine with the 200 Hp bow-thrust to give her a high degree of manoeuvrability enabling operation in waters ranging from 10m to Deep Ocean.
The teddy bears in each cabin and names for the main engine symbolises the level of care and attention to detail the owner lavishes on Ocean Alert compared to that received by vessel that form part of larger fleets. The owners have built themselves a reputation based on the philosophy of a fair price for a good job and this has extended into their new venture - Ocean Alert.
This proud ship has been looked after and it can now repay its owners in the same way as it has repaid the previous navigators of the seven seas and that is to convey its cargo and crew to new challenges in safety and comfort. Previously owned by the Canadian Coastguard. Chartered by the famous and respected Oracle of the sea Mr Jacques Cousteau and sent on voyages all over the world, chartering this vessel is indeed chartering a truly magnificent past coupled with a remarkable owner for the future.
Captain Paul Watson
Founder and President - Sea Shepherd Conservation Society
Director - Sierra Club USA
Director - The Farley Mowat Institute
Director - Atlantic Grey Whale Society
President - Oceanic Research and Conservation Action Force
P.O. Box 2616
Friday Harbor, WA 98250
Tel: 360-370-5650 Cell: 310-701-3096
E-mail:
Paulwatson@earthlink.net
Website:
www.Seashepherd.org
FARLEY MOWAT - Interested persons can visit the SEA SHEPHERD website at www.seashepherd.org/ or email southafrica@seashepherd.org for more information.
----- Original Message -----
From: Herbert Henrich
henrich@tiscali.co.za
Sent: Friday, February 10, 2006 5:07 PM
Subject: Doc2 (2) (1).doc
Press Release
Unlawful Detention of Sea Shepherd Flag Ship Continues While Whales Are Being Massacred In The Antarctic Ocean
on-line petition going on behalf of seashepherd/seal alert-sa, regarding the detention of Farley Mowat
Dear Friends: Please go to this URL address:
www.thepetitionsite.com/takeaction/308555848
This is a new petition for Sea Shepherd to help get their ship, the Farley Mowat released. Thanks much, Earle
Cape Town, 10 February 2006: The SEA SHEPHERD Conservation Society's flag ship, the Farley Mowat, remains incarcerated in Cape Town Harbour after being detained by the South African Maritime Safety Authority (SAMSA) upon arrival in Cape Town on 24 January, 2006, from her anti-whaling campaign in the Antarctic waters.
Neither SEA SHEPHERD nor the Farley Mowat has violated any South African laws or contravened any international regulations to warrant this detention.
The Farley Mowat has done nothing but hinder Japan in its illegal slaughter of whales, the same whales that many of us enjoy seeing along our coast, and on which the entire South African whale watching industry is built.
Despite not having presented a credible reason for the detention of the Farley Mowat, the detention order issued by SAMSA remains in force and the vessel incarcerated in the Cape Town harbour where it is moored at M-Berth, adjacent to the Cape Town Yacht Club.
To justify the detention SAMSA has variously alleged that the Farley Mowat is not in possession of the relevant safety certificates, that it is not in compliance with its Canadian registration requirements or that it is incorrectly registered by Canada, that it is not appropriately manned, or that it does not have adequate safety equipment on board. All of these allegations are factually incorrect and appear to be convenient constructs through which to justify the continued unlawful detention of the Farley Mowat.
In all of its activities, including its recent campaign against the illegal slaughter of whales by Japan in the Antarctic waters, SEA SHEPHERD upholds the United Nations Charter for the Protection of Nature, enforces regulations, and protects the marine environment.
SEA SHEPHERD is not a protest organization. The SEA SHEPHERD strategy is to intercept, intervene and prevent whaling and other illegal activities affecting marine life. This action-oriented approach is seen by some as unacceptable while harmless protests are condoned. However, protests alone have never saved the life of a single whale, allowing the slaughter to continue unhindered.
Placards and protests will not stop the greed driven massacres of whales nor the looming extermination of certain species of whales. Direct intervention, such as that undertaken by SEA SHEPHERD, does. This was again proven during the recent Antarctic Campaign where the Japanese Whalers abandoned their whaling activities as soon as SEA SHEPHERD appeared on the scene, and fled.
In the absence of any credible explanation for the ongoing detention of the Farley Mowat, it is assumed that its continued incarceration relates to the effectiveness with which it hindered the slaughter of whales by Japan in Antarctica during its recent Antarctica campaign.
During the current whaling season, which is still underway, Japan aims to massacre 935 Minke whales, 50 Fin whales, and 50 Humpback whales, ostensibly for scientific research purposes. During the next whale hunting season, which starts in late November, this self-imposed quota will be higher yet. This is irrespective of whether the whales are endangered, CITES listed, or not - the slaughter continues regardless.
SEA SHEPHERD appeals to the people of South Africa to intervene with the South African authorities to stop the unlawful detention of the Farley Mowat and to allow it to continue unhindered with its work of protecting the oceans.
By allowing this charade to continue our Government is seen by the international community to be in support of whaling and to be the pawns of Japan in this matter.
When the Farley Mowat is released from its current detention, SEA SHEPHERD intends to deploy the ship in the oceans around Southern Africa, where it will work to protect our marine resources from poaching by foreign vessels, prior to proceeding back to Antarctica in November 2006 to campaign against the 2006/7 Japanese whale slaughter.
South African citizens who want to join SEA SHEPHERD in its campaign to protect the oceans of Southern Africa can do so by:
* Volunteering for a period as crew members on the Farley Mowat; or
* By joining the campaign in their own vessels.
SEA SHEPHERD will provide all volunteers with the requisite training and will assist with the refurbishing of suitable vessels where required.
Interested persons can visit the SEA SHEPHERD website at
www.seashepherd.org/
or email
southafrica@seashepherd.org
for more information.
-end-
ENQUIRIES:
Herbert Henrich: 083 454 7236
South African Representative
Sea Shepherd Conservation Society
Fear and Loathing in Cape Town - From Fighting Whalers in Antarctica to Fighting Bureaucrats in South Africa



www.seashepherd.org/editorials/editorial_060126_1.html and seashepherd.org
You can use
poct@samsa.org.za
to protest
and receive support from Elise a reporter on whaling issues
eliset@beeld.com
SA-GOVERNMENT HARRASMENT OF WHALE PROTESTORS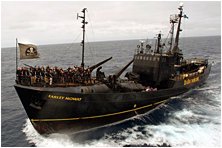 Ken Botes
whalemark@whalemarkwhalingtourism.org.za
Thursday, January 26, 2006 9:03 PM
WAKE UP CALL TO SUPPORT WHALING CREW DISBANDED AT CAPE TOWN DOCKS WITHOUT SUFFICIENT WATER, TOILET FACILITIES AND ELECTRICITY
The time is 22H00 and I just returned from visiting the Farley Mowat in Cape Town harbour.
What a disgrace! I am totally shocked and embarrassed. I was furious when I saw the shock and disbelieve on the face of Wessel Jacobsz a 23 year old South African Rhodes University student when he told me they were under boat arrest. His mates on board, including young woman who had the guts, passion and determination to risk their lives to save whales in the blistering Antarctic stood motionless. Captain Paul Watson shook his head in disbelieve Have we gone mad or are we back to the old obnoxious apartheid rule when detentions were made without a trial? It seems like it! Surely SAMSA - South African Maritime Safety Authority - has tarnished its good name and the official(s) who was responsible for using their so called authority or discretion surely new how to mess things up to impound the Farley Mowat and detain the entire crew for 20 minutes and then out of the blue withdrew the latter charge. Something is surely amiss in this directive issued by the authorities.
I phoned SAMSA and was greeted with stumbles, stutters and shuffles and thought I was back in kindergarten listening to the childlike commotions of kids trying to explain what they have done over the weekend and could not.
I have been told that the SAMSA refused the Canadian registration and classification of the boat and decided on their own discretion what they consider the vessel should be classified under irrespective the relevant documentation produced by Sea Shepherd and sanctioned by the Canadian government. This surely calls for confrontation and who is going to be rubbed over the knuckles we will have to wait tomorrow when the Canadian Ambassadors office will release a statement. Phone them!
Even more precarious is the health and sanitation conditions on board. Lack of water, proper toilet facilities and no electricity connections has become a massive burden and hazard to live as humans has become the norm. The boat is at anchored at desolated spot with no facilities granted to them.
Obviously pride has prevented them from complaining and I can understand this but I sincerely believe that we all should not tolerate indiscretions of this nature from anyone. It is totally inhumane.
Surely this is not a leprous boat or has it become one? I just wonder or is this the punishment they deserve to protect our whales in the Antarctic? Surely not!
PLEASE CIRCULATE AND UTILISE THIS IN YOUR NEWSPAPERS VERY URGENTLY
Ken Botes
CEO
Whale Mark NPO
Cell 0834163062 or;
Beverley Lakay
Director PRO
Cell 0844444926 or 0724555956
Tel/Fax: +27 21 9300779 Cape Town,Rep.of South Africa
Email:
whalemark@whalemarkwhalingtourism.org.za
Information contained in this e-mail is intended for the use of the person(s) to whom it was addressed. We will however sincerely appreciate your support to circulate the attachment "Whaling Echoes" to anyone Nationally or Internationally to drum up support for our course to SAVE the few whale left overs and other marine life from total destruction in the short term.Pledging your support in anyway possible i.e.financially or donations in kind and subscribing to our free newsletter or translating it into additional foreign languages or by sending us mail to say we support you or submitting suggestions will surely advance and motivate our dedicated Whale Mark team to greater hights to try to save all marine life before it is to late! So,be proactive and join us! We endeavour to respond to all emails personally and let you know exactly what is happening at the "Whaling Catastrophe."Southern Atlantic "Whale Sanctuary" where whales are being slaughtered in thousands by Japan. Is that fair? No,certainly not!
MEDIA ALERT:Charges are presently formulated which will be submitted to the Marine Law Tribunal Court in Hamburg during 2006 to save the whales and the Ocean from further depletion and total destruction.
The very core of achieving success in this regard is to petition God through your and our prayers for wisdom and ultimate success and to start glorify Him now!
Thanks for your support!
NB Our new Website will be up and running in due course.Please be patient.This will include our proposed new Multipurpose Whaling Museum which will contain other marine biodiversity components not equaled anywhere in Africa.Interested parties are called for and you may request partnership or form alliance with us if you so desire.Only South African whaling history will be displayed.
*.*.*.*

seashepherd.org

---