- SEAL PELTS ARE BANNED IN -
- BARDOT GETS COOL CANADIAN WELCOME -
ACTORS JOIN SEA SHEPHERD IN CALLING FOR END TO ANNUAL BABY SEAL SLAUGHTER
SEAL PELTS ARE BANNED
Croatia joined Mexico, the United States, Greenland, the Netherlands, Belgium, Germany, the United Kingdom, and Luxembourg, which already banned or are in a process of introducing a ban on import of pelts and other products derived from seals.
March 28th, 2006 PRESS RELEASE At the height of protests on six continents and with the opposition of the whole world, while Paul McCartney and Brigitte Bardot are repeatedly appealing to the Canadian Government to stop the slaughter of seal pups and the world known musician Morrisey cancels his Canadian tour in protest against this crime, Croatian Nature Protection Division - Biodiversity and Landscape Conservation Department with the Ministry of Culture bans the import of seal pelts and other products derived from seals! According to the Directive of the Council of Europe No. 83/129/EEC of March 28, 1983 about the import of pelts and products derived from some newborn seals in member states (SL L 091 09.04.1983 page 30), Article 20 of the Rule Book of Transboundary Transport and Trade of Protected Species which is being implemented by the Nature Protection Law (Article 101, item 6) and which came into force by being published in Official Gazette No. 34/2006 on March 27, 2006, Croatia banned the commercial import of skin and other products derived from skin and seals from Appendix X! In this case, the word is about the Cystophora cristata - hooded seals and Phoca groenlandica - harp seals, the very species of seals that are now commercially being hunted on the east coast of Canada! With this praiseworthy decision of the Ministry of Culture, Croatia joined Mexico, the United States, Greenland, the Netherlands, Belgium, Germany, the United Kingdom, and Luxembourg, which already banned or are in a process of introducing a ban on import of pelts and other products derived from seals.
'By taking this extremely important step, Croatia contributed a lot to endeavours of the Coalition to Protect Seals which at the moment has 47 member organizations from all over the world, but also to more than 70% of world and Canadian public which is opposing to this pointless and shameless slaughter', says Luka Oman, chairman of Animal Friends Croatia. 'We would like that the Ministry of Agriculture, Forestry and Water Management of Croatia follows the bright example of the Ministry of Culture and implements the ban on breeding animals for fur in Croatia in their Animal Protection Bill Proposal. ' It is time the Canadian government took notice that the hundreds of animal activists around this globe we call Earth, actually do have a voice that is calling out for the voiceless. Earle Bingley President, Canadian Voice For Animals. 604-925-2830
www.canadianvoiceforanimals.org/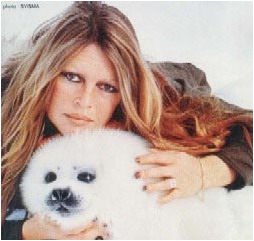 From: icon
icon@acenet.com.au> Sent: Wednesday, March 22, 2006 3:53 PM

BARDOT GETS COOL CANADIAN WELCOME - March 23, 2006

FRENCH film legend Brigitte Bardot said she felt harassed upon her arrival in Canada to protest its seal hunt and is "very disappointed" Prime Minister Stephen Harper will not meet with her.
"I made a gruelling trip only to be turned away by the prime minister. I am very disappointed. He will not even talk to me by telephone," the animal rights activist said.

Bardot said she was detained for more than two hours by Canadian customs and immigration staff upon her arrival last night.
"At one point, I thought they would turn me away," she said in a telephone interview.
"I had to pay a sort of ransom and they gave me permission to stay only two days. I think I've stirred things up a bit, so they're trying to unsettle me."
Bardot last came here in 1977 and kicked off three decades of protests against the seal hunt by hugging a fluffy white doe-eyed pup on an ice floe for photographers.
Her return to Ottawa in poor health comes after Canada's fisheries minister extended the hunt last week to 2010 and set a kill quota of a 325,000 animals this year, prompting protests in France and the United States.

Officials said yesterday Mr Harper and fisheries minister Loyola Hearn planned to shun Bardot, best known for her role in the 1956 blockbuster movie And God Created Woman.
"The minister felt that this is an issue that keeps going on and there is no point in giving it more credence than it deserves so he decided not to meet with her," the fisheries minister's spokesman Steve Outhouse said.




www.seashepherd.org/news/media_060321_1.html

03/21/2006
Brigitte Bardot and Captain Watson of Sea Shepherd Return to Canada to Combat Controversial Seal Hunt

Actors Join Sea Shepherd in Calling for End to Annual Baby Seal Slaughter

Ottawa - Brigitte Bardot, the legendary actress who became the first celebrity to use her influence to bring the plight of the harp seals to international media attention nearly three decades ago, is returning to Canada for the first time in 29 years to demand an end to the controversial commercial seal hunt, which resumed in 1995 after being shut down since 1984. Bardot will join her old friend, New Brunswick native and Sea Shepherd Conservation Society (SSCS) Founder and President Captain Paul Watson, and Girlfriends TV star and animal activist Persia White, at a press conference tomorrow: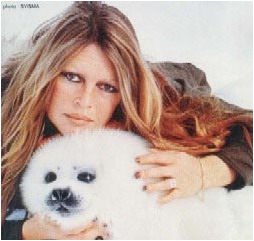 Date: Wednesday, March 22nd, 2006
Time: 2 p.m.
Place: Marriott Hotel, 100 Kent Street, Ottawa, Canada
Last year, the world looked on in horror as the Canadian government permitted the killing of more than 320,000 harp seals, and the quota has been raised to 325,000 this year. In the past three years alone, more than 1 million seals have been cruelly slaughtered – most of them pups under one month old. The seals are clubbed repeatedly and an estimated 42 percent are skinned alive while their mothers look on helplessly. They are killed mainly for vanity – for fur coats and other luxury items.

aktie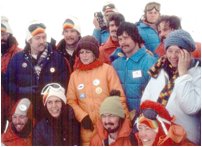 Photo by Sea Shepherd



Brigitte Bardot, 1977, pictured above left in orange coat standing to th right of
Paul Watson (in bright blue coat)

TV star Persia Whte - animal activist

Captain Watson, one of the co-founders of Greenpeace, helped organize and lead the first campaign to protect seals on the East Coast of Canada in 1976. During this campaign, Watson and the late Robert Hunter, also a co-founder of Greenpeace, (whose daughter Emily will also be attending the press conference), blocked a sealing ship by standing on the ice in its path. The following year, Watson led the second mission to oppose the seal hunt off the coast of Labrador, this time bringing Brigitte Bardot onto the ice floes with him to witness and help document the slaughter.
"The harp seal hunt is a big, bloody stain on Canada's reputation," says Watson. "There is absolutely no excuse for butchering helpless babies – it's an international disgrace."


Sea Shepherd Conservation Society welcomes your support. To learn how to support our conservation work, please visit web site www.seashepherd.org/news/media_060321_1.html

------------------------------------------------------------------------
P.O. Box 2616, Friday Harbor, WA 98250 (USA) Tel: 360-370-5650 Fax: 360-370-5651
Copyright © 2006 Sea Shepherd Conservation Society. All rights reserved.



---