SEA SHEPHERD ACTION ALERT: INTERNATIONAL DAY OF ACTION FOR THE SEALS ON MARCH 15th! 2006
petition community.hsus.org/campaign/harper_protectseals?rk=17qgZR51SXEPW

DEMONSTRATION NEWS
www.seashepherd.org

www.canadianvoiceforanimals.org/SA_SealHuntRally.html


Anti Seal Hunt Rally Vancouver, B.C. by ebingley
Runtime: 03:16 video via web site: www.youtube.com/watch?v=b1o4mF1FCss



*.*.*.*.*





THE WORLD ALLOWS THIS SLAUGHTER AS WE GOT USED TO THIS!

IF THE ROLES WERE REVERSED, COULD WE GET USED TO THAT?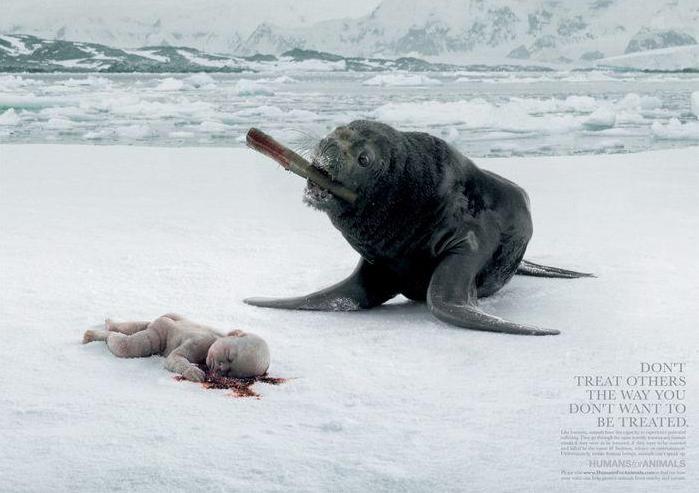 Poster by Humans for Animals www.humansforanimals.com
JOIN US FOR A WORLDWIDE PROTEST AGAINST THE CANADIAN SLAUGHTER OF SEALS

15 March the traditional first day of the hunt!!!

www.seashepherd.org/

ON MARCH 15th, 2006, ALL OVER THE WORLD!

TO SHINE THE INTERNATIONAL SPOTLIGHT OF SHAME ON CANADA,
SEA SHEPHERD IS COORDINATING AN INTERNATIONAL DAY OF ACTION FOR THE SEALS
TO PROTEST THE CANADIAN HARP SEAL SLAUGHTER ON MARCH 15th, 2006
- THE TRADITIONAL FIRST DAY OF THE HUNT -

PROTESTS ARE BEING HELD AT CANADIAN EMBASSIES AND CONSULATES AND OTHER LOCATIONS AROUND THE WORLD (listed below).
We have a number of protests already planned and encourage you, your family, and friends to participate and show your support for the seals. Captain Watson will be attending the protest in Los Angeles and the Sea Shepherd staff will be attending the protest in Seattle.
If you would like to coordinate a protest in a city that is not already listed, please email Connie at
connie@seashepherd.org
and she can help by providing you with banners, signs, and flyers and we will help to encourage individuals to attend your protest.
Spring is a time of birth and renewal. With your help, we will continue to seek an end to the slaughter of seals, so that the newborns can enjoy a full, natural life – free and wild. And with your support and active participation, together we can raise the public's awareness of this issue which is the first step in affecting change.
Please see the list below for a city near you and the contact information of the Protest Leader in that location.
If you have any questions please contact Sea Shepherd's Volunteer Coordinators:
United States: Connie Domenech at
connie@seashepherd.org
All other locations: International Director Tim Midgley at
tim@seashepherd.org
Jump Directly to a City:
NORTH AMERICA
United States
Austin
Boston
Denver
Detroit
Hollywood, Florida
Los Angeles
Mentor, Ohio
Minneapolis
New York
Salt Lake City
San Francisco
Seattle
Washington, DC
NORTH AMERICA
Canada
Calgary, Alberta
Halifax, NS
Vancouver, BC
EUROPE
Germany - Berlin
Hungary - Budapest
Ireland - Dublin
OTHER
South Africa - Cape Town
Go to www.seshepherd.org
Sea Shepherd Seal Campaign
Seal Campaign Home Page
International Day of Action for the Seals – March 15, 2006!
Seal Hunt Facts
Sea Shepherd History Saving Seals
What You Can Do
Boycott
Sea Shepherd Seal Merchandise
Seals Around the World
Seal Related Sea Shepherd Articles
Support Sea Shepherd
Join and Donate Now - Support Sea Shepherd and our fight to protect the seals!
Join the Direct Action Crew! An easy way to automatically support Sea Shepherd's worldwide campaigns monthly or quarterly!
Visit our Online Store – Get Jolly Roger Beanies, Jolly Roger Organic T-shirts, and the newly designed commemorative 2005-2006 Antarctica Whale Defense Campaign Patch!
******************************************************************************
Sea Shepherd Conservation Society is a registered 501(c)3 non-profit organization in the U.S. Founded in 1977 by Captain Paul Watson, Sea Shepherd's mission is to defend, conserve, and protect marine wildlife and their habitats.
Visit our Online Store – New Jolly Roger Beanies and Jolly Roger Organic T-shirts and the commemorative Antarctica Patch!
Volunteer with Sea Shepherd – on ship or on shore!
Become a Sky Shepherd – donate your unused frequent flier miles!
Join the Direct Action Crew and donate automatically every month. It is easy for you and it keeps our administrative costs down, saves trees, allows us to budget for our campaigns more efficiently, and puts your contributions directly and quickly to good use.
********************************************************************************
Thank you for your ongoing support of Sea Shepherd! Working together we will succeed.
Sea Shepherd Conservation Society
PO Box 2616
Friday Harbor, WA 98250
USA
Phone: (360) 370-5650
Fax: (360) 370-5651
Website:
www.seashepherd.org

/> Email:
info@seashepherd.org

/>
**********************************************************************************
To subscribe to this newsletter, send a blank message to
subscribe@seashepherd.org
with "subscribe" as the subject..
************************************###******************************************