Action Against Poisoning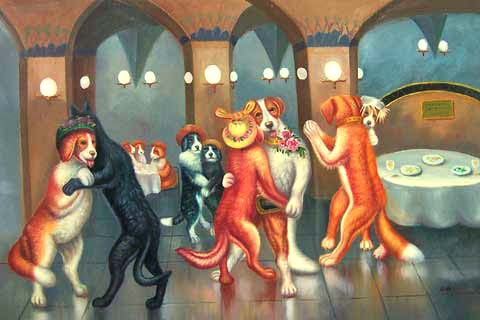 OUR WISH FOR 2006
Although European Union's main concern for animal protection is related to economic or public health issues, we are delighted by the sudden and strong decision to stop subsidies for international cattle transport as of 24 December 2005. However, in 2005 we were flooded with world wide animal cruelty information, reflecting a total disregard for animal welfare.
For our wish for 2006 we focus on a non violent and therefore underexposed forms of animal cruelty from our direct experience:
Making inquiries to the origin of regularly dumped litters at garbage dumps it appeared that hunters keep bitches to breed their yearly new hunting dog under the following scheme: The "best" 2 pups are kept having all the milk and the rest of the litter is dumped directly after birth. After final selection about 3 weeks later the last rejected pup is dumped at the same spot.
Finding numerous abandoned diseased dogs it is clear that many dog owners do not vaccinate their dogs against common local dog diseases as only rabies vaccination is compulsive (as it is a human health threat). It is cynical to realise that dogs are protected against a disease that does not exist, getting them exiled when falling victim to the real threats.
If people would not deny their litter inoculation against diseases through mother milk and subsequent vaccination against dog diseases we would not face this sorry mess. Given the low costs of doing things right as a responsible dog owner we are infuriated by the staggering costs and labour of the rescue of abandoned pups or dogs.
We wish that, starting 2006, responsible authorities and dog owners stop turning - by wilful neglect - perfectly healthy pups and dogs into animal waste.
*.*.*.*.*

OUR WISH FOR 2005
As we know, Mega-events are often attended by massive animal abuse. Especially the Olympic Games seem to be affected with an appalling attitude towards stray animals. But political events like EU or NATO summits are surrounded with the same "care". Building sites and cities are cleared of "unhealthy or offending animals".
As usual, poisoning is the cheapest and most effective way.
Time and again we are baffled by the fact that authorities:
- believe that tourists and visitors hate to see stray animals in the street scenery.
- do not realize that people are more offensive and a health threat than stray animals.
- are so far away from reality that they do not know that stray animals are the most docile and friendly animals on earth.
OUR WISH FOR 2005 IS A LAW ENFORCED RESPECTFUL NON KILLING APPROACH OF STRAY ANIMALS ON BEHALF OF TRANSIENT GAMES OR MEETINGS, WITH AN ALTERNATIVE ON THE BAN OF MONEY WASTING POMPOUS NONSENSICAL OR SUPERFLUOUS EVENTS.
*.*.*.*.*

OUR WISH FOR 2004
Our wish for 2004 still is a global scientific effort to perceive, understand and translate the animal languages.
Beside malice and greed, ignorance probably is the most common cause for animal abuse. Especially the ignorant notion that animals have no feelings or awareness may lower the threshold for violence or neglect. If only animals could speak out to prove otherwise!
We regard publications that shed light on the animal psyche as milestones on the road to understand and respect animals. It is clear that our understanding of their behavior and expressions are not enough to desist from animal abuse.
To fight ignorance our wish for 2004 is a global scientific effort to perceive, understand and translate the animal languages. And of course spread and publish that knowledge. If animals could talk to us, or better if we could confirm their intelligence, reasoning, intentions, affection and fears, we would not be ignorant any more and less inclined to harm them.
Read this in other languages:
Portuguese
,
Turkish
,
Spanish
,
German
,
Dutch
,
French
,
Danish
,
Croatian
,
Greek
,
Russian
*.*.*.*.*

OUR WISH FOR 2003

A CLEAR DECLARATION FROM THE CHURCH IN THE MATTER OF ANIMAL PROTECTION
In many more or less civilized countries animal rights and protection laws are non existent or disregarded due to cultural and economical reasons. Consequently animals are in peril of being neglected, hurt or painfully killed without any repercussion for the culprits. The issue has rock bottom priority on the political agenda. So we can not depend on the political system for effective laws and law enforcement.
We experienced that in Portugal people refer to their religion when they refuse to sterilize their cats and dogs: "we should not interfere in nature's course / God's creation". It is remarkable that by the same people deliberate poisoning of animals is accepted as a fact of life. Obviously this example shows a susceptibility for religious authority and a failing moral concept of animal rights.
It is sad to notice that the church - the herald on moral issues regarding creatures - is not heard on the issue of animal abuse.
If politicians fail to establish a better life for animals, the clerical leaders should take the moral stand. The animals deserve a honest and human judgement.
Please speak out! You might be their only hope.
---