ROLANDO IS NOW THE SPIRIT THAT WILL LIGHT OUR DOGS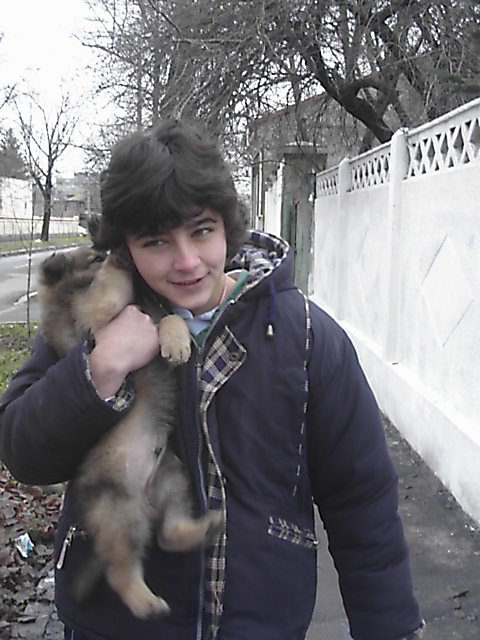 GINA
*.*.*

www.proanimals.ro/Romania.htm includes shocking photographs
From: Romania Animal Rescue
romaniadogs@sbcglobal.net
Date: Tue, 7 Feb 2006
Subject: Pleas for help from Dana Costin of ROLDA in Romania
PLEASE WRITE ARTICLES AND SEND PHOTOS TO MASS MEDIA IN YOUR COUNTRY INFORMING THEM ABOUT THE TRAGEDIES THAT ARE HAPPENING IN ROMANIA AT THIS MOMENT!!!
PLEASE ACT TO SAVE A LIFE!!!
Because of a tragic event happened on the night of 29th of January in Bucharest, when a Japanese died because of a dog bite, the National
Authorities declared war to the stray dogs. Although there was no evident proof that the man was bitten by a stray dog, there were even rumours that the
man was killed with intention by using a fighting dog, the Police and the Authorities found it easier to blame a stray dog. They didnt even take into
consideration that there could have been other reasons for the death.
At this moment, nothing is for sure, only suppositions.
Although this, since then, there is a completely madness in entire Romania, the mass-media amplificated this event and created a real isteria between people.
Right at this moment, in most of the cities from Romania dogs are poisoned, chased and shot ,tortured to death.
The actual Law for Stray Dogs Administration is not respected.
Also, the National Authorities want to change this Law saying that it is too easy, the main points being :
- decrease the period of keeping dogs in public shelters from 14 days to 3 days
- an animal lover has the right to adopt only one dogs etc
This changings not only that don't correspond with the International Regulation for Animal Rights but also disobey the people's rights.
The Animal Protection Organizations throughout Romania proposed to the City Halls projects of Neutering ,as the only solution for solving the stray dogs problem, taking into consideration all the studies made during years, and also some projects that are running with success now in several cities from Romania.
Please help us make the Authorities understand that the stray dogs problem must be solved in a human and civilised way, taking also into account the international laws and conventions that Romania signed in order to join European Union in 2007. That they need to cooperate with the Animal Protection
Organizations, because the solution proposed is the only for solving stray dogs problem, based on scientific researches and studies
Please write to the Authorities to ask them stop the mass-killing and accept a human and efficient solution:
NEUTERING; to start educational and adoption campaigns and work in cooperation with the animal protection organizations.
You can either write your own text or copy phrases from above, but please write now and forward it to your friends!!!
Please sign our petition :
www.ipetitions.com/campaigns/Romania
or go to
www.rolda.org
and than click on:
Join the campaign to "Speak Out Against Animal Cruelty"
You can use the following addresses:
European Union Adresses
mail@europe-direct.cec.eu.int
sanco-info@cec.eu.int
You can find here the names and addresses of your MP from the European Parliament:
www.europarl.eu.int/members/public.do?language=en
www.europarl.eu.int/
www.eu2006.at/en/contact/index.html
or from the European Commission:
www.europa.eu.int/comm/commission_barroso/index_en.htm
Romanian Presidency - Press Office
tel:(+40-21)313.31.21
fax:(+40-21) 313.31.31
procetatean@presidency.ro
Romanian Government- Prim-Minister, Mr. Tariceanu :
fax:(+40- 21) 319.15.88
drp@pm-control.ro
Bucharest Mayor Mr. Videanu
avideanu@bucuresti-primaria.ro
Vicemayor Razvan Murgeanu
Razvan.Murgeanu@bucuresti-primaria.ro
Vicemayor Ludovic Orban
ludovic.Orban@bucuresti-primaria.ro
Minister of Agriculture, Forests and Rural Gheorghe Flutur
Developmentcomunicare@maa.ro
Minister of European Integration, Anca Daniela Boagiu
anca.boagiu@mie.ro
presa@mie.ro
Press Agencies:
office@rompres.ro
social@mediafax.ro
PLEASE CC TO ROLDA:
rolda@care2.com
Respectfully,
Dana Costin
"ROLDA-In memoriam Rolando Cepraga" Foundation
Galati,Romania
www.rolda.org
Sincerely,
Nancy Janes
Romania Animal Rescue, Inc.
8000 Morgan Territory Rd
Livermore, CA 94551
www.romaniaanimalrescue.com
TAX ID - 72-1546354
Neuter or Spay - No More Strays!
*.*.*.*.*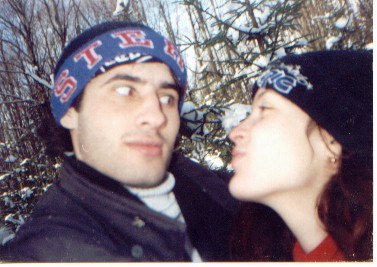 *.*.*
From:
rolda@care2.com
Sent: Saturday 10. Dezember 2005
ROLDA Newsletter December, 2005
1. "Christmas is not only for peoples . . ."
2. News about Galati strays situation
3. A word from Dana. . .
1. "Christmas is not only for people. . .."
Rescued puppies ready to celebrate Christmas at ROLDA shelter!
This year, our campaign "Christmas is not only for peoples. . ." will promote an educational message a little different than from the past years.
For the third consecutive year, we'll promote messages like the importance of sterilization, but above all-importance of respecting another' creature'life and its right to live a good, decent life.
We'll display posters with educative message and spread out brochures in local markets and overcrowded places, helped by our great volunteers.
The new part of this program is that we'll start working with a local orphanage (where kids with special needs are taken cared of). Me and my partner from USA, Nancy Janes from Romania Animal Rescue, Inc. visited the orphanage'facility, established a good contact with their director-a wonderful lady, animal'lover and we would like to start a "therapy with animals" program, to bring a hope and a joy in those poor kids'lives.
While I visited the orphanage, I couldn't help myself not notice that those kids are somehow like the strays:
abandoned, neglected, sick and hungry, hopeless.
Poor kids don't have anything and what's the worst: they actually think that the miserable life they are living it's the "normal" life!
Some of them don't know how a piece of paper look like and what means minor, boring things for us-for them it's a real adventure.
ROLDA would like to bring hope and love into their life.
*.*.*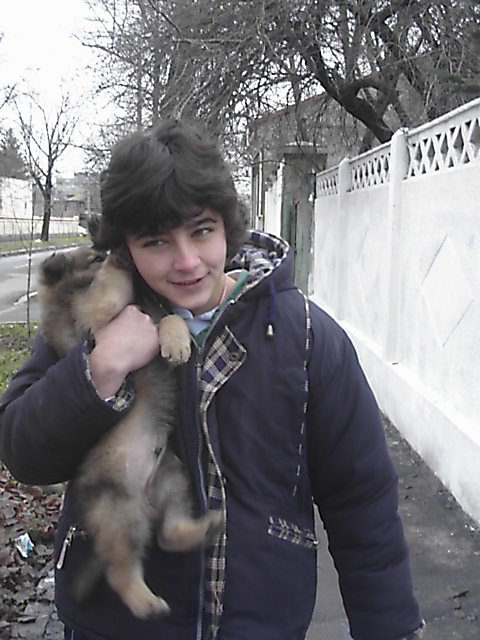 GINA
*.*.*
An orphan girl volunteering for ROLDA. . . . . . . . . . . . Same puppy checked by our wonderful vet.
2. News about Galati strays situation
ROLDA started to improve homeless animals'life and to fight from their welfare since 1998.At the beginning, small steps were made: building small kennels from personal money for the dogs around our house, feeding some strays. . . helping through local vets. sick dogs found on the streets.
Year after year, our progress started to be seen, our plans grew up and the success of our projects made hundreds of animals happy and made many Romanian "colleaaues" jealous!
This year, helped by "Animal People" and Romania Animal Rescue, I nc, ROLDA attend to conferences, seminars-establishing good connections and learning new experiences.
Our ongoing campaigns for 2005 year round are:
-"Support Community" Campaign: offering through local vet. offices FREE sterilizations and treatments for homeless animals and for animals owned by peoples with low income.
-"International volunteer" program: offering to animal'lovers from abroad the possibility to enjoy a holiday in Romania, with free accommodation at our shelter.
- "Christmas is not only for peoples. . ." campaign: spreading locally an educative message about respecting others creatures'life through leaflets and others educative materials.
ROLDA is working hard to convince as many animal'lovers as possible to join our efforts for a mass-sterilization campaign for the next year, in collaboration with City Hall Galati and few others international organizations.
Please visit our website and read our updates/newsletters about this important project.
*The known actress Loretta Switt decided to join our campaign!!!!
A banner with her, holding a homeless romanian puppy will be displayed in Galatzi with the message (translated into Romanian):
"Spay/neuter your pets ! Give them a new chance".
Posters with Loretta and the Romanian puppy will be distributed during our whole sterilization campaign.
3. A word from Dana Costin, the ROLDA founder
My dear friends and supporters,
Thank You for reading this newsletter and thank you for being since more than 5 years close to ROLDA dogs, ROLDA dreams and part of ROLDA accomplishments.
This passing year was the worst of my life from personal point of view, but thanks to your believe in us and thanks to Your involvement ,the joy that dogs can live a better, secure life and the hope that our work bring some changes for the better in romanian animals'life-made easier for me to pass over personal crise!
In fact, the only thing that keeps me alive is the desire to accomplish mine and Rolando's dream, in Rolando's loving memory.
I feel it's essential that his name need to be remembered for his work to make things better, for his idealistic belief that there is some good left in peoples and that eventually, animals will live the life they deserve to enjoy!
These Christmas holidays will not be the same without my Rolando and anything after his death is anymore the same. Life is teaching us a lesson in every moment and my lesson after Rolando's death that I've learned is that it's never too much to say "I love you" to those who deserve your love, it's never to late to say !I'm sorry! when you were unfair with somebody. . . you might never have the chance to say it and sometimes "later" is too late.
Rolando's love and full commitment for our strays is the example that every Romanian, that everyone should follow to help the animals. He dedicated his life to a dream and made his dream a dedication for a lifetime for his "furry friends survivors"!
Althrough he will always live in my heart, I am afraid I might "forget" how his voice sounded like or the look of his smile - turning my head, I see one of our dogs "roaming" around and I can see than his spirit living, more "alive" than ever - in every small detail of my existence. Rolando is now the spirit that will light our dogs each Christmas!
Merry Christmas and Happy Holidays from ROLDA staff and all romanian dogs!
With respect and friendship,
Dana
ROLDA
Mailing address: Feroviarilor Street 16, Bl.C2, ap.18
6200 Galati, Romania
Email:
rolda@care2.com
Website:
www.rolda.org
Over 10 million children die from preventable or treatable diseases every year.
Urge Congress to act today:
go.care2.com/childact
www.Care2.com
Free e-mail. 100MB storage. Helps charities.
*.*.*