DOG FARM SOPRON HUNGARY 2006 PLEASE REACT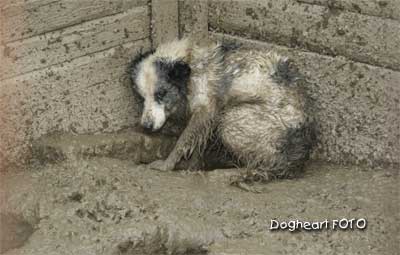 www.petitiononline.com/soprone/petition.html
Date: Fri, 5 May 2006 11:45:34 +0200 From: ebugatta
By "MTI" a hungarian news agent:
The owner of the dog breeding site at Sopron has been officially charged with cruelty to animals.
In the case of the infamous Sopron dogs the Prosecutor's Office has filed an official charge at the Sopron Courts.
"The defendant is the 63 year old owner of the breeding site" - said the Head Prosecutor of Györ-Moson-Sopron County. According to László Horváth during the course of the procedures the Prosecutor's Office investigated the conditions under which the dogs were kept and the treatment of the animals.
He added "There were appalling conditions at the site".
At the outset of the investigations 209 dogs were vegetating at the site.
The dog breeder carried on unauthorised breeding experiments with the animals: he wanted to achieve a "improved" mudi breed. In relation to this inbreeding took place resulting in the offspring being born with serious health impairment and genetic problems.
Animal rights organisations held a demonstration in March for the closing of the site, demanding that the owner be held accountable.
During the course of the investigations the animals were seized. The dogs were taken to various shelters from the Sopron site. The Sopron Prosecutor's Office has made a motion for the dogs to be confiscated.
The criminal suit will commence on 31st March at the Sopron Courts of Law. "The perpetrator of cruelty to animals can be sentenced to a maximum of 2 years imprisonment" - said the County Head Prosecutor.
"The dogs are in safe hands, I get a lot of informations about them.
When you have time look at it in our new forum!"
www.freeforum.hu/kutyabaratok/topik/3728
!!Saturdays: April May 06 Ebugatta television program will broadcast a series on the Sopron dogs.
The program can be seen live at www.magyaratv.hu at 12.05 pm Saturdays.!!
----- Original Message -----
From: ebugatta
info@dogheart.hu
Sent: Tuesday, April 18, 2006 7:33 AM
Subject: Sopron
To all of those who are helping us or interested!
To this day 190 dogs have been placed in 21 animal shelters in Hungary.
We have given all shelters financial and material aid from the donations, thus these dogs are presently recuperating from their terrible ordeals under consolidated conditions.
The police are still conducting investigations pertaining to the case, we are waiting for them to hand over the case to the Prosecutor's Office as, until this is going on the dogs cannot be rehomed or even neutered, they must remain at the shelters. Luckily I can report that the majority are now accepting human contact, and food . . .
A large number of volunteers are visiting the shelters to help with socialization of the dogs.
If any one wishes to help, at the moment they can do so by writing to
the Sopron Prosecutor's Office or to the Minister of Interior,
Ms Monika Lamperth miniszter@bm.gov.hu
Belügyminisztérium 1903 Budapest, Pf.: 314, Soproni Városi Ügyészség 9400 Sopron, Színház u. 27. 9401 Sopron, Pf.: 24.T./Fax: (99) 312-052)
to urge them to finalize the procedure as soon as possible in order that the dogs can be neutered and permanently rehomed and that their torturer's punishment should become a precedent in Hungary.
Since we do not know how long the court procedures will take at the Hungarian Courts we are still very much in need of your donations.
However we would like to ask that all who wish to give financial support for the care of the dogs should only do so through the bank account given below. This is the only one we can follow through in order to ensure that the donations reach the place you had originally intended them for!
(Unfortunately collective bank account numbers have appeared in various places, however we cannot follow the flow of these accounts)
HEROSZ Gödöllő Suborganization for the Sopron dogs.
Erste Bank 11600006-00000000-17850326
SWIFT code: GIBAHUHB,
IBAN: HU77 1160 0006 0000 0000 1785 0326
Thank you for all your help, it is wonderful that so many of you are helping our cause from all over the world!
If, for any reason the matter should take a bad turn we shall turn to the EU and progress onto an international level for which we shall ask for further help and support from all of you!
You can obtain any information you require directly from
info@ebugatta.hu
in both English and German.
Greetings and thank you to all dog lovers!
Krisztina
Until now we have contact with the following animal rights/protection organizations, web sites regarding the cause of the Sopron dogs:
Action Against Poisoning
www.actionagainstpoisoning.com
Animal Home & Humane Education Centre James Hogan Vice Chairman Mayhew
AnimalLife from Switzerland
AnimalsVoice
ASPCA -- America's first humane organization
Best Friends Animal Society
Dogster.com
Dogs Trust - A Dog Is For Life
Domestic Animal and Wildlife Rescue & Information People for the Ethical Treatment of Animals (PETA)
Greyhounds in Nood Nederland
www.greyhoundsinnood.nl
Humane Society International
www.hsus.org
www.hund-und-co.de
International Fund for Animal Welfare (IFAW)
www.ifaw.org
www.mensch-dulebst.de
princesse@reiseclub-imperial.de
Pro Animals Finland
Red Een Hond
www.redeenhond.nl
Society for protecion of animals Trbovlje SLOVENIA
Stichting Hulp aan Buitenlandse Honden
TSE Tierschutz - europaweit e.V.
Turkish Animal Protection Groups of Haytap(Animal Rights Turkish Active Power Alliance)
World Society for the Protection of Animals (WSPA)
www.wspa.org
World Animal Net -
www.worldanimalnet.org
World Dog Press Association
Zelda Penzel, President PEACE - People for the End of Animal Cruelty and Exploitation New York, NY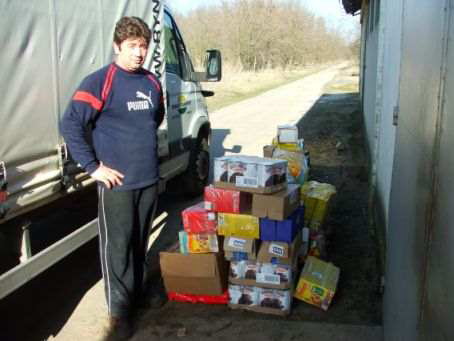 Gyuri - food starts coming - please go on supporting

CRY FOR FOOD 21 MARCH 2001

" Gyuri, head of animalstation Baja, who has taken 24 Sopron dogs in his station, will also get food for these dogs.
He told me in a seperate mail that the Sopron dogs are very hungry and only a very few, small portion of food has arrived yet in Baya. His e mail address
hesser@freemail.hu
Mr. Gyuri writes in German. Bajaer "Hesser Gyula" Tierrettungsmission Adresse:
Gaál György Vorsitzender des Vereins H 6500 Baja, Madách u.4 Telephon: 36/79/321-504
Mobil: 36/30/4336690
www.tierheimbajaungarn.de.tf
hesser.fw.hu
EBUGATTA:
"We collect funds for the veterinary expenses, transportation, food, etc. on a bank account,
opened by HEROSZ Gödöllő Suborganization for the Sopron dogs.
Erste Bank 11600006-00000000-17850326
SWIFT code: GIBAHUHB,
IBAN: HU77 1160 0006 0000 0000 1785 0326."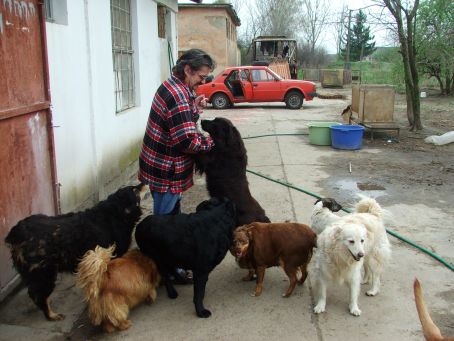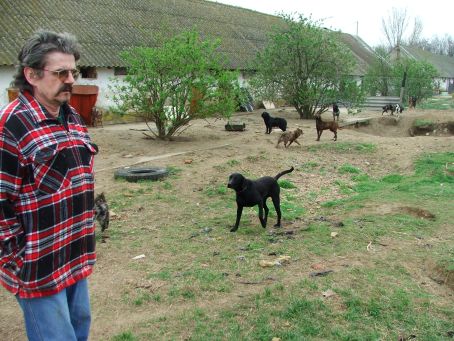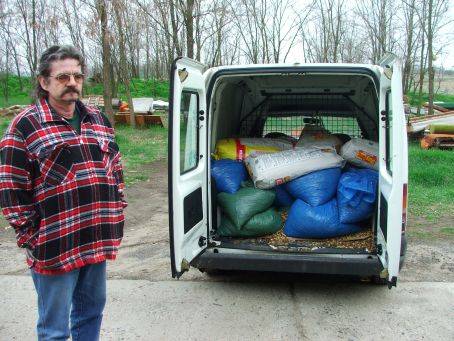 13 APRIL FOOD BROUGHT BY GERMANY - GERD RUHLAND TO BAJA HUNGARY support via Aktion S in www.stimmen-der-tiere-ev.de/modules.php?name=Content&pa=showpage&pid=121
All shelters
portal.ebugatta.hu/article/archive/43/
For photo's go to
www.netboard.hu/viewtopic.php?topic=11013
24 March 06: 20 organizations, 178dogs, 652. 000HUF, about 2974kg dry food
portal.ebugatta.hu/article/articleview/1129/1/36/
www.dogheart.hu/dogmengele.htm
www.dogheart.hu/kutyamengele.htm

REHOME A DOG - SUPPORT NEEDED!

CLAUDIA RÖCKL 3 APRIL 2006 GERMAN TEXT
Hungarian info:
portal.ebugatta.hu/article/archive/40/

!!! CLICK HERE FOR IMPORTANT INFORMATION
21 MARCH 2006 UPDATE BY EBUGATTA "SOPRON DOGS"!!!
Sent 19 March 2006:
Mrs. Wesenauer is head of the Tierschutzverein "Bubastis" as mentioned in several mails before ...
and in front involved in the Sopron theme and I understood ms wesenauer should be well known in hungary ...
Let me point out food is a strong problem for such amount of dogs, they are eating about minimum 100 kg per day ...
... meanwhile about 1 month has past and no "right" result is done and a lot of dogs are hungry !
... I think the best solution should be to contact ms wesenauer directly by phone.
Phone number of mrs. Wesenauer you know: 0036 30 34 27 694
You know that some dogs in several other places meanwhile (for example in animalstation Baja of Gyuri are 24 dogs from Sopron - email
hesser@freemail.hu
and they are waiting for food also!
READ CORRESPONDENCE WITH ACTION AGAINST POISONING
STATEMENT OF THE MEOE MAGYAR MUDI KLUB 17 MARCH 2006

LATEST MARCH 17-14-12, 2006 NEWS BY A BICHL
"FOOD NEEDED - 12 Hunde, die noch in einem relativ guten Zustand sind, sollen auf Wunsch des Herrn Ö, in die Harka-Deponie gebracht werden, sie sollen ihm als Beweis dienen, die Hunde nicht so schlecht gehalten zu haben.....
Mrs. W. suspects that about 70 dogs are still on chains in the vineyard. The area is still closed off."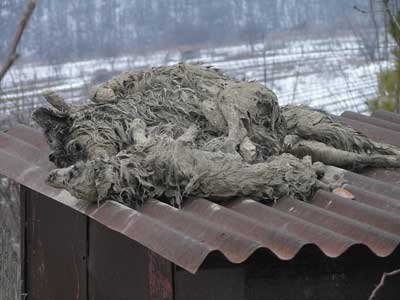 DOG FARM SOPRON 15 FEBRUARY 2006
THE HOARDER PHENOMENON
People working with animals, either for profit or protective motives, might develop into collectors of animals loosing their focus on animal welfare and eventually turn into animal abusers.
See: Psychiatric Times Article by The Hoarding of Animals Research Consortium, Corresponding Author Randy Frost, Ph.D.
www.psychiatrictimes.com/p000425.html
And go to
www.animalpeoplenews.org/06/01/USsupremect&hoarded01.06.htm
received 9 March 2006 2.34 hrs
link with photos of 15 rescued Sopron dogs :
pet.site.hu/u/Ngabi/Siofoki-kutyusok/vegyes/soproniak/
Claudia sent me the message just a minute ago!
Shelter Siofok takes care of 15 of the Sopron dogs see web site
Scroll down for the comment !
Moni
MARCH 9, 2006 NEWS BY C ROECKL AND E ZIMMERL ENVOY FOR AGRICULTURAL AND ENVIRONMENTAL AFFAIRS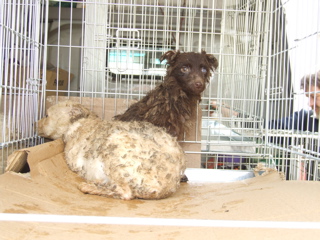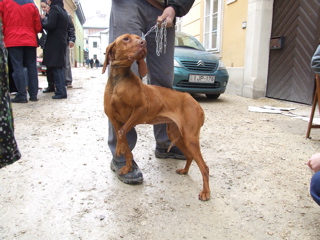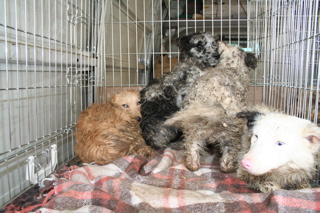 PHOTOGRAPHS DOGHEART 9 MARCH "THEY ARE SOON SAFE"
MARCH 8 - 7 - 6, 2006 NEWS BY CLAUDIA ROECKL
MARCH 3, 2006 NEWS BY CLAUDIA ROECKL
MARCH 3rd, 2006 OFFICIAL ANNOUNCEMENT AND ADDRESSES
INFORMATION:
portal.ebugatta.hu/article/archive/39/
Status 1 MARCH 2006

After a demonstration of about 70 mostly Hungarian people is achieved that the owner will hand over all dogs - except 50 - to the volonteers of the organisation and the remaining dogs are allowed to be fed by them!
It is a pity - or maybe we should say thank God - that Hungarian animal protectors have appeared, who were not seen before. However, they resent the interference by foreigners, but where were they in the past 4 years for so long has lasted this situation!

Again I call you to please contact - if possible directly when you speak German - Mrs. Wesenauer in Austria 0036 30 34 27 694 for any help you can offer for this dog rescue.

The present responsible mayor is Walter Deszo and the residing notary Dr. Galambos György is guilty as well as he new the circumstances, excused the veterinarian who claimed that all was OK and was deaf to complaints.

We would be pleased if you would send them a crictical letter by FAX: 0036 99 515163 and/or Email: jegyzo@sopron-ph.hu


Note from Action Against Poisoning:

We are delighted to hear that most dogs will be free and in charge of animal protectors.
However we should fight for all dogs to be taken from a man who has proven to be unfit for keeping dogs. This man should be forbidden to come near any animal (or human being for that matter) at all for the rest of his life.

So continue this action as it is not yet finished!
Inform also Harcsás Márta, Chief editor of the Ebugatta TV program and the Kutya
Tel: 0670-4572-761
info@ebugatta.hu
video:
www.online.rtlklub.hu/hirek/hatter/?id=0602218173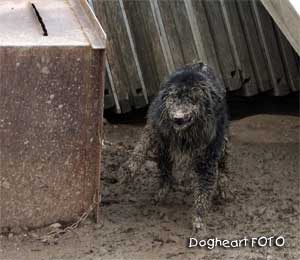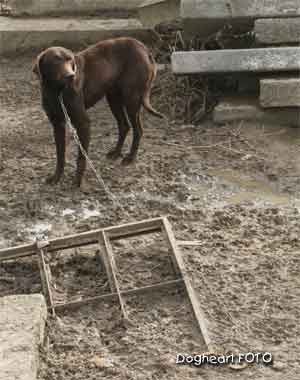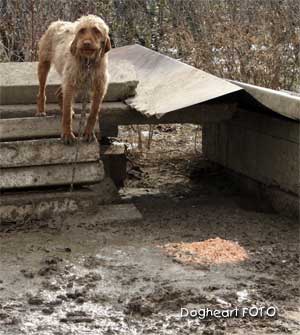 DOG FARM SOPRON 22 - 25 FEBRUARY 2006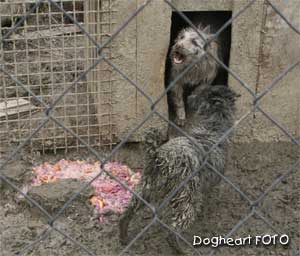 We welcome everybody to demonstrate with us and the Hungarian Kennel Club with motto "dog farm Sopron" to persuade Mrs. Monika Lamperth, Interior Minister of Hungary to punish a Hungarian man who handles animals this way
miniszter@bm.gov.hu
!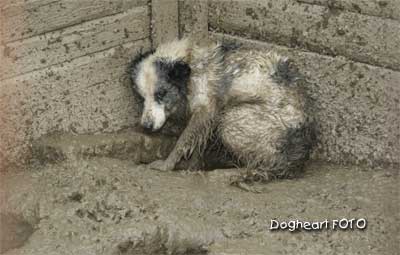 *.*.*
Email addresses embassies Hungary via
www.embassyworld.com/embassy/Hungary/Hungary2.html
Mr. Gráf József Minister for Agriculture
Working in department (for health of animals) Dr Süth Miklós
FAX: 36/1/301-4669
Email: allategeszsegugyinfo@fvm.hu

Walter Dezso Mayor of Sopron
address: 9400 Sopron Fotér 1. telephon: 36/99/515-163
teleFAX: 36/99/515-163
website: www.sopron.hu

notary Dr. Galambos György, who made the excuse that the veterinarian thought it all OK and refused several complaints.
Please make a cricticle letter and send via FAX: 0036 99 515163 and/or mail via jegyzo@sopron-ph.hu
CRY FOR HELP
info@dogheart.hu
Please help us in the following problem, which we cannot handle in spite of the indignation among the animal fanciers!
Letter from a viewer to the Ebugatta program:
I'm helpless as I visited a fearful place today and I don't know who shall I turn to, that's why I write to you. All this started with that two dogs of my friend lost and we went to find them. We heard about a man, who has more than one hundred dogs in a vineyard, we hoped to get some information from him about our dogs. We went to see that place and we faced awful conditions. I'm still shocked by the scene as more than hundred dogs on chains, in horrible conditions. We mostly saw Hungarian breeds, three retrievers, kuvasz and about 80 mudis and their inbred descendants. Everywhere dogs, swill ont he ground for them, dead bodies of dogs on the dog houses. It's even dread to write...
"Knowing that animals creatures able to feel, suffer and be happy, our moral obligation to respect them and ensure their well-being" this is also included in the Hungarian Animal Protection Act, we was fighting for the parliamentary decision for particular protection of the indigenous Hungarian breeds for years.
There were several reports and complaints by the inhabitants and neigbhours, but still nothing happened to save these animals.
We reported this man from cruelty to animaly with photos and videos by proof on the Police Headquarters 15th February, 2006, and on the Sopron Police also.
We visited the spot with an ethologist, a vet, leaders of the breed clubs and a TV staff and witnessed awful conditions. None of the dogs had water to drink, they was on 20-30 cm chains, without kennels. The territory was covered by 30-40 cm mud, and some of the dogs are living in apathy. Their food is the swill shed on the mud and they drink their own urine.
The Police worked rapidly and led by Dr Csaba Reinhoffer light colonel they made a domiciliary visit, and found 61 frozen dog carcasses in refrigerants.
During the police procedure by active help of media, journalists and animal fanciers of the internet we try to rescue these animals from these terrible conditions which turned out to has been started 4 years ago and the registrar of Sopron qualified this case after the several reports of the habitants and the animal welfare authority as a minor offence.
Dr. József Dobos , the registrar of Sopron does not do this as he says all the dogs are vaccinated according to the veterinary examinations and they has satisfactory conditions, nothing justifies the close of the plant.
About 180 unsocialised, wild dogs are scampering about on the yard, there are dead bodies of dogs in the fridge of the owner!
I do think that this must be stopped, nothing can motivate cruelty to animals and keeping them this way. None of the Hungarian breeds, which are national treasures of us deserves such a life!
We find them owners after veterinary observation, attending and getting microchip.
We must not let them suffer!
You find videos, articles, letters and photos about all of that, which shows why is it cruelty to animals.
portal.ebugatta.hu/article/archive/36/hungarian
We welcome everybody to demonstrate with us and the Hungarian Kennel Club with motto "dog farm Sopron" to persuade Mrs. Monika Lamperth, Interior Minister of Hungary to punish a Hungarian man who handle animals this way
miniszter@bm.gov.hu
!
We organize demonstration on 1st March 2006 in Sopron and request immediate measures of authorities. We also demonstrate for punishment of the owner of the dog farm and the tormentors of animals.
You find more details here:
www.ebugatta.hu
and in dogforums. If you can help us please write to the
info@ebugatta.hu
and we give you any kind of information about this case here.
Let's work together for the protection of the rare Hungarian breeds!
Thank you for all your efforts:
Harcsás Márta
Chief editor of the Ebugatta TV program and the Kutya
Tel: 0670-4572-761
info@ebugatta.hu
-----
Please contact Mrs. Wesenauer:
0036 30 34 27 694 - 0043 69911608688
There is a food factory, 1,2 kg costs 0,50 Euro
Mrs. Wesenauer is able to bring food!
who can rehome a dog.