CANADA'S IDITAROD NO MORE THAN DOG ABUSE



At least 127 dogs have been run to death or have died from other causes in the Iditarod. There is no official count of dog deaths available for the race's early year

www.helpsleddogs.org/

The Iditarod is described by the Iditarod Trail Committee and by the Alaskan media as an exciting contest of man against nature. What the descriptions do not tell us is the untold suffering of the dogs that often give their lives in this race.
Dog deaths and injuries are common in the Iditarod, and when they are not racing, the dogs live under inhumane conditions.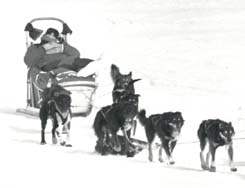 A dog is being dragged on the ice. He may be dead or unconscious.
The musher may be sleeping.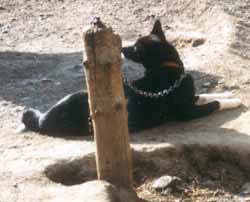 Iditarod Race Facts
He cannot speak for himself but you can.
This dog's picture was taken at the kennel of a leading musher.
The Iditarod is a dog sled race held every March in Alaska.
The 2006 Iditarod will begin on March 4. In this race mushers (dog sled drivers) force their dogs to run 1,150 miles from Anchorage to Nome in 8 to 15 days over a grueling terrain.
This is the approximate distance between Los Angeles and Seattle, New York City and Miami, Chicago and Houston.
Mushers press their dogs to run at ever increasing speeds, so that the dogs get little rest or sleep.
The current speed record is 8 days, 22 hours and 46 minutes, less than half the time it took to run the first Iditarod race. No dog wants to run so far and so fast.
Read about abuse in kennels go to
www.helpsleddogs.org/
PLEASE WRITE AND FORWARD
From the Sled Dog Action Coalition,
www.helpsleddogs.org
Please help the Iditarod dogs by sending protest emails to race supporters.
These dogs are helpless victims of profoundly inhumane treatment and cannot speak for themselves.
A list of what happens to them during the Iditarod includes death, paralysis, penile frostbite, bleeding ulcers, broken bones, pneumonia, torn muscles and tendons, diarrhea, vomiting, hypothermia, fur loss, broken teeth, viral diseases, torn footpads, ruptured discs, sprains, anemia and lung damage.
How do sick animals run the 1,100 miles across frozen tundra and through icy waters?
Veterinarians give them massive doses of antibiotics to keep them going.
Anemia tires the dogs but mushers force them to run mile after grueling mile.
No one knows how many dogs die after this tortuous ordeal or during training.
Please send protest emails to race supporters using the list below of organizations that are 2006 Iditarod race sponsors, musher sponsors, or Iditarod promoters.
Emails are first given in block form and then individually under the sample letter.
Email addresses with semi-colons in block form can be found at
www.helpsleddogs.org/sponsors.htm
on the bottom of the page.
ALL EMAIL ADDRESSES - for easy sending, copy and paste as a bunch into your "Blind Copy" box:
communitymatters@morganstanley.com
,
Media_Inquiries@pinnaclefoodscorp.com
,
info@greenies.com
,
rklein@whopper.com
,
stacy.roughan@ihop.com
,
myace@acehardware.com
,
media@energizer.com
,
press@echostar.com
,
helen.ostrowski@porternovelli.com
,
Customer.Service@cabelas.com
,
ir.dcx@daimlerchrysler.com
,
pressinquiries@na.ko.com
,
marketing@mill-cop.com
,
investorrelations@wellsfargo.com
,
kroger.investors@kroger.com
,
chendricks@mcclatchy.com
,
enterprise.comments@exxonmobil.com
,
newsroom@alaskaair.com
,
jill.zanger@nike.com
,
mark.parker@nike.com
,
jerry_nix@genpt.com
,
dan.davids@AETN.com
,
skruse@hollandamerica.com
,
abuckelew@carnival.com
,
matthew.baldacci@stmartins.com
,
markus.schunk@holtzbrinck.com
,
ptosi@komen.org
,
lhopkins@netbsa.org
,
info@workman.com
,
media@girlscouts.org
,
sales@AvidID.com
,
public.relations@usfsi.com
,
public.relations@stihl.us
,
AuditCommitteeChairman@emc.com
,
corporatesales@ems.com
,
aritchie@coneinc.com
,
marketing.center@lpcorp.com
,
tjacobs@dobson.net
,
info@standard.com
,
Shareholders.IM@pg.com
,
investor.relations@blockbuster.com
,
contact.privacy@mcd.com
,
amy_phillips@olntv.com
,
bhehn@alacer.com
,
trey.harris@polarmax.com
,
sportcare@muellersportsmed.com
,
richard.edwards@polarisind.com
,
bbutter@tollgrade.com
,
Sales@eyaktek.com
,
bigr@bigr.com
,
equinox@eqnx.biz
,
neos@overshoe.com
,
info@nationaldogfood.com
,
ssolomon@dixieline.com
,
gisx@mindspring.com
,
employment@providence.org
,
investor_relations@scholastic.com
,
gail@pskomen.org
,
lkoenigsberg@wellnesscommunity.org
,
jalley@nacwaa.org
,
dgarrett@preventblindness.org
,
rortiz@usaba.org
,
spicchi@learningcommunity202.org
,
wklaus@ecasd.k12.wi.us
,
tfiedler@ecasd.k12.wi.us
,
newsbur@uwec.edu
,
denise.roberts@indian-river.k12.fl.us
,
Linda.Robertson@indian-river.k12.fl.us
,
beglaum@emints.org
,
Szczepanskis@avon.k12.oh.us
,
lekeating@comcast.net
,
rhanzelka@mchsi.com
,
contact@EDMIN.com
,
library@barth.lib.in.us
,
School_Board@montebello.k12.ca.us
,
webmaster@education-world.com
,
emailbag@timeforkids.com
,
john.devine@gm.com
,
wford@ford.com
,
tricon.investor@tricon-yum.com
,
nationalaccounts@amerigas.com
,
jdc@eaglepack.com
,
masmith@mail.volusia.k12.fl.us
,
info@sportsmanswarehouse.com
,
international@grabberwarmers.com
,
redpaw@cheqnet.net
,
gene@motosolutions.com
,
sales@edmundoptics.com
,
info@adfinc.com
,
feedback@amnutrition.com
,
wilderinfo@wilderconstruction.com
,
franchising@batteriesplus.com
,
rputney@grossmanchev.com
,
info@royalcanin.us
,
contact@propacpetfood.com
,
info@coldspotfeeds.com
,
info@isisforwomen.com
,
rmacauley@michigansleep.com
,
boositr@vetmed.auburn.edu
,
ingrid@lowaboots.com
,
sales@tomahawklog.com
,
jim@ruralpropertyinvestments.com
,
Michelle.Stalford@ofd.com
,
dennis@composite-tech.com
,
gurken@newnorth.net
,
inquiries@indexc.com
,
info@stormykromer.com
,
support@americanlongevity.net
,
businessloan.stpeter@fnbmn.com
,
barbra@moneydots.com
,
fschnoor@bcs.k12.oh.us
,
mwittman@bcs.k12.oh.us
,
fanningm@danbury.k12.oh.us
,
ahelion@wcasd.net
,
wjjq@wjjq.com
,
email@murphydesmond.com
,
jharling@nwtf.net
,
Sales@oddsonrecording.com
,
files@metalmagic.com
,
droewe@biaofclarkcounty.org
,
herbsallin1@yahoo.com
herbsallin1@yahoo.vom> , john@evaz.ca, fotograf@annsissel.no, info@dogbooties.com, cerdey@learningcommunity202.org, DWalker@NorthernOutfitters.com, dsmith@mslma.org, Judy.Stang@indian-river.k12.fl.us, Linda.Robertson@indian-river.k12.fl.us, info@preventblindness.org, suzi@ci.amesbury.ma.us, Ken_Rietz@was.bm.com, info@blindness.org, artsinfo@michigan.gov, ccarts@chartermi.net, ghill@glenview34.org, mbrownlow@glenview34.org,
lhinton@glenview34.org, mwalther@glenview34.org, dknol@antigoschools.k12.wi.us, gcalloway@schenck.org

SAMPLE LETTER:

Dear Iditarod Supporter:

Please stop supporting the barbaric Iditarod dog sled race. Mushers treat their dogs abominably. In the Iditarod, dogs are forced to run 1,150 miles, which is the approximate distance between Miami, Florida and New York City, over a grueling terrain in 8 to 15 days. USA Today sports columnist Jon Saraceno called the Iditarod "a travesty of grueling proportions" and "Ihurtadog." Fox sportscaster Jim Rome called it "I-killed-a-dog." Orlando Sentinel sports columnist George Diaz said the race is "a barbaric ritual" and "an illegal sweatshop for dogs."

Please visit the Sled Dog Action Coalition website www.helpsleddogs.org and be sure to read the quotes on www.helpsleddogs.org/remarks.htm . All the material on the site is true and verifiable.

Iditarod dogs are simply not the invincible animals race officials portray. Here's a short list of what happens to the dogs during the race: death, paralysis, penile frostbite, bleeding ulcers, broken bones, pneumonia, torn muscles and tendons, diarrhea, vomiting, hypothermia, fur loss, broken teeth, viral diseases, torn footpads, ruptured discs, sprains, anemia and lung damage.

How do sick animals run the 1,100 miles across frozen tundra and through icy waters? Veterinarians give them massive doses of antibiotics to keep them going. Anemia tires the dogs but mushers force them to run mile after grueling mile.

At least 127 dogs have died in the Iditarod. No one knows how many dogs die after this tortuous ordeal or during training.

On average, 53 percent of the dogs who start the race do not make it across the finish line. According to a report published in the American Journal of Respiratory and Critical Care Medicine, of those who do cross, 81 percent have lung damage. A report published in the Journal of Veterinary Internal Medicine said that 61 percent of the dogs who finish the Iditarod have ulcers versus zero percent pre-race.

Tom Classen, retired Air Force colonel and Alaskan resident for over 40 years, tells us that the dogs are beaten into submission:

"They've had the hell beaten out of them." "You don't just whisper into their ears, 'OK, stand there until I tell you to run like the devil.' They understand one thing: a beating. These dogs are beaten into submission the same way elephants are trained for a circus. The mushers will deny it. And you know what? They are all lying." -USA Today, March 3, 2000 in Jon Saraceno's column.

Mushers believe in "culling" or killing unwanted dogs, including puppies. Many dogs who are permanently disabled in the Iditarod, or who are unwanted for any reason, including those who have outlived their usefulness, are killed with a shot to the head, dragged or clubbed to death. "Dogs are clubbed with baseball bats and if they don't pull are dragged to death in harnesses....." wrote Alaskan Mike Cranford in an article for Alaska's Bush Blade Newspaper (March, 2000).

Jon Saraceno wrote in his March 3, 2000 column in USA Today, "He [Colonel
Tom Classen] confirmed dog beatings and far worse. Like starving dogs to maintain their most advantageous racing weight. Skinning them to make mittens. Or dragging them to their death."

Please end your organization's association with this horrific race.

Sincerely,

IDITAROD SPONSORS:

Cabelas (sporting goods)
Email: Customer.Service@cabelas.com

Daimler Chrysler
Email: ir.dcx@daimlerchrysler.com

Coca-Cola
Email: pressinquiries@na.ko.com

Millennium & Copthorne Hotels
Email: marketing@mill-cop.com

Wells Fargo & Company
Email:investorrelations@wellsfargo.com

Kroger Co. (Fred Meyer Stores)
Email: kroger.investors@kroger.com

Spenard Builders (Lanoga Corporation)
Email: ssolomon@dixieline.com

Office Tech (Global Imaging Systems, Inc.)
Email: gisx@mindspring.com

ChevronTexaco Corportation
Email: pubaffmr@chevrontexaco.com

Exxon Mobil Corporation
Email: enterprise.comments@exxonmobil.com

Anchorage Daily News (Mc Clatchy Company)
Email: chendricks@mcclatchy.com

Providence Health System
Email: employment@providence.org

Global Information Technologies
Email: sales@gitsat.com

Alaska Airlines (Alaska Air Group)
Email: newsroom@alaskaair.com

IDITAROD SUPPORTERS AND PROMOTERS:

TIME for Kids
Email: emailbag@timeforkids.com

Nike, Inc.
Email: mark.parker@nike.com
Email: jill.zanger@nike.com

NAPA Auto Parts (Genuine Parts Company)
Email: jerry_nix@genpt.com

The History Channel - USA
Email: dan.davids@AETN.com

Porter Novelli
Email: helen.ostrowski@porternovelli.com

Holland America Line (Carnival Corporation)
Email: skruse@hollandamerica.com
Email: abuckelew@carnival.com

Scholastic Corporation
Email: investor_relations@scholastic.com

St. Martin's Press, LLC (Verlagsgruppe Georg von Holtzbrinck)
Email: matthew.baldacci@stmartins.com
Email: markus.schunk@holtzbrinck.com

Susan B. Komen Breast Cancer Foundation
Email: ptosi@komen.org

Susan G. Komen Breast Cancer Foundation, Puget Sound Affiliate
Email: gail@pskomen.org

Boy Scouts of America, National Council
Email:lhopkins@netbsa.org

Workman Publishing Company
Email: info@workman.com

Girl Scouts of the USA



Email: media@girlscouts.org

Avid Microchips (Avid Identification Systems, Inc.)
Email: sales@AvidID.com

Microtel Inns (US Franchise Systems, Inc.)
Email: public.relations@usfsi.com

STIHL (STIHL Group)
Email: public.relations@stihl.us
Email: stefan.caspari@stihl.de

EMC Corporaton
Email: AuditCommitteeChairman@emc.com

Eastern Mountain Sports (EMS)
Email: corporatesales@ems.com

Wellness Community Greater Boston
Email: lkoenigsberg@wellnesscommunity.org

National Association of Collegiate Women Athletes Administration
Email: jalley@nacwaa.org

Prevent Blindness America
Email: dgarrett@preventblindness.org

United States Association of Blind Athletes
Email: rortiz@usaba.org

Antigo Middle School
Email: dknol@antigoschools.k12.wi.us

Plainfield Community Consolidated School District
Email: spicchi@learningcommunity202.org

North High School
Email:tfiedler@ecasd.k12.wi.us
Email: wklaus@ecasd.k12.wi.us

University of Wisconsin-Eau Claire
Email: newsbur@uwec.edu

Thompson Elementary School
Email: denise.roberts@indian-river.k12.fl.us
Email: Linda.Robertson@indian-river.k12.fl.us

National Center University of Missouri System
Email: beglaum@emints.org

Avon East Elementary School
Email: Szczepanskis@avon.k12.oh.us

Massachusetts School Library Media Association
Email: dsmith@mslma.org

MassCUE, Inc.
Email: lekeating@comcast.net

Association for Supervision and Curriculum Development (ASCD)
Email: rhanzelka@mchsi.com

Foundation for Excellence
Email: cerdey@learningcommunity202.org

Bartholomew County Public Library
Email: library@barth.lib.in.us

Cesar Chavez Elementary School
Email: School_Board@montebello.k12.ca.us

Education World (EDMIN.com)
Email: contact@EDMIN.com

Charles C. Cashman Elementary School
Email: suzi@ci.amesbury.ma.us

Burson-Marsteller
Email: Ken_Rietz@was.bm.com

Foundation Fighting Blindness
Email: info@blindness.org

Copper Country Community Arts Center
Email: ccarts@chartermi.net

Michigan Council for Arts and Cultural Affairs
Email: artsinfo@michigan.gov

Schneck School
Email: gcalloway@schenck.org

MUSHER SPONSORS:

Morgan Stanley
Email: communitymatters@morganstanley.com

Celeste Pizza (Pinnacle Foods Group, Inc.)
Email: Media_Inquiries@pinnaclefoodscorp.com

Second Wind Energy Snack (S&M NuTec, LLC) - (Makes GREENIES)
Email: info@greenies.com

Burger King Corporation
Email: rklein@whopper.com

International House of Pancakes (IHOP, Corp.)
Email: stacy.roughan@ihop.com

Ace Hardware
Email: myace@acehardware.com

Energizer Batteries (Energizer Holdings, Inc.)
Email: BatteryInfo@Energizersales.com

The Dish Network (EchoStar Communications Corp.)
Email: press@echostar.com


Sportsman's Wearhouse
Email: info@sportsmanswarehouse.com

Jiffy Lube International, Inc. (Shell Oil Company)
Email: mpaine@coneinc.com
Email: ir-hague@shell.com

Louisiana-Pacific Corporation
Email: marketing.center@lpcorp.com

CELLULARONE (Dobson Communications Corp.)
Email: tjacobs@dobson.net

Stancorp Financial Group, Inc.
Email: info@standard.com

Eukanuba/Iams (Procter & Gamble Company)
Email: Shareholders.IM@pg.com

Blockbuster Video
Email: investor.relations@blockbuster.com

McDonalds Restaurants (McDonald Corporation)
Email: contact.privacy@mcd.com

Ford Motor Company
Email: wford@ford.com

General Motors
Email: john.devine@gm.com

Taco Bell/Denali Foods (Franchisor: Yum! Brands, Inc.)
Email: tricon.investor@tricon-yum.com

Outdoor Life Network (Comcast Corp.)
Email: amy_phillips@olntv.com
Email: amy_banse@comcast.com

UGI Corporation (AmeriGas)
Email: nationalaccounts@amerigas.com

Alacer Corp.
Email: bhehn@alacer.com

Polar Max
Email: trey.harris@polarmax.com

Quench Gum (Mueller Sports Medicine, Inc.)
Email: sportcare@muellersportsmed.com

Polaris Industries Inc.
Email: richard.edwards@polarisind.com

Tollgrade Communications, Inc.
Email: info@tollgrade.com

Eyak Tek (Eyak Technology, LLC)
Email: Sales@eyaktek.com

Big R Stores
Email: bigr@bigr.com

Equinox Industries Ltd.
Email: equinox@eqnx.biz

NEOS Overshoe
Email: neos@overshoe.com

National Pet Products
Email: info@nationaldogfood.com

Northern Outfitters
Email: mail@northernoutfitters.com

Eagle Premium Pet Foods/Eagle Pet Products, Inc.
mail: jdc@eaglepack.com

Dogbooties.com (a division of Arrowhead Fabric)
Email: info@dogbooties.com

Grabber Performance Group
Email: international@grabberwarmers.com

Blackwood Dog Food (The Blackwood Corporation)
Email: info@blackwoodpetfood.com

Redpaw Feeds
Email: redpaw@cheqnet.net

Fogtech
Email: gene@motosolutions.com

Edmund Industrial Optics
Email: sales@edmundoptics.com

American Dehydrated Foods, Inc.
Email: info@adfinc.com

Atta Boy (American Nutrition, Inc.)
Email: feedback@amnutrition.com

Wilder Construction Company
Email: wilderinfo@wilderconstruction.com

Adventure Unlimited Ranches
Email: info@adventureunlimited.org

Batteries Plus
Email: franchising@batteriesplus.com

Grossman Chevrolet
Email: rputney@grossmanchev.com

Royal Canin USA, Inc.
Email: info@royalcanin.us

Pro Pac Pet Food (Midwestern Pet Foods, Inc. )
Email: contact@propacpetfood.com

Cold Spot Feeds
Email: info@coldspotfeeds.com

Isis for Women
Email: info@isisforwomen.com

Sleep Diagnostics of Michigan
Email: rmacauley@michigansleep.com

Auburn University Veterinary Sports Medicine Program
Email: boositr@vetmed.auburn.edu

Lowa Outdoor and Ski Boots
Email: ingrid@lowaboots.com

Tomahawk Log & Country Homes
Email: sales@tomahawklog.com

Timbernet, Inc.
Email: jim@ruralpropertyinvestments.com

Mountain House Freeze Dried Foods (Oregon Freeze Dry, Inc.)
Email: Michelle.Stalford@ofd.com

Compositech
Email: dennis@composite-tech.com

Quick Heat Warmers (Import Merchandisers, Inc.)
Email: gurken@newnorth.net

Independence Excavating, Inc.
Email: inquiries@indexc.com

Deland Middle School
Email: mkrajews@mail.volusia.k12.fl.us
Email: masmith@mail.volusia.k12.fl.us

Stormy Kromer Mercantile
Email: info@stormykromer.com

American Longevity
Email: comments@americanlongevity.net

First National Bank - Minnesota
Email: businessloan.stpeter@fnbmn.com

Moneydots.com
Email: barbra@moneydots.com

Rocky Ridge Elementary
Email: fschnoor@bcs.k12.oh.us

Graytown Elementary
Email: mwittman@bcs.k12.oh.us

Danbury local schools (Ohio)
Email: fanningm@danbury.k12.oh.us

East Bradford Elementary
Email: ahelion@wcasd.net

WJJQ Radio
Email: wjjq@wjjq.com

Murphy Desmond Law Offices
Email: email@murphydesmond.com

Wheelin' Sportsmen Program (National Wildlife Turkey Foundation)
Email: jharling@nwtf.net

OddsOn Recording
Email: Sales@oddsonrecording.com

Metal Magic
Email: files@metalmagic.com

Building Industry Association of Clark County
Email: kgroen@biaofclarkcounty.org

Nature Cure Bee Caps
Email: herbsallin1@yahoo.com
Northern Outfitters
Email: DWalker@NorthernOutfitters.com

Evaz Group
Email: john@evaz.ca

Fotograf Ann Sissel Jenssen
Email: fotograf@annsissel.no

Glen Grove Elementary School
Email:mbrownlow@glenview34.org

Hoffman School
Email: ghill@glenview34.org

Westbrook Elementary School
Email: lhinton@glenview34.org

Amaize (Marsland Laboratories)
Email message box: www.amaize.com/dealer_inq.htm

Dr. Tim's Pet Food Company
Email message box: www.drtims.com/contact.htm