CANADA'S CRUEL SLAUGHTER SET FOR LATE MARCH 2006
Remember that you can stay in touch with the campaign with up-to-the-minute news, videos, and actions throughout the hunt at:
www.ProtectSeals.org
JOURNAL:
www.hsus.org/marine_mammals/protect_seals/dispatches_2006_seal_hunt/march_25_r_journal.html
petition community.hsus.org/campaign/harper_protectseals?rk=17qgZR51SXEPW

Demonstration www.canadianvoiceforanimals.org/SA_SealHuntRally.html and www.seashepherd.org



THE WORLD ALLOWS THIS SLAUGHTER AS WE GOT USED TO THIS!

IF THE ROLES WERE REVERSED, COULD WE GET USED TO THAT?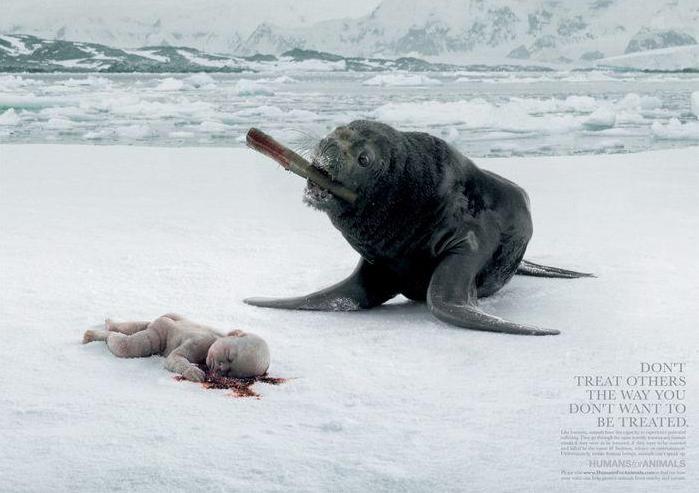 Poster by Humans for Animals www.humansforanimals.com
Canadian fishermen are clubbing and shooting to death thousands of baby seals for their fur.
Last week, The Humane Society of the United States was in the Gulf of St. Lawrence, documenting the first phase of Canada's annual commercial seal hunt. We were there to expose this cruelty to the world as part of our campaign to stop the hunt once and for all.
Today, 7 APRIL 06, I want to update you on the dramatic events that have unfolded during the first weeks of the hunt.
Update from the Ice
While in the icy waters of the Gulf, my team of observers and members of the media riding in our boats were continually
harassed by sealers. Here is just a glimpse of what our dedicated team of experts witnessed and endured:
:: On the second day of the hunt, a sealing boat rammed one of our small inflatable boats, forcing it onto the ice, damaging
the propeller, and endangering the lives of all aboard.
:: Later in the day, two other sealing vessels repeatedly charged at our inflatable boats, putting all observers at risk
of capsizing. When the captain of The HSUS's nearby vessel twice radioed the Canadian Coast Guard -- which was patrolling the
waters ostensibly to ensure the safety of both sealers and observers for help, his calls were ignored.
:: After a sealing vessel chased down one of our small boats and forced it to maneuver quickly to avoid being crushed into the ice, officers of the Department of Fisheries and Oceans emerged from the vessel's cockpit and arrested our team for allegedly violating the terms of our observation permits by supposedly coming within 10 meters of a sealing vessel. Seven legally permitted observers, including representatives of The HSUS and one media representative, were detained, and our footage of the hunt was immediately confiscated.
:: Although no charges have been filed against the observers, Canada's Minister of Fisheries and Oceans has announced that The HSUS will not be allowed to observe the rest of the seal hunt. Right now we are exploring all legal options available.
But here's the real tragedy in this story. Yesterday, the hunt in the Gulf resumed, and it is estimated another 70,000 seals
will be clubbed and shot to death over the next few days in this second phase of the hunt. Seals are dying at this moment by the tens of thousands, just for their fur. And by the time this year's hunt closes in May, more than 325,000 baby seals will be
dead in total, each one sacrificed for the relatively few dollars furriers pay for their skins.
How You Can Help
The Canadian government and fishing industry have demonstrated repeatedly that they don't care that the world condemns the seal hunt for its cruelty. A boycott of Canadian seafood will show them that the cost of continuing the seal hunt is simply too high. Already more than 400 restaurants and at least 280,000 individuals have pledged not to buy some or all seafood from Canada.
Please print out the following pledge form, take it to all the restaurants that sell seafood in your neighborhood, and
ask them to sign it:
community.hsus.org/ct/Wdzv0HY14XIl/
By forbidding The HSUS to observe this second phase of the hunt, the Canadian government is clearly trying to keep the world from seeing the cruelty it allows to take place on the ice. It is gambling that international outrage will abate and that the world will forget the hideous images we have already been able to broadcast to every continent. But the Canadian government will lose that gamble. With your support, I know that we can keep the pressure on Canada to end its shameful slaughter.
I want to thank you so much for your commitment to saving the seals. Remember that you can stay in touch with the campaign with up-to-the-minute news, videos, and actions throughout the hunt at:
www.ProtectSeals.org
Sincerely,
Rebecca Aldworth
Director of Canadian Wildlife Issues
The Humane Society of the United States
- - - - - - - - - - - - - - - - - - - - - - - - - - -
Please click on the link below to see the movie of Heather and Paul McCartney on the ice of Canada. The more people watch it, the highest its ranking and the most likely it will be seen by hundreds of thousands more people once it reaches the top 100 movies (need about 12,000 viewers to be ranked into the top 100 movies). Please help me bring the movie into the top 100 most viewed movies! It will take you a few minutes! Thanks for your help.
www.ifilm.com/ifilmdetail/2706268
======================================================
SAMPLE LETTER
Personalizing your letter maximizes impact - scroll down totally for more addresses
======================================================
The Right Honourable Stephen Harper, Prime Minister of Canada
Office of the Prime Minister, 80 Wellington Street
Ottawa, ON, Canada K1A 0A2
ph: 613-992-4211; fax: 613-941-6900
email:
pm@pm.gc.ca
URL:
pm.gc.ca/eng/contact.asp
Dear Prime Minister Harper,
I write with restored hope for an end to the world's most unsustainable
slaughter of marine wildlife. As Canada's newly elected Prime Minister, you
play a vital role in stopping the massacre of over 300,000 seals each year.
There is no credible rationale to convince an informed public the Canadian
seal hunt is humane. In photographic images from 2005, the world viewed
whitecoat pups gunned down, pounded in the skull, kicked in the face, and
thrashed with hakapiks. In just three years, the hunt has claimed almost one
million seals.
Up to 95% of harp seals slaughtered during the last five years were less
than three months old. These vulnerable pups cannot even eat or swim on
their own. Video footage depicts sealers routinely hauling them over the ice
with boathooks.
In 2001 a team of impartial veterinarians determined that 42% of examined
seals did not suffer sufficient cranial injury to render them unconscious.
They concluded the seals were likely cognizant when skinned alive.
Scientists worldwide have renounced Canada's management policy for harp
seals as reckless and unsustainable. The economic basis for the hunt is
flimsy as well. In Newfoundland, where 90% of sealers live, seal-related
income makes up less than one-tenth of 1% of the province's economy.
In addition, there is no conclusive evidence linking harp seals to depleted
fish stocks. The greatest predators of young cod are other fish species.
Seals actually consume the very fish that prey on cod! Eliminating harp
seals could signify a rise in cod predators. "Certainly, no Department of
Fisheries scientist thinks the seal had anything to do with the fishery's
collapse," Dr. Jeffrey Hatchlings, a fishery biologist and former DO
consultant, has stated. In fact, scientists are concerned that killing seals
may hinder the recovery of ground fish stocks.
Convulsing animals amid rivers of blood disgrace your nation. Polls indicate
nearly 80% of Americans and Europeans disapprove of the seal hunt, with many
prepared to boycott Canadian seafood until it ends. I respectfully ask you
to make a viable commitment to halting this scientifically, economically,
and ethically indefensible hunt.
Thank you for your time and consideration in this important matter.
Sincerely,
- - - - - - - - - - - - - - - - - - - - - - - - - - - - - - - - - - - - -
Sent: 22 Febr. 2006
Urge Canada's new Prime Minister to stop the seal hunt
Go to
community.hsus.org/campaign/harper_protectseals?rk=91zMJns1SXEPW
From: hsus.org Humane Society of the United States
notice-return-ue7d6sr153nmen@ga-mail.community.hsus.org
*.*.*
Sent: Freitag, 3. Febr 2006 00:07
Subject: CANADA'S CRUEL SLAUGHTER SET FOR LATE MARCH 2006
----- Original Message -----
From: Kinship Circle
kinshipcircle@brick.net
Sent: Monday, February 27, 2006 3:58 AM
Subject: CORRECTION/ Canada's Disgrace: A Million Seals Slaughtered
It has been brought to Kinship Circle's attention that HSUS was in error
when they issued the statement about newly elected Prime Minister Stephen
Harper, "who has voiced his opposition to the hunt..."
Apparently this is not true. Like other Canadian government officials, Prime
Minister Stephen Harper does not appear sympathetic to the seals' plight.
The person who informed us states: "It's been an issue of discussion
recently and seems to be based on a mistake made by HSUS, who sent out a
correction." Kinship Circle never received this correction, however the
error has been confirmed by
harpseals.org
and Barry Kent MacKay, reliable sources.
Therefore, we have altered the sample below (minor changes).
Please do not "panic" if you've already sent the first letter. The essential
message is intact and the worst that has happened is that you've thanked the
PM for opposing the hunt (wistful thinking).
Thanks very much,
Brenda Shoss, Kinship Circle
+++++++++++++++++++++++++++++++++++++++++++++++++++++++++++
2/25/06--Canada's Disgrace: A Million Seals Slaughtered
KINSHIP CIRCLE LETTER CAMPAIGN
www.KinshipCircle.org
SOURCE OF INFORMATION
Humane Society of the United States,
www.HumaneSociety@hsus.org
target=_blank>
www.HumaneSociety@hsus.org
>
STOP Canada's Massive Seal Hunt
community.hsus.org/campaign/harper_protectseals/g5kewer953nk8k?%3E
Boycott Canadian Seafood
www.hsus.org/marine_mammals/protect_seals/why_a_boycott_of_canadian_seafood/
REFERENCE LINKS
Sea Shepherd
www.seashepherd.org/seals/seals_what_you_can_do.html#letters
Canadian Seafood Boycott Campaign. Animal Alliance of Canada
www.sealhunt.ca
/
PETITION: Call on Canada's New Prime Minister to End the Seal Slaughter!
www.thepetitionsite.com/takeaction/566342047?z00m=73616&z00m=73616&ltl=1140896090
=======================================================
*TO SUBSCRIBE TO KINSHIP CIRCLE, email request to:
subscribe@kinshipcircle.org
*DISCLAIMER: The information in these letters is verified with the original
source. Kinship Circle does not assume responsibility for the accuracy of
the information or for the consequences of its use. Nothing in this email is
intended to encourage illegal action in whatever country you are reading it
in. Kinship Circle does not engage in, nor support, any form of harassment
or unlawful activity. Nothing in this alert serves to promote such conduct.
=======================================================
STANLEY - July 2, 1991 to Dec. 27, 2005
My inspiration for Kinship Circle
AN AWAKENING, 1996
The unceremonious moment occurred in my living room as I watched HBO's "To
Love Or Kill: Man Versus Animal." During the "Kill" part of the documentary,
my world stopped. I clung to my Lhasa Apsa, Stanley, and my orange tabby,
Tikvah. For some reason, I looked into Stanley's eyes for an answer. What I
found was a soul, endless and deep. All the tumult, pain, joy, courage and
stamina of the animal kingdom spoke to me through this little creature's
eyes. That night, long forgotten cries crushed my indifference. Billions of
nameless deaths walked through my apartment. I was awake. I was alive. And
my life would never be the same.
***************************************************
BEAR WITNESS. SPEAK. DEMAND. ACT.
Kinship Circle - Letter Campaigns I Literature I Action For Animals
Brenda Shoss, president * Janet Enoch, vice-president
info@kinshipcircle.org
www.KinshipCircle.org
Kinship Circle is a 501c3 non-profit organization.
We accept online donations at:
www.kinshipcircle.org/donation/donations.html
We are grateful for your support!
If you are having trouble viewing images in this e-mail, please click
community.hsus.org/humane/notice-description.tcl?newsletter_id=3738784
I have distressing news to share: The largest commercial slaughter of marine mammals on the planet is set to begin in late March. By the end of the hunt, it's predicted that more than 300,000 seals will have been clubbed or shot to death -- many of them babies as young as 12 days old. Last year, a shocking 98.5% of the seals killed were two months old or younger, and some were skinned while still conscious and able to feel pain. We expect more of the same during this year's hunt.
The Humane Society of the United States will be on the front lines in Canada, fighting to halt this atrocity. I ask that you stand with us today and stop the seal hunt forever.
Sign the pledge to boycott Canadian seafood. Click here
community.hsus.org/campaign/protectseals/ue7d6sr153nmen?
Seal hunting is an off-season activity conducted by fishermen from Canada's east coast. They earn, on average, a small fraction of their incomes from seal hunting -- the rest comes from commercial fisheries. Canada takes in nearly $3 billion annually from seafood exports to the United States. The connection between the commercial fishing industry and the seal hunt in Canada gives consumers all over the world the power to end the vicious slaughter of seals.
Don't Buy While Seals Die: Boycott Canadian Seafood.
Help save the baby seals by signing the pledge to boycott Canadian seafood. Your simple act could help end the seal hunt forever.
Pass the pledge to friends
community.hsus.org/campaign/protectseals/forward/ue7d6sr153nmen?
Canada is sensitive to world opinion, and its fishing industry is vulnerable to the choice of hundreds of thousands of people to refuse to buy Canadian seafood. Each and every person who signs the pledge will increase the pressure on Canada. Click here to ask your friends and family to sign the pledge.
The first stage of the hunt, set to start in late March, will unfold quickly. Once again, The HSUS will be there with our cameras, showing the world the ugly truth of what happens on the ice. We hope that the newly elected Conservative Party government in Canada will work with us to stop the hunt of hundreds of thousands of baby seals.
You can stay in touch with one of our major animal protection campaigns of the year at
www.ProtectSeals.org
. There you'll find up-to-the-minute news, videos, and actions throughout the hunt.
I know that it's painful to think about this awful abuse, but your involvement and action are critical to ending it. Thank you for joining us today in our fight to abolish the cruel seal hunt forever.
Sincerely,
Wayne Pacelle
President & CEO
The Humane Society of the United States
P.S. During the hunt, you can get frequent updates from Rebecca Aldworth, our Director of Canadian Wildlife Issues, who will be on the ice to witness and report on the slaughter. Click here to subscribe to Seal Watch
www.hsus.org/marine_mammals/protect_seals/seals_action/seal_watch_sign_up.html
Copyright © 2006 The Humane Society of the United States (HSUS) | All Rights Reserved.
The Humane Society of the United States | 2100 L Street, NW | Washington, DC 20037
HumaneSociety@hsus.org
| 202-452-1100 |
www.hsus.org
*.*.*.*.*
EXTRA INFORMATION AND ADDRESSES RECEIVED 3 FEBR 06:
Canada has a new government now, and it hasn't been sworn in as yet. However, I suggest that we bombard the designate Prime Minister and the Queen's representative, the Governor General, with mail.
Prime Minister:
pm@pm.gc.ca
Governor General: Her Excellency the Right Honourable Michaëlle Jean
Information e-mail:
info@gg.ca
You may also reach her assistant:
by phone at (613) 993-8200 or toll-free in Canada and the United States at 1 800 465-6890
by fax at (613) 998-1664
or by mail at
Rideau Hall
1 Sussex Drive
Ottawa, ON K1A 0A1
If you write to any government official of Canada and it is mailed in Canada
you do not have to use postage....
THE POWER POINT SHOW - ENGLISH/FRENCH VERSION
www.canadianvoiceforanimals.org/files/CANADA_AT_ITS_WORST-SEALSLAUGHTER_French.pps
ALSO AVAILABLE IN ENGLISH/ITALIAN SEE THIS LINK FOR ITALIAN
www.canadianvoiceforanimals.org/The_Seal_Slaughter.html
www.peta.org